Hollande Takes Aim at City of London in Euro Clearing Threat
by and
French President says City won't be able to run euro clearing

An EU court has ruled that London can clear euro trades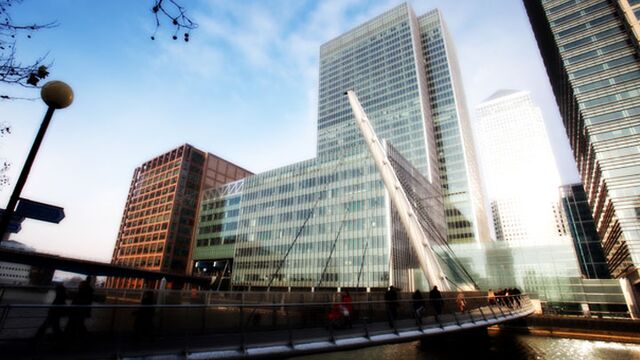 The City of London is facing the first direct threat to its role as Europe's dominant financial center as French President Francois Hollande takes aim at a key pillar of the U.K. industry.
European Union member states should prepare to take over euro-denominated clearing that will no longer be possible in the U.K., Hollande said.
"The City, which could handle clearing operations in euros thanks to the U.K.'s presence in the EU, won't be able to do them any more," the French head of state said after the first day of an EU summit in Brussels.
Hollande is the second French leader to target London's leading role in clearing euro-denominated transactions since Britons decided last week to leave the EU. Francois Villeroy de Galhau, governor of the Bank of France and a member of the ECB's Governing Council, said on Saturday that clearing cannot be located in London without following EU rules.
Hollande wanted to illustrate the consequences of last week's Brexit decision, and he will make clearing a key point in exit talks with the U.K., according to French officials who asked not to be identified. The EU will seek concessions from Britain in return for continued access to the single market, the officials said. 
EU officials have said repeatedly that freedom of movement for workers and adhering to market regulations are conditions for access to the single market. The negotiations may determine where clearing will fit in the U.K.'s future financial relationship with the EU, one of the officials said.
Court Case
London's role in clearing trades in the $493 trillion derivatives market came into focus when the European Central Bank lost a court case with the U.K. last year. The ECB had sought to bring clearing under its regulatory control by shifting it to a euro-area country.
The court ruling was seen at the time as reinforcing London's status as Europe's financial hub, but U.K. officials have since said that Chancellor of the Exchequer's George Osborne's victory wouldn't have been possible were the country outside the EU.
Clearinghouses were embraced by regulators after the 2008 financial crisis, when the collapse of Lehman Brothers Holdings Inc. threatened to bring down other institutions. Clearing firms stand between buyers and sellers, holding collateral from both, in case a member defaults. Big trading companies are increasingly required to use them.
The $384 trillion of interest-rate swaps in circulation make up the largest slice of the off-exchange derivatives market. In euros, about 70 percent of trading in that kind of swap takes place in the U.K., compared with 11 percent in France and about 7 percent in Germany, according to Bank for International Settlements data from 2013, the most recent data available. The U.S. traded 2 percent.

Disentangling euro clearing from London could be a difficult task and raises other questions. The U.S., for example, clears some transactions, and likewise some trades denominated in British sterling are cleared by Frankfurt-based Eurex, a unit of Deutsche Boerse AG.
Barring euro clearing from the U.K. would be a "draconian" measure, especially considering the years of work that have gone into ensuring clearing firms are recognized in different jurisdictions, said Hirander Misra, chief executive officer of futures platform Global Markets Exchange Group International LLP.
"Clearing is very much cross border and also depends on confidence in the clearinghouse. That said, there's nothing stopping EU authorities from putting in pseudo barriers to entry," Misra said.
LCH, which is majority owned by London Stock Exchange Group Plc, and Atlanta-based Intercontinental Exchange Inc.'s ICE Clear Europe are two of the biggest clearing firms in London.
Hollande is not the only EU leader to make it clear that life for Britain will be different outside the club of nations. German Chancellor Angela Merkel said yesterday, "there must be and there will be a palpable difference between a country that wants to be part of the European Union and one that doesn't."
Asked about Hollande's comments on clearing, Italy's Prime Minister, Matteo Renzi, told a press conference in Brussels that the remaining EU member states would be very clear with the U.K.
"It's obvious that if the U.K. leaves, and it has left, some positive elements it had will be destined to be lost," he said. "In the end, I think the British will lose more than the Europeans."
Hollande took a hard line on the single market, which the U.K. still wants to access, by arguing the British government must agree to all its rules.  
The U.K. has turned its back on the principle of free movement of people, one of the EU's key tenets, meaning "you lose the advantages that come with it," Hollande said.
Before it's here, it's on the Bloomberg Terminal.
LEARN MORE