GE Says Too-Big-to-Fail Exit Puts Stamp of Approval on Overhaul
by
Lew: Finance unit made 'fundamental strategic changes'

Firm could seek acquisitions of up to $7 billion, analyst says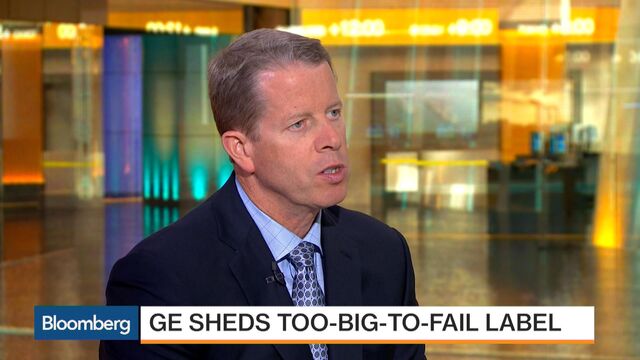 General Electric Co. isn't too big to fail anymore. All it took was the most sweeping transformation in the company's 124-year history.
The Financial Stability Oversight Council released GE from the designation as a systemically important institution, saying Wednesday that the industrial giant no longer poses a threat to U.S. financial stability. The decision came after the company agreed to sell almost $200 billion of lending assets since early last year.
"Getting de-designated in this time frame is a great milestone for us," Keith Sherin, chief executive officer of GE Capital, said in a telephone interview. Regulators "recognized that we've transformed the company. It validates the change in strategy."

The decision, which frees GE from stricter oversight and heightened capital requirements, marks a victory for company CEO Jeffrey Immelt, who opted to sell the bulk of the finance assets with the goal of removing the company's label as a systemically important financial institution. By pulling GE out of the lending business built up under former CEO Jack Welch, Immelt has shifted focus to a growing software division and the manufacture of power turbines, jet engines and other industrial equipment.
The shares rose 1.6 percent to $30.42 at 1:56 p.m. in New York. GE was down 3.9 percent this year through Tuesday.
'Strategic Changes'
GE has been working with regulators for more than a year to escape the systemically-important classification -- which identifies companies whose failures would threaten U.S. financial stability -- and the increasingly restrictive capital and leverage requirements that can come with it.
"GE Capital has made fundamental strategic changes that have resulted in a company that is significantly smaller and safer, with more stable funding," Treasury Secretary Jacob Lew, who also heads the oversight council, said in a statement.
The panel voted unanimously to approve the change, with one member recused, regulators said. The decision marked the first time a company has been granted formal release by the council.
The move, which came earlier than expected, is "decidedly positive" for GE, Deane Dray, an analyst at RBC Capital Markets, said Wednesday in a note. It could allow the company to add about $20 billion of new debt and accelerate buyback and acquisition plans, he said.
"The SIFI removal effectively greenlights GE's plans to lever up the parent balance sheet with additional debt through 2018," Dray said. GE could target acquisitions valued at between $3 billion and $7 billion, he said.
Asset Sales
Since unveiling the GE Capital sale plan in April 2015, the company has unloaded businesses from vehicle-fleet financing to commercial real estate, and restaurant lending to online banking. The company plans only to retain financial units, such as aircraft leasing, that support GE's manufacturing operations.
GE has about $25 billion of assets left to unload, and executives aim to have all disposals closed by the end of the year, Sherin said. The company is in "final negotiations with a potential buyer" for a banking platform in Italy, which is the last major business left to sell, he said.
Sherin said the company expects to be released from supervision by the U.K. Prudential Regulation Authority next year.
The Financial Stability Oversight Council in 2013 named GE Capital as one of four systemically important nonbank financial firms. The designation tightened regulatory scrutiny of the company and in coming years would have led to stricter capital-planning and stress-testing requirements.
MetLife Case
The panel is seeking to reverse a March court ruling that eliminated MetLife Inc.'s classification as systemically important. The life insurer says the designation was arbitrary and unjustified. U.S. District Judge Rosemary M. Collyer in Washington ruled that the council's process was "fatally flawed."
Insurers American International Group Inc. and Prudential Financial Inc. also have been labeled as nonbank systemically important financial institutions. AIG CEO Peter Hancock said last month that the status "does not constrain our objectives" to return capital to shareholders. Still, he has been selling assets to simplify the company and said in May that AIG could have an opportunity "down the road" to consider exiting the designation.
The GE decision demonstrates that the council cares more about "funding models and interconnectedness" than total size when determining what is systemically important, Brian Gardner, an analyst at Keefe Bruyette & Woods, said in a note. He pointed out that regulators cited a sharp decline in GE's reliance on short-term wholesale funding.
"The FSOC announcement should not be seen as a sign that simply shrinking or divesting assets leads to de-designation," he said. "How a firm gets there matters to the FSOC."
Activist Investor
GE investors had been calling for the company to reduce its exposure to financial markets since GE Capital jeopardized the parent company in the financial crisis. Selling the bulk of the unit was instrumental in drawing the support of Nelson Peltz's activist investment firm, Trian Fund Management LP, which in October announced a $2.5 billion stake in GE. That purchase helped push GE shares to a 23 percent gain in 2015.
The overhaul could generate $35 billion of dividends for the parent company, and GE Capital said it is on track to pay $18 billion of that this year.
The company shared its finance-overhaul plans with regulators, but there are "no conditions" on GE Capital's future operations, Sherin said in an interview with Bloomberg Television.
Before it's here, it's on the Bloomberg Terminal.
LEARN MORE