Flurry of Abe Post-Brexit Meetings Seen as 'Better than Nothing'
by and
Government and central bank have met on last four working days

No coordinated action as markets not panicking, says JPMorgan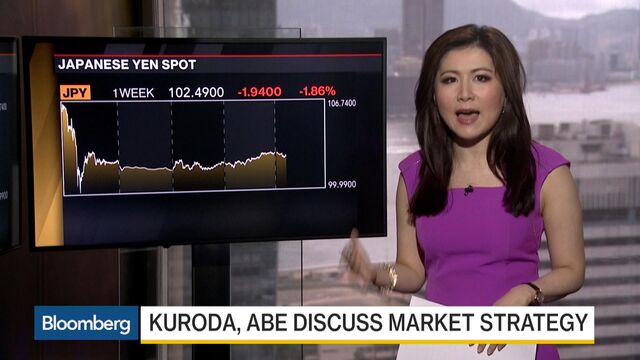 Japan's policy makers huddled again Wednesday morning before heading out to calm financial markets.
Since Britain's vote on Thursday to leave the European Union, Japanese Prime Minister Shinzo Abe has met with ministers and central bank officials on four consecutive working days to discuss the fallout. For now, the gatherings appear to have functioned as verbal intervention to stem gains in the yen that could signal the end of his "Abenomics" project.
Koichi Hagiuda, a government spokesman, said Wednesday that the government would continue to hold regular talks with Bank of Japan officials. While the meetings bring expectations of stimulus from either the fiscal or monetary side, they have yet to yield announcements for specific measures -- signaling that policy makers are in a wait-and-see mode.
"Japan's government and the BOJ are trying very hard to show they are in close contact and ready to take any action if necessary," said Masamichi Adachi, senior economist at JPMorgan Chase & Co and a former BOJ official. "I don't expect they will decide any coordinated action now as markets are not in a panic, but showing readiness to markets is better than doing nothing."
Coming election
The government is facing an upper house election in less than 2 weeks, and over the past few days, policy makers have issued a welter of expressions about market conditions, saying they are ready to act if needed. Abe on Wednesday again urged his finance and central bank chiefs to keep paying careful attention to markets.
The BOJ stands ready to provide foreign exchange liquidity if needed, Governor Haruhiko Kuroda said today, the only specific policy step that was mentioned. 
Abe's comments at all the meetings have been open to the media, and Finance Minister Aso, Kuroda, and other policy makers have all spoken to the assembled press once the talks finish. Aso has now spoken to the media five times since the vote, including twice last Friday. 
Since Thursday, the yen has strengthened nearly 16 percent against the pound and more than 3 percent against the dollar as investors seek a save haven from the shocks unleashed by Brexit. Japanese authorities will have to intervene should the yen shoot past 100 against the dollar from around 102 now, Adachi said, adding that such a move may anger U.S. officials.
Lew on intervention
U.S. Treasury Secretary Jacob J. Lew indicated Monday he wasn't supportive of a solo intervention in the currency markets at this point, saying that any move would have to come as a joint effort of leading global economies.
Other potential policy responses include fiscal spending or monetary easing. Toshihiro Nikai, the chairman of the ruling Liberal Democratic Party's general council called for 20 trillion yen ($195 billion) of government stimulus, and investors are watching to see if BOJ Governor convenes an emergency meeting of the policy board. Swap arrangements between central banks are another option.
Tobias Harris, a Japan analyst at Teneo Intelligence in Washington, sees co-ordinated intervention as Japan's only hope of a favorable exchange-rate correction.
"I have to imagine that the lines between Tokyo and Washington are hot as the Abe administration tries to get some buy in," Harris said. "But the bottom line is that we're about to see how Abenomics works without the lubricant of easy profits from a weak yen."
Before it's here, it's on the Bloomberg Terminal.
LEARN MORE