EU Chief Says Scotland Should Be Heard, But Spain Flinches
By and
Juncker is due to meet Scottish leader Sturgeon on Wednesday

Spain says Scotland can't remain in EU if the U.K. leaves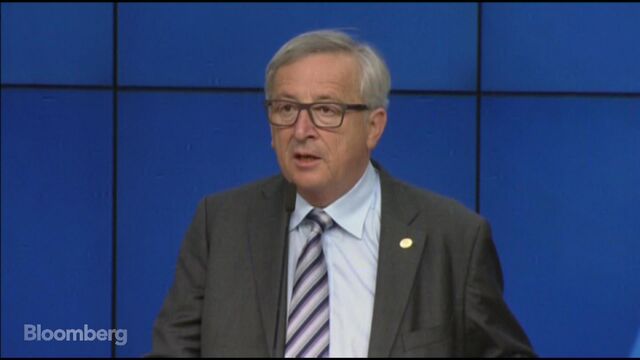 European Commission President Jean-Claude Juncker said Scotland should be able to set out its position after voting to remain in the European Union, triggering an immediate rejection from Spain.
"Scotland won the right to be heard in Brussels," Juncker said before a meeting scheduled with Scottish First Minister Nicola Sturgeon on Wednesday. He said, though, the EU has no "intention to interfere in the British process."

Spain's acting prime minister, Mariano Rajoy, who has been contending with agitation in Catalonia for an independence vote, said that Scotland must also go if Britain quits. "The Spanish government is against -- and I'm sure that everyone agrees with me on this -- that talks are held with anyone but the U.K. government," Rajoy told reporters in Brussels after the first ever meeting of the EU's 27 leaders minus Prime Minister David Cameron."Scotland doesn't have any powers to hold such talks."
The Brexit referendum to end the U.K.'s 43-year membership in the EU has also thrown up again the possibility of Scotland looking to leave its 309-year-old union with England. Sturgeon, also leader of the Scottish National Party, has said a vote on independence is "highly likely" less than two years since the last one, though this week vowed firstly to secure Scotland's place in the EU.
She said at a news conference she wasn't in Brussels to make the case for breaking away from the U.K., but to protect Scotland's place in Europe. Scottish voters had been faced in 2014 with "a step into an unknown versus a known and stable quantity," she said. "That's now very different."
New Momentum
The negotiations on leaving the EU will be conducted with the U.K., not with a part of it, President Francois Hollande said in Brussels. "Depending on how negotiations go, situations and solutions could be envisaged that might apply to Scotland, but that won't be decided beforehand," he said.
Before the EU referendum, surveys showed the country of 5.4 million was split roughly as it was in the 2014 independence vote, when 55 percent to 45 percent opted to remain in the U.K. Since then, at least three polls showed a majority of Scots would back leaving. JPMorgan Chase & Co. said its base scenario is that Scotland will vote for independence and institute a new currency shortly before the U.K. leaves the EU in 2019, analyst Malcolm Barr wrote in a note to clients.
For analysis of Scotland's independence drive, click here
Former U.K. Prime Minister Gordon Brown said it would be reckless for Scotland to pursue EU membership at the expense of relations with the U.K. About two-thirds of Scottish exports go to the rest of Britain. "Surely it's reasonable to look at how to secure our position in both markets," Brown, an opponent of Scottish independence, said at an event in Edinburgh.
Catalan Question
The Scottish push is a particularly sensitive issue for Rajoy. The Catalan separatists in Spain drew encouragement from Scotland's independence drive and Rajoy has been battling to keep the movement in check ever since. If Scotland needed to make an application for EU membership after Brexit, Spain would have a veto on that request.
During the campaign in 2014, guaranteed membership of the EU was a key weapon deployed against the Scottish nationalists. Another was whether an independent Scotland would be able to retain the pound as its currency.
The pro-union Better Together side warned of the difficulty of joining the EU after secession and the prospect of having to adopt the euro. Seeking to deter Catalonia from a similar path, Spain at the time said that an independent Scotland would have to pass through the same process as other candidate countries. The SNP said Scotland would remain a member regardless.
Elsewhere, Maltese Prime Minister Joseph Muscat said his country recognizes the U.K. as a sovereign nation, but he sees no reason why he wouldn't meet Sturgeon as a regional leader and hold talks with her. Polish Prime Minister Beata Szydlo, whose country has had a prickly relationship with the EU since a change of government last year, warned against politicians using the U.K. "to meet their own political goals."