Consumer Spending in U.S. Rose 0.4% in May, Income Growth Cooled
By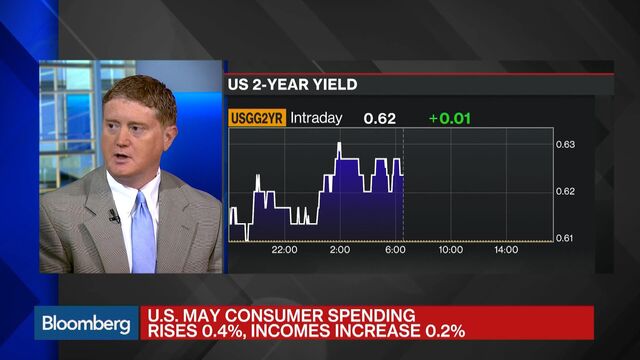 Consumer purchases moderated last month after the biggest advance since August 2009 as American households realigned outlays with slower income growth.
Personal spending climbed 0.4 percent in May after a 1.1 percent jump a month earlier that was more than initially estimated, Commerce Department figures showed Wednesday in Washington. Incomes climbed a less-than-forecast 0.2 percent.
Even with the smaller advance in spending, steady job growth and a nascent pickup in wages will probably bolster household purchases after a first-quarter slowdown. With rising global uncertainty expected to stymie business investment, a resilient consumer will needed to keep the U.S.'s growth prospects intact.
The report shows "an economy where the consumer is doing relatively well," Joseph LaVorgna, chief U.S. economist at Deutsche Bank Securities Inc. in New York, who correctly forecast the gain in spending. "The consumer will do okay because the household sector is in very good fundamental shape."

The increase in May spending matched the Bloomberg survey median. Projections ranged from gains of 0.2 percent to 0.5 percent after an initially reported 1 percent April increase.
Incomes were forecast to climb 0.3 percent. April's income reading was revised up to a 0.5 percent gain from a previously reported 0.4 percent advance.
After adjusting for inflation, which generates the figures used to calculate gross domestic product, purchases rose 0.3 percent in May after a 0.8 percent increase in April that was also the biggest gain since August 2009.
 
Purchases of durable goods -- those meant to last more than three years, such as automobiles -- climbed 0.6 percent after adjusting for inflation following a 2.6 percent April advance. Spending on non-durable goods rose 0.5 percent, while outlays for services were up 0.1 percent.
The report showed the price index tied to consumer spending increased 0.2 percent in May. From a year earlier, the gauge was up 0.9 percent. This inflation measure is preferred by Federal Reserve policy makers and hasn't met their target in four years.
Stripping out the volatile food and energy components, the price measure also rose 0.2 percent from the month before, and 1.6 percent in the 12 months through the end of May.
Disposable income, or money left over after taxes, increased 0.1 percent in May from the month prior after adjusting for inflation, the smallest gain since March 2015, the report showed. It was up 3.2 percent in the past year.
The saving rate eased to 5.3 percent, the lowest this year, from 5.4 percent.