CIA Chief Gauges Risks From Terrorism to 'Stubborn' North Korea
by
Istanbul attack bears the signs of Islamic State militants

'We know the Iranians very well,' Brennan quips after speech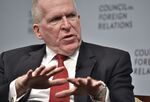 In a candid public question-and-answer session, CIA Chief John Brennan touched on the difficulty of thwarting suicide terrorist attacks, the aftermath of the U.K.'s vote to leave the European Union and the "exceptionally stubborn" leader of North Korea.
Assaults like the one at Istanbul's international airport this week can be easier to pull off because encrypted technology makes it harder for law enforcement to track terrorists ahead of time and suicide bombers don't need to look for escape routes, Brennan said Wednesday at the Council on Foreign Relations in Washington.
While it isn't clear yet who undertook the Istanbul attack, which killed at least 41 people, Brennan said the assault bears the signs of Islamic State militants. The U.S. remains a priority target for the terrorist group, Brennan added, citing continued American military actions in Syria and Iraq.
"If anybody here believes that the U.S. homeland is hermetically sealed and that Daesh or ISIL would not consider that, I would guard against that," Brennan said, using alternative names for Islamic State. "It would be surprising to me that ISIL is not trying to hit us both in the region as well as in our homeland."
Global Hotspots
Giving a tour of global hot spots and recent events, the CIA director also said:
The U.K. vote to leave the European Union "will not adversely affect the intelligence partnership between" the U.S. and U.K. Brennan spoke with his counterpart on Monday and reaffirmed the bonds between their services will only "grow stronger."


North Korea remains his top concern in terms of nuclear proliferation, as the country's leader Kim Jong-Un fails to recognize that the rest of the world won't accept his pursuit of nuclear weapons. Brennan called Kim "exceptionally stubborn" and not a "very good listener."


Brennan has had "numerous interactions" with Russia, which he said hasn't lived up to its commitments to enforce a "cessation of hostilities" in Syria, where its military backs President Bashar al-Assad. "We are continuing to push the Russians" because there's no way forward on the political front without them, Brennan added.
Cyber Attacks
Intelligence agencies have made strides in cybersecurity, but much work needs to be done. In the future, "private industry will have a huge role to play as the vast majority of the internet is in private hands. Protecting it is not something the government can do on its own," Brennan said.


Touching on the U.S. political campaign, Brennan said it is up to President Barack Obama and Director of National Intelligence James Clapper to decide when presumptive presidential candidates Donald Trump and Hillary Clinton get intelligence briefings. That could happen after the political parties make their nominations during this summer's Republican and Democratic party conventions.


Growing moderate elements in Iran could lead to the Islamic Republic moving "toward rejoining the community of nations." It has also helped in combating Islamic State in Iraq, though the U.S. still considers Iran a state sponsor of terrorism.


Asked if he or the CIA have contacts with Iran, Brennan said he has no "formal liaison relationship or engagement" with the Islamic Republic.  
"But we know the Iranians very well," Brennan said with a slight smile. "Just sayin'."
Before it's here, it's on the Bloomberg Terminal.
LEARN MORE