China's Analysts Haven't Been This Wrong on Equities Since 2009
by
Profits disappoint at majority of Shanghai Composite firms

Optimism remains, with forecast for 28 percent earnings growth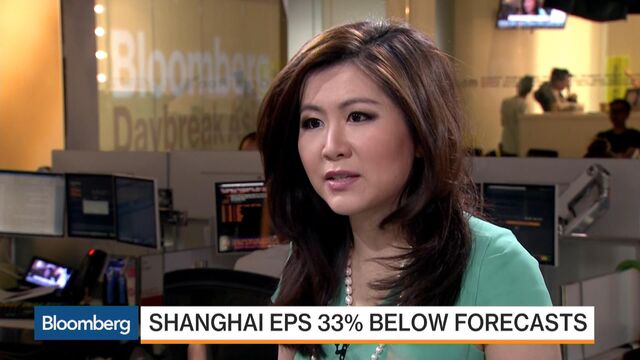 China's gap between profit forecasts and reality is turning into a chasm.
Firms in the Shanghai Composite Index reported earnings per share for the past year that were 33 percent below what analysts had predicted 12 months ago, according to data compiled by Bloomberg. The gap, which this month widened to the most since 2009, far outstrips the difference between projections and actual earnings in the U.S., and is more than double that of Chinese companies in Hong Kong.

So how did they get it so wrong? China's industrial giants are being squeezed as the government reorients the economy around services, leaving excess capacity that translates into volatile earnings. Those stocks dominate the Shanghai Composite and have been among its steepest decliners in 2016, helping drag the gauge down 17 percent. As to why analysts didn't anticipate the scale of the shift: Foundation Asset Management (HK) Ltd. says in a market where short-selling is almost impossible, there's little demand for negative research and strategists face more pressure to present an optimistic outlook.
"The transitioning of the economy from exports to consumer, that's a painful adjustment that occurs over a number of years," said Ben Surtees, a London-based fund manager at Jupiter Asset Management Plc. "Analysts aren't capturing the changes that are occurring."
Of Shanghai Composite companies that reported annual earnings since the end of March and for which Bloomberg compiled estimates, 68 percent missed projections. PetroChina Co., the nation's biggest oil and gas producer, posted its first-ever loss in the first quarter amid falling oil prices. At Zijin Mining Group Co., China's largest gold mining company, net income sank 85 percent.
Global Consensus
While fund managers from Ample Capital Ltd. to Comgest Far East Ltd. say they've learned to discount analysts' figures or calculate their own, the consensus matters when trying to compare valuations across the world's equity markets. Shanghai shares trade at 12.6 times projected earnings over the next 12 months, versus a multiple of 16.2 on a trailing basis, which uses the results companies actually posted. The MSCI All-Country World Index is valued at 15 times estimated profits.
China is more expensive than it looks, said Ronald Wan, chief executive at Partners Capital International Ltd. in Hong Kong.
"If you look at valuations, forward earnings seem to be reasonable now but that has been based on very aggressive" estimates, Wan said. "Analysts should make more conservative forecasts, discount everything and make the Chinese market much more expensive."
Volatile Stocks
In just over a year, China's stock forecasters have weathered a rally that took the Shanghai Composite to a seven-year high in June 2015, and then a 49 percent crash that prompted authorities to crack down on alleged market manipulation by discouraging short-selling and targeting brokerage executives and journalists. That backdrop is an added reason to present positive research, Ample Capital's Alex Wong said. The Shanghai Composite Index slid 0.1 percent on Thursday to cap its second straight quarterly loss.
Analysts 12 months ago had predicted Baoshan Iron & Steel Co. would report annual earnings per share of more than 0.4 yuan, far exceeding the 0.06 yuan that China's second-largest mill by output actually posted. And it's not just so-called old economy stocks that aren't living up to expectations. Guizhou Yibai Pharmaceutical Co. reported earnings per share of 0.24 yuan in 2015, about 70 percent less than what analysts had forecast in the middle of the year. The drugmaker has buy recommendations from all but one of 10 analysts tracked by Bloomberg.
Deviation Understandable
"Earnings for listed companies are volatile and even listed companies themselves cannot predict correctly," said Li Daxiao, head of research at Yingda Securities Co. in Shenzhen. "If analysts' forecasts deviate a bit from what companies actually report, that's normal and understandable. We also need a longer period of time to judge if an analyst is accurate."
Even after a rocky 12 months for the Shanghai Composite, the optimism remains. Analysts see 28 percent growth for the gauge's earnings per share in the next 12 months, according to data compiled by Bloomberg.
"I can say that's a very unlikely target to achieve," said Jupiter Asset's Surtees.
China's economic expansion slowed to a 6.7 percent pace last quarter. The International Monetary Fund this month cited excess industrial capacity among risks threatening the nation's medium-term prospects.
Other Markets
It's not just Chinese earnings that are missing forecasts by a wide margin. Australia's S&P/ASX 200 Index is among gauges with an increased mismatch between analyst forecasts and company earnings in recent years. It's typical for strategists to hold an optimistic outlook at the start of the year and gradually adjust it lower, according to Jupiter Asset's Surtees.
Earnings projections for stocks on the Hang Seng China Enterprises Index, a gauge of mainland companies traded in Hong Kong also with heavy weightings in financials and industrial shares, are missing by just 13 percent, a much narrower margin. That may be because the mainland gauge includes many firms that aren't state-backed, so their earnings are less transparent, said Frank Benzimra, head of Asia equity strategy at Societe Generale SA in Hong Kong.
For Baijing Yu, whose Comgest Growth Greater China fund beat 98 percent of its peers in the last three years, the best thing to do with brokerage estimates on mainland shares is to ignore them. She runs the numbers herself. The accuracy of the forecasts may improve as China further opens up its markets, she said.
Buy Ratings
Companies on the Shanghai Composite have an average rating of 4.4 on a Bloomberg scale where 5 represents unanimous buy calls from analysts. The Hang Seng China Enterprises gauge has an average 4 rating, while the S&P 500 and the Topix index are both rated 3.9.
"You would generally very rarely see a local broker in China put out a report saying sell," said Yu. "As the market becomes more transparent, international and professional, you would see more sell reports on a stock."
Before it's here, it's on the Bloomberg Terminal.
LEARN MORE