Duterte to Let Experts Run Economy as He Focuses on Fighting Crime
By and
Duterte takes oath of office, vows to fight criminality

Promises to honor Philippines' international obligations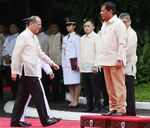 With dozens of suspected drug dealers killed by police before he even took office, new Philippines president Rodrigo Duterte is making good on his pledge to curtail crime, while leaving the economic running to others.
Duterte, 71, who was sworn in on Thursday, has promised to spread wealth and power outside the capital to curb poverty. As he focuses on combating crime and graft, his cabinet members have been tasked with beefing up public spending and unclogging economic logjams.
"I know the limits of the power and authority of the president," Duterte said in a 15-minute speech in Manila. He said as a lawyer and former prosecutor, his adherence to due process and the rule of law would be uncompromising.
Riffing off his policy platforms in Davao where he was a long-time mayor, Duterte plans a nationwide curfew for minors and may slap a 1 a.m. ban on the sale of liquor.
Outside law and order, an area where he gave himself six months to make a difference, the economy is something he thinks is best left to experts. He's said previously "I'm a lawyer and I never pretended to be an economist," and that he barely passed economics in college.
Predecessor Benigno Aquino was more hands-on to spur growth, deploying policies that helped steer an economy that expanded faster than China last quarter and won its first investment-grade credit rating. Still, Aquino struggled to halt the graft that put the Philippines 95th among 168 countries and territories in Transparency International's 2015 corruption perception index, and to tackle traffic gridlock woes in the capital Manila.
Drug Dealers
"There are some definite pluses to focusing on crime and rule of law, if that's broadened to include corruption where the Philippines has a long way to go," said Edwin Gutierrez, who helps oversee about $11 billion as head of emerging-market sovereign debt at Aberdeen Asset Management Plc in London. "Still, it would be nice to have a president more focused on the economic picture."
In the period between Duterte's election win last month and the first day of his presidency, dozens of suspected drug dealers have been killed and thousands surrendered. "The war on drugs and crime is going to be bloodier," his police chief Ronald dela Rosa said in an interview. "So flee, surrender or fight it out with us."
For an explainer on the Philippines under the new president, click here
The first president to come from Mindanao, Duterte had an early, unofficial start to his six-year term.
His economic plans were unveiled three days after his election win and he begun naming cabinet members a week later. He took his oath at the presidential palace in Manila at a ceremony attended by 600 guests. Vice President Leni Robredo, whom he hasn't invited to join his cabinet, was sworn in earlier at a separate event.
Poverty, Crime
Faster growth failed to curb poverty, traffic and criminality, and that's where Duterte's hands-on leadership will make a difference, his Finance Secretary Carlos Dominguez has said. A childhood friend of Duterte, the incoming finance chief is a 70-year-old businessman who was agriculture secretary under former President Corazon Aquino.
Duterte's tenure starts as economic headwinds are rising, including a slowdown in China. The Philippines must diversify its export markets and products and boost domestic demand as Britain's vote to quit the European Union could disrupt a global recovery, outgoing Economic Planning Secretary Emmanuel Esguerra said this week.
Duterte's economic managers have touted plans including:
government outlays to boost public infrastructure spending to more than 5 percent of gross domestic product and the budget gap to as much as 3 percent of GDP
lower ceiling for corporate and personal income taxes from 30 percent and 32 percent while adjusting tax brackets, limiting exemptions on value-added tax
faster turnaround of business permits and applications to three working days while extending validity of passports, licenses
quicker implementation of public-private partnerships to 18-20 months from average of 29 months under Aquino
two-year emergency powers for Duterte that will allow him to to open private roads and skip bidding process for transport projects
review of mining contracts, shutting resource companies that fail environmental tests


Like other world leaders who won on populists pledges, there are concerns Duterte could reverse the economic policies of Aquino and slow reforms, Malayan Banking Berhad analysts led by Saktiandi Supaat said in a note.
Having jumped from local or regional posts to national prominence, he also faces the reality of running an entire country.
Less Easy
Duterte "could find that pushing his platform through Congress might not be as easy as when he was mayor of Davao City, especially after the honeymoon period wanes," the Malayan Banking analysts said.
"When Jokowi stepped in and there were huge expectations then throughout the course of 2015 you realize; hey this isn't gonna happen that fast," said Gundy Cahyadi, an economist at DBS Group Holdings Ltd. in Singapore, referring to Indonesian President Joko Widodo.
"Investors are probably aware that structural changes don't happen overnight. You can't turn Indonesia into Singapore overnight. You can't turn the Philippines into Singapore overnight."