Carlyle CEO Rubenstein Says Brexit Won't Cause 'Calamity'
by
CEO says decision to leave EU will cause slowdown, affect M&A

Rubenstein predicts vote won't affect Carlyle's business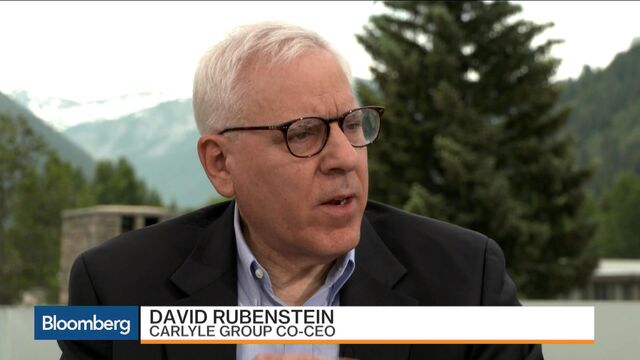 David Rubenstein, co-founder of Carlyle Group LP, said Britain's vote to exit from the European Union will depress U.K. economic growth and mergers and acquisitions activity, but won't have disastrous effects.
"The U.K. economy will slow, but it won't be a calamity," Rubenstein, who's also the co-chief executive officer of Carlyle, said Wednesday in an interview with Bloomberg Television's Erik Schatzker.
Larger banks may need to change operations following Britain's vote, and companies will need to have healthy credit lines to survive other "potential Brexits" around the world, he said.
Rubenstein said that while he sees no near-term impact on Carlyle's companies following Brexit, "it's going to take a long time before we know what the consequences are."
The vote to end the U.K.'s 43-year membership in the EU has raised the possibility of Scotland looking to leave its 309-year-old union with England. A referendum on independence for Scotland, which voted to remain in the EU, is "highly likely," according to Scottish First Minister Nicola Sturgeon.
That would be particularly damaging to England because Scotland is the U.K.'s leading producer of oil, Rubenstein said.
Brexit Alternative?
Still, Rubenstein said he doubts that the U.K. ultimately will secede. The exit costs would be severe, and the vote was non-binding.
"I'm reasonably optimistic" that Britain's leaders "will come to their senses and realize that Brexit is not in anybody's interest," he said.
Larry Fink, chief executive officer of BlackRock Inc., echoed Rubenstein's hope that an alternative to Brexit may be possible.
The U.K. has to trigger Article 50, which would start the formal process to separate from the EU, in the next two years, "so there's plenty of time for finding a solution that is less harmful for the European countries," he said.  
"We'll have to see who's the next prime minister," Fink said Wednesday in a separate interview with Schatzker.
Prime Minister David Cameron, who pledged to hold the referendum on Brexit amid rising euroskepticism, announced his resignation last week after the U.K. voted to leave the EU. The U.K. Conservative Party has said it will announce a successor by Sept. 2.
Before it's here, it's on the Bloomberg Terminal.
LEARN MORE