business
Cameron Tells Embattled Corbyn: 'For Heaven's Sake Man, Go'
By and
Labour leader ignores calls to quit after no-confidence vote

Standoff deepens U.K. political crisis since Brexit referendum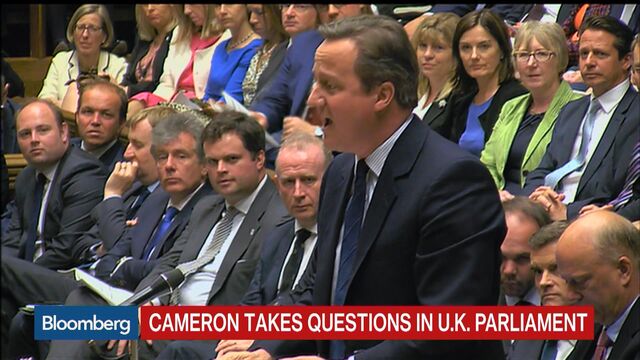 U.K. Prime Minister David Cameron used his weekly question time in Parliament to heap further pressure on opposition leader Jeremy Corbyn, demanding he step down after the bulk of Labour Party lawmakers passed a motion of no confidence in their embattled chief.
"It might be in my party's interest for him to sit there," Cameron told the House of Commons in London on Wednesday."It's not in the national interest. And I would say: for heaven's sake man, go!"

Corbyn is facing the prospect of a formal bid to unseat him after he refused to resign following the no-confidence motion, which he lost by 172 votes to 40 on Tuesday. The standoff deepens the turmoil in a party more divided than at any time in three decades after the Brexit referendum. There's speculation that Angela Eagle, one of dozens of Labour lawmakers who have resigned from his team in the past three days, is preparing to mount a leadership challenge.
Adding to Corbyn's woes, Pat Glass quit as his education spokeswoman just two days after she was elevated to the post, while his immediate predecessor as party leader, Ed Miliband, called on him to go. Both described the situation as "untenable."
"People from all wings of the party in Parliament have lost confidence in Jeremy, so sadly I believe he has to go," Miliband said in a statement broadcast on Sky News. "This is a time of acute national crisis. We need a Labour Party where we have a leader who can speak not just for the party in the country but the party in Parliament."
A BMG poll for Scotland's Herald newspaper found that with a new leader, 48 percent of 1,638 people polled in May would definitely vote for Labour or would consider doing so, compared with 36 percent if Corbyn stays.
Grassroots Support
The premier's weekly question session in the Commons is virtually always an extremely noisy affair. On Wednesday, though, there was silence in the benches behind Corbyn. Labour lawmakers, who blame their leader's half-hearted campaigning for the surprise Brexit vote, sat impassive as Corbyn asked Cameron questions about the impact of leaving the European Union.
Cameron, who received a letter of support from more than 80 of his own lawmakers on Thursday evening yet still resigned Friday, turned the talk to Corbyn's role in the referendum battle.
"I know he says he put his back into it," Cameron told the chamber. "All I can say is, I'd hate to see him when he's not trying."
Insisting the no-confidence vote had no "constitutional legitimacy," Corbyn has vowed not to "betray" grassroots supporters who helped propel him to the leadership in September, with 60 percent of the votes in the wider party. Rank-and-file members have remained vocal fans ever since.
'Party of Protest'
But Corbyn was never the choice of Labour MPs, many of whom opposed his hard-line socialist policies and now accuse him of doing too little to persuade Labour voters to back staying in the EU. Labour's parliamentarians fear the party has little chance of winning a general election that could happen sooner than planned if Corbyn remains at the helm, with some saying he's better suited to protest than government.
In Edinburgh, the last Labour leader to be prime minister, Gordon Brown, said on Wednesday that the question is whether Labour can offer people a way of confronting the globalized world so many voters feel cut off from, something shown in the EU referendum.
"The real issue comes down to whether we decide we're a party of power or of protest," Brown told an event organized by the Institute for Public Policy Research.
'Not Normal'
A leadership election can be triggered if 20 percent of Labour lawmakers put their names to a letter backing a rival. British media on Wednesday were reporting a possible bid by Eagle, who was Labour's business spokeswoman until she quit Corbyn's shadow cabinet. Bookmakers have her as the favorite to take over, followed by deputy leader Tom Watson.
"Any other normal leader in normal times would just go quietly after this," Tim Bale, professor of politics at Queen Mary University in London, said in a phone interview. "But these are not normal times and he is not a normal leader, so anyone betting against him carrying on until a leadership contest is probably foolish. If he were to win a second leadership contest, then I think that the Labour Party will split."
The Momentum campaign group was due to stage a rally in support of Corbyn Wednesday evening at the headquarters of the labor-union movement in central London, with the Labour leader among the speakers. Early Wednesday afternoon, though, it said on Twitter than the event had been postponed "due to overwhelming demand."
— With assistance by Joe Mayes, and Rodney Jefferson
(
Updates with Glass resignation, Miliband comment starting in fourth paragraph.
)
Before it's here, it's on the Bloomberg Terminal.
LEARN MORE