Who's Who in the Race to Succeed Corbyn as U.K. Labour Leader
Jeremy Corbyn has lost a vote of confidence among Labour MPs. Here are the most likely candidates to take him on in a leadership contest.
by , , and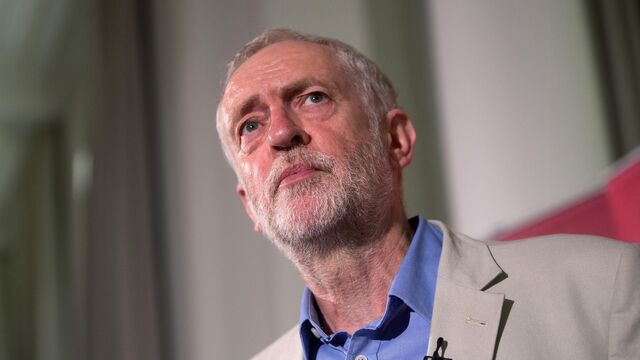 The turmoil in the U.K.'s main opposition Labour Party worsened Tuesday after its lawmakers backed a motion of no confidence in their leader, Jeremy Corbyn, by 172 to 40. Corbyn rejected calls to quit, but there's now little to stop disaffected members of Parliament launching a formal challenge to his leadership.

So who might take over? Here's a look at the main candidates. And with a general election possible later this year, one of them might just be prime minister before Christmas. 
Jeremy Corbyn: Again?
The Labour leader is elected by the party as a whole, and many rank-and-file members still back Corbyn, so it's very possible they will choose to re-elect the man MPs are currently revolting against.
After decades as a lawmaker better known for rebelling against the Labour leadership than toeing the party line, Corbyn, 67, was unexpectedly propelled into the top job last summer. His offer of "straight talking, honest politics" struck a chord with party members and supporters.

Corbyn won an overwhelming mandate in the country, but only 10 percent of Labour lawmakers in the House of Commons voted for him. He has struggled to assert any authority over MPs, who have accused him of lacking vision, campaigning skills and the ability to reach out to voters in Labour heartlands, many of whom are being drawn to the U.K. Independence Party. Critics also say he has failed to successfully exploit splits in the governing Conservative Party.
His supporters, who gathered in their thousands outside parliament on Monday to show their support, say Corbyn can reach voters disillusioned with politics. But his lackluster performance in the European Union referendum campaign left many doubting his ability to successfully lead Labour into a general election.
Tom Watson: Murdoch's Scourge
The lawmaker for West Bromwich East in England's industrial Midlands, Tom Watson rose to prominence with his attacks on media mogul Rupert Murdoch and phone hacking by his News of the World newspaper. That made him a darling of the Labour Party but alienated large sections of the media.

A former labor-union official, Watson, 49, has been deputy Labour leader since September last year, when he was elected alongside Corbyn. Regarded as an effective campaigner, he has run into conflict with other lawmakers over allegations that he has used his union links to wield influence within the party.
A music fan who recommended an obscure rock band to former leader Ed Miliband when he resigned from his shadow cabinet, Watson was partying at the Glastonbury Festival on Saturday night when Corbyn's firing of foreign-affairs spokesman Hilary Benn triggered the series of resignations that led to Tuesday's no-confidence vote.
Angela Eagle: The Favorite
One of a pair of twin sisters at the top of the Labour Party, Angela Eagle was a Treasury minister under Gordon Brown and rose to be the most senior woman in the party before her resignation from Corbyn's shadow cabinet. She has been in the House of Commons since 1992.

An assured performer in Parliament, Eagle, 55, was chosen to represent the "Remain" side in one of the television debates during the referendum campaign. She chaired Labour's policy forum before the last election and lost out to Watson in last year's deputy leadership contest.
An international-level chess player as a child, Eagle worked for the Confederation of British Industry and a health-care workers' union before entering Parliament. If she were to win, Eagle would be the first openly gay lawmaker to lead a major U.K. party nationally.
Lisa Nandy: The Straight-Talker
Lisa Nandy, 36, was elected to Parliament in 2010 after almost a decade of working in the voluntary sector for homelessness and children's charities. Her straight-talking approach has led her to be installed as one of the favorites with bookmakers in the event of leadership election.

Touted as a candidate initially last year, the representative for Wigan in northwest England chose not to run following the recent birth of her son. Nandy served in Corbyn's shadow cabinet as energy spokeswoman until she quit on Monday, saying in a joint statement with fellow lawmaker Owen Smith that she had lost confidence in Corbyn's ability to lead and unite the party's left and right wings.
Born not far from Wigan, in Manchester, she earned a politics degree from Newcastle University before a stint working for a Labour lawmaker preceded her charity work. She served on Parliament's Education Committee and then acted as Labour's spokeswoman for children and for civil society under Miliband, before taking the energy brief when Corbyn assumed the leadership.
The Military Man
Dan Jarvis, 43, turned down calls to run for the Labour leadership last year, despite suggestions that he'd be the candidate the Conservatives would fear most. A former company commander in the Parachute Regiment who served in the Balkans, Afghanistan, Iraq, and Sierra Leone, Jarvis's military background makes him stand out from the pack.
Seen as a Westminster outsider, the lawmaker for the northern district of Barnsley since 2011 hinted he might quit the party earlier this year if it ditched its commitment to Britain's nuclear deterrent as Corbyn has espoused.
He served as a shadow justice and culture spokesman under former Labour leader Ed Miliband but didn't join Corbyn's team. Viewed as a moderate and a follower of the "New Labour" philosophy of Tony Blair, Jarvis has kept a low profile in the recent coup attempt.
Before it's here, it's on the Bloomberg Terminal.
LEARN MORE