Five Things You Need to Know to Start Your Day
Get caught up on what's moving markets.
by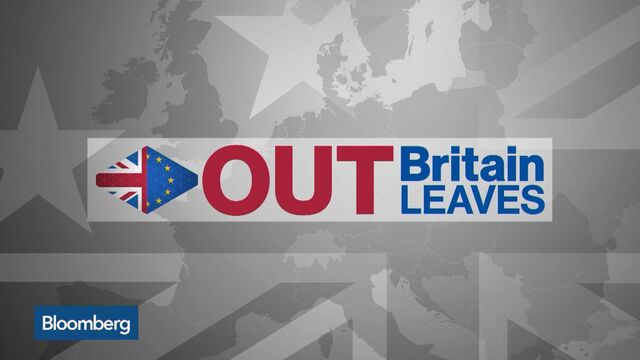 Want to receive this post in your inbox every morning? Sign up here.
The political fallout from Brexit continues, markets are rallying for a second day and a terrorist attack hits Turkey. Here are some of the things that people in markets are talking about today.
Brexit political fallout
British Prime Minister David Cameron attended what promises to be his last meeting of the leaders of all 28 European Union member states yesterday. German Chancellor Angela Merkel said afterwards that she sees no way back from Brexit for the U.K., while French President Francois Hollande warned of the threat to London's financial market following an exit. In Britain, survey data show that economists are divided on whether the country will fall into a recession in 2016 or 2017. 
Markets rally
The MSCI Asia Pacific Index advanced 1.8 percent overnight as the global stock rally continues and volatility falls. In Europe the Stoxx 600 Index was 2.1 percent higher at 5:55 a.m. ET while in London the FTSE 100 was 2.2 percent higher — in local currency. The pound climbed 0.5 percent to $1.3400. S&P futures were 0.7 percent higher. 
Bond rally continues
This morning Ireland became the latest country to set a new all-time record low 10-year bond yield when it dropped to 0.613 percent. In Japan, negative yields on government bonds seem to have become self-reinforcing, which could soon see every maturity of the country's debt yielding below zero. Treasuries are heading for their biggest rally since 2011, which has economists warning that the gains can't continue into next year. There was some good news in the corporate-debt market this morning too as Molson Coors Brewing Co. is selling euro-denominated bonds, the first offering in Europe since the Brexit referendum.
Turkey attack
Islamic State is being blamed for coordinated suicide attacks at Istanbul's international airport that left at least 40 people dead — 13 of them said to be foreign nationals. Turkey's Borsa Istanbul 100 Index was 0.2 percent lower at 6:00 a.m. ET with airline stocks hit hardest. The attacks are a further blow to President Recep Tayyip Erdogan who has moved to heal rifts with Israel and Russia in recent days in a bid to boost the economy. 
Fed rate rise a long way off
'One and done' seems to be the tale of the current Fed hike cycle. Money market derivatives now point to the next rate rise not coming until Jan 31, 2018. Federal Reserve Governor Jerome Powell warned yesterday that global risks have shifted further to the downside since the U.K. voted to leave the European Union. The shift in Fed expectations can be clearly seen in the fact that money markets are now pricing in a greater chance of a cut, rather than a hike, for the rest of this year.
What we've been reading 
This is what's caught our eye over the last 24 hours.
Before it's here, it's on the Bloomberg Terminal.
LEARN MORE