Photographer: Adam Milliron
Food & Drink
The Best New Ice Cream Shops in the U.S.
Satisfy your summery sweet tooth at these enterprising new creameries.
By
No one is doubting that ice cream is delicious all year round. But in summer, an alchemy of weather and nostalgia just makes every cup and cone taste sweeter. This season, new creameries across the country are catering to our collective love of ice cream with creative flavors, commitments to quality dairy, and thoughtfully considered design. Whether you're more soft-serve with sprinkles or full-blown banana split, you'll find these shops to be anything but vanilla.
Arethusa Farm Dairy, New Haven
Flavors: 12
Seasonal Standout: Sour Cherry Chocolate
What do stilettos have to do with sundaes? Not much, unless you're at Arethusa, a Connecticut farm and dairy from the 1860s that was rescued from golf course developers by Manolo Blahnik executives Tony Yurgaitis and George Malkemus. This spring, the couple opened an outpost of their country-chic creamery on Yale's Campus; it serves dense, pure-tasting ice cream in straightforward flavors like coffee, chocolate, strawberry. The secret is the milk, which comes from Arethusa's cows, a pampered herd that eats grass, sleeps on mattresses, and enjoys daily tail shampoos. (Yep, you read that right.)
Wiz Bang Bar, Portland, Ore.

Flavors: 5
Seasonal Standout: Roasted Strawberry Coconut Soft-Serve 
Artisan toppings like rosé lemon curd, hazelnut butter crunch, and Oregon black raspberry magic shell turn the soft-serve sundaes at Wiz Bang into Instagram gold—but don't let them melt while you snap away. Given that they're the creation of cousins Kim and Tyler Malek, of Portland's beloved ice cream makers Salt & Straw, you'll want to lick up every last drop. The new spot is a cornerstone of Portland's buzzy Pine Street Market, which brings the city's top food producers under one roof. "We've always wanted to offer soft-serve," says Kim, "and thought a 500-square-foot space in a new food hall would be an ideal opportunity."
Millie's Homemade Ice Cream, Pittsburgh

Flavors: 12
Seasonal Standout: Strawberry-Elderflower Sorbet
At Millie's, Chad Townsend draws on his experience in James Beard-recognized Pittsburgh kitchens to create ice cream flavors like yogurt-date, toasted rice with citrus, and Vietnamese coffee. "You won't find strawberry ice cream on our menu in winter," says Townsend's business partner and wife, Lauren, who happily peddles four separate strawberry flavors when the fruit is at its peak. Pro tip: whichever flavor you elect, get it in an oversized waffle cone or sandwiched in a fluffy brioche bun. 

Betty Rae's Ice Cream, Kansas City

Flavors: 24
Seasonal Standout: Brown Butter & Toasted Pecan
David Friesen fell in love with Mary Nguyen while they scooped sundaes together at a little hometown spot called Sparky's Homemade Ice Cream in Columbia, Missouri. Eight years later, they're married and Friesen owns his own shop, Betty Rae's, in KC's Waldo neighborhood. (It's is named for Friesen's grandmother.) There, he makes two dozen ice cream flavors and all the toppings in house, from fudge to fluff, cookies to brownies.
Milkjam Creamery, Minneapolis

Flavors: 16
Seasonal Standout: Ridin' Duuurty (Oreo milk ice cream with Oreo chunks and salted peanut butter)
Opening in the dead of January—in Minnesota—sounds about as advantageous to an ice cream parlor as a listeria outbreak. But that's exactly what brothers Sameh and Saed Wadi did when they debuted Milkjam. Despite sub-freezing temperatures, opening-day lines stretched down the block, a testament to Sameh's  previous successes as a (savory-minded) restaurateur. In their cold case are flavors like Thai tea, extra-virgin vanilla, and Pillow Talk, which blends strawberry sorbet with crushed cardamom meringues. Sameh is lactose-intolerant, so about half the flavors are dairy-free.
Little Giant Ice Cream, San Francisco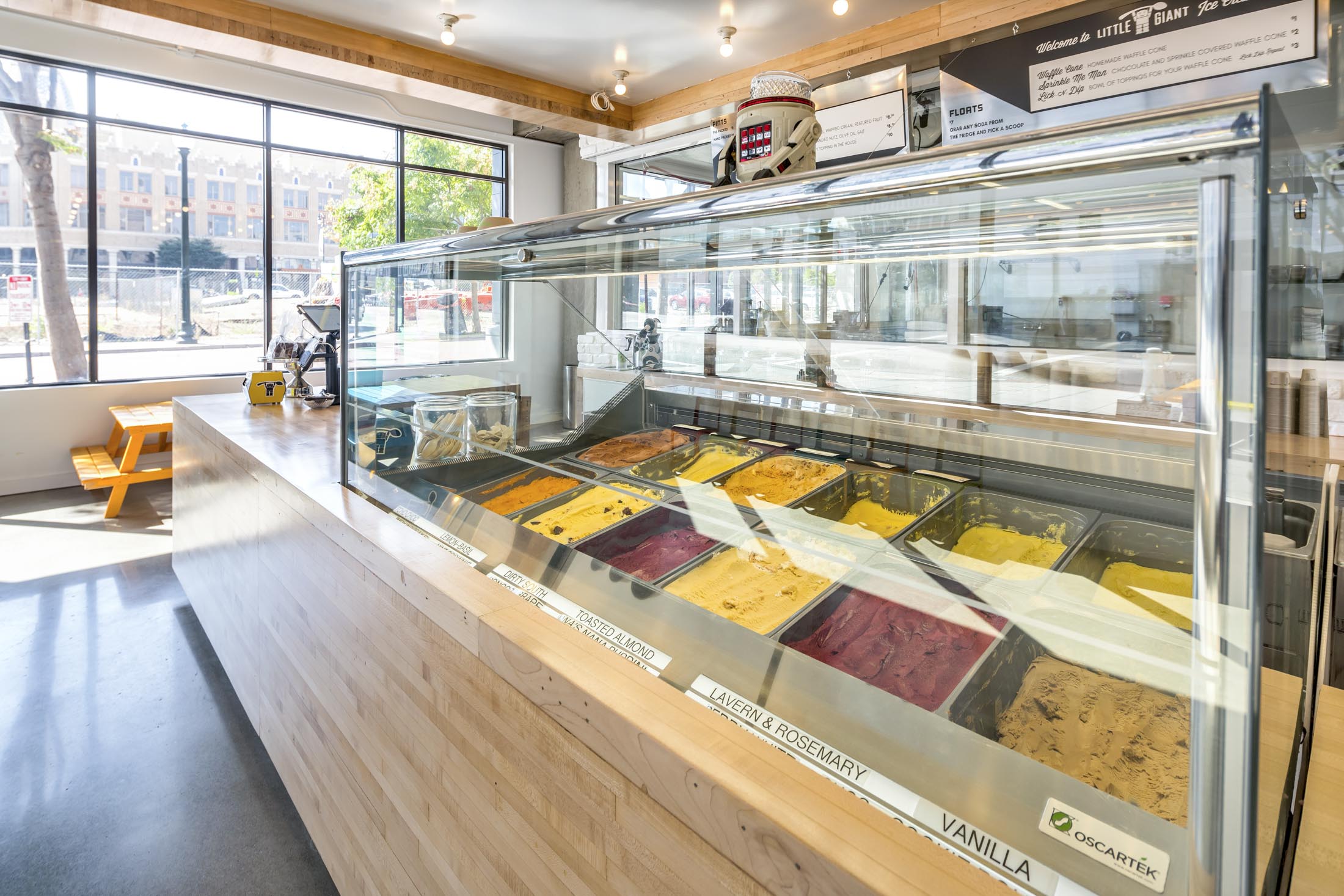 Flavors: 12
Seasonal Standout: Mango Mezcal Sorbet
Bay Area residents first got to know Little Giant Ice Cream's playful flavors (Hot Buttered Rum, Mexican Rocky Road, Negroni) from a tricked-out 1964 Airstream on the local farmers' market circuit. Now Neil Rider, who worked at Baskin-Robbins in high school, and Kevin Best have two brick and mortar spots: one that debuted in Oakland last year and another that's just opened in the Financial District. The new space is more little than giant at just 150 square feet, decked out with blue neon signage behind the cold case and compact blonde wood displays. And it's also little known—the address (214 Sutter Street) isn't even on their website yet.
Shug's Soda Fountain and Ice Cream, Seattle

Flavors: 20
Seasonal Standout: Bow Hill Blueberry
Housed in the human magnet that is Pike Place Market and furnished with swivel stools and chrome seltzer taps, this retro-styled fountain looks like the kind of place the T-Birds and Pink Ladies might go for malts before a pep rally. (More likely, you'll find a mix of visiting families and after-work types filling the tables.) Here, scratch-made soda syrups in flavors like chocolate and cherry are the draw; get them in foamy floats made with ice cream from nearby small-batch producer Lopez Island Creamery, whose hyper seasonal flavors like Mountain Huckleberry and Just Peachy are only found in a handful of outlets across the Pacific Northwest.
Hypnotic Emporium, Dallas

Flavors: 20
Seasonal Standout: Jack and Coke
James and Amy St. Peter are best known in East Dallas for their beloved twin outposts of Hypnotic Donuts. But instead of opening a third spot for their holey baked goods, the St. Peters pivoted and opened Hypnotic Emporium, a throwback candy shop and soda fountain staffed by teens sporting bowties and paper caps. Why the change? "I was getting frustrated going to dinner then driving home and stopping for 'ice cream' at a gas station," says James. The ultra-creamy cold stuff scooped at Emporium doesn't warrant air quotes; it comes from Beth Marie's Old Fashioned Ice Cream in Denton, Texas, an hour north. Classic and custom flavors, like the Jack and Coke, are churned on a machine that dates back to 1927. And naturally, you can get them all sandwiched in fresh Hypnotic Donuts.  
Ice Cream & Shop(pe), Palm Springs

Flavors: 16
Seasonal Standout: Blackberry-Cabernet Sorbet
Want to pick up a pack of Lucky Feather flash tattoos or Smarties-hued Wayfarers while grabbing a milkshake or waffle cone? You can at Ice Cream & Shop(pe), which occupies one of several midcentury modern bungalows that make up Palm Springs' handsome new Arrive hotel. The space is part-souvenir boutique, part-community ice cream parlor peddling county fair-winning flavors from a local producer—and it's styled accordingly, with sun-bleached wood shelves, hexagon mosaic tiles, and cotton candy-colored neon signage. The scoops fit the bill, too: varieties include date, pink ginger, and passion fruit sorbet. 
(
Corrects supplier of ice cream at Ice Cream & Shop(pe) in Palm Springs.
)
Before it's here, it's on the Bloomberg Terminal.
LEARN MORE