A Fix for Italian Banks May Be Balm to Portuguese Lenders Too
Plans to boost Italy's banking sector could spur other European Union countries into action.
by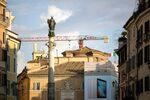 Italian banks need a solution so drastic that it could end up soothing the troubles of lenders in Portugal and even Germany.
A cocktail of sluggish growth and mounting bad loans has left Italy's banks vulnerable to shocks. British voters, by opting to leave the European Union, delivered just such a shock last week, sparking a flurry of activity in Rome as authorities stepped up plans to support the banking system
Options on the table are reported to include a new iteration of the Atlante fund, the state-back rescue vehicle that buys bad loans, and even a waiver of Europe-wide rules that require shareholders and junior creditors to take losses before banks get access to public funds.
Whatever Italy chooses, Citigroup Inc.'s Ignacio Moreno says it needs to be bold, just like the U.S. after the financial crisis when it set up a $700 billion Troubled Asset Relief Program to clean up the balance sheets of its banks. Italy's decision could reverberate across Europe, because if the Italian government is able to pour public funds into its lenders, Portugal could do the same for its own, some of which are also burdened by non-performing loans.
"To be fair they should do a proper "triage" of the banking system with a proper bad bank and a proper recap process," Moreno wrote in a comment to clients, drawing parallels to TARP. "Under any scenario, you need to bend the EU rules to create a final solution to tackle the €200bn of proper NPLs in the system, the 600 banks you have in the country and the mid-single ROEs that you have at a system level." ROE refers to banks' return on equity, a measure of profitability which for the FTSE Italia All-Share Banks Index dropped to 3.08 percent in the first half of the year, down from 3.86 percent in 2015.
Still, while Italy has become the focus of much attention since the Brexit vote, it is not the only country in Europe with troubled banks. And as a splintering Europe takes pains to show a united front, coordinated action is the flavor of the day. As Moreno wrote:
"Given that we are in the EU I would expect equal treatment among countries, maybe Italy starts the process but others would follow. What does this mean? If Italy can help then Portugal and Germany should follow with their problematic banks, even Spain should join the queue. Then we ask again: where is the money coming from? Portugal doesn't have it but Germany does. Are we talking now about EU-wide recap program? Maybe. Maybe at a later stage, maybe now, we just don't know."
If that sounds a little far-fetched, just listen to the comments made by European Commission President Jean-Claude Juncker on Tuesday evening:
"We were discussing that matter together with Matteo Renzi this afternoon. The commission will do everything in order to avoid any kind of bank run. This is not a danger for Italy for the time being but we have to make sure given the uncomfortable global circumstances we're in that the banking sector in Italy and elsewhere will be protected in the best way possible."
Before it's here, it's on the Bloomberg Terminal.
LEARN MORE