U.S. Stocks Rebound as Worries Ease After Two-Day Brexit Selloff
by and
Signs of stability on optimism policy makers can allay damage

Banks, technology and health-care shares pace recovery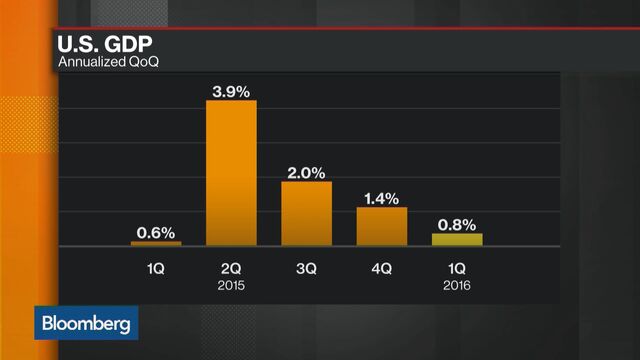 U.S. stocks surged the most in nearly four months, rising for the first time since Britain voted to leave the European Union amid optimism that policy makers are committed to limit the fallout from the U.K.'s exit.
Tuesday's turnaround gathered pace late in the day, with the Dow Jones Industrial Average adding more than 260 points. Banks had the strongest rally in six weeks, following their worst back-to-back sessions in almost five years. Facebook Inc., Apple Inc. and Microsoft Corp. rose at least 1.6 percent to boost the technology group, while energy producers climbed the most in 2 1/2 months as crude prices jumped.
The S&P 500 Index advanced 1.8 percent to 2,036.09 at 4 p.m. in New York, the most since March 1 amid a rebound from the steepest two-day drop since August. Gains accelerated in afternoon trading as the index pushed above its average price during past 200 days. The rally topped out near the 100-day moving average. The Dow added 269.48 points, or 1.6 percent, to 17,409.72. The Nasdaq Composite Index increased 2.1 percent.
"It's a case of confidence, when the market goes higher it brings confidence," said Richard Sichel, chief investment officer at Philadelphia Trust Co., which oversees $2 billion. "Getting through most of the day and the market holding onto those gains, that pulls in other investors who may have been watching and just waiting to step up."

The U.K.'s decision last week triggered a rush toward safe havens as global equities lost about $3.6 trillion in market value and the S&P 500 tumbled 5.3 percent to erase its 2016 advance. The CBOE Volatility Index tumbled 21 percent Tuesday, the most since 2011, though the measure of market turbulence known as the VIX is still on the way to its biggest monthly climb since a record jump last August.
After the market closed, Nike Inc. sank 6.9 percent as of 4:52 p.m. as its future orders, a proxy for demand, missed estimates. The disappointment renewed concerns that the world's largest sports brand has entered a period of slowing growth.
European Central Bank President Mario Draghi added to speculation of a more coordinated effort by policy makers to mitigate the Brexit repercussions, calling for global policy alignment in a speech at the ECB Forum in Sintra, Portugal. Draghi said there is a "common responsibility" to address the world's economic weaknesses.
Rate Bets
The rally Tuesday brings a measure of relief after two days of sharp declines spurred by concerns that Britain's EU exit would further burden an already sluggish global economy. Investors have pushed back bets on Federal Reserve interest-rate increases, pricing in just a 10 percent chance for higher borrowing costs by February 2017, down from 52 percent before the vote outcome. Odds for a rate cut by November are nearly 14 percent.
EU leaders gathered for a two-day European Council summit to discuss Britain's exit. Germany, France and Italy prodded the U.K. government to start the process, saying they want to move forward and limit market risks. Britain's Chancellor of the Exchequer George Osborne sought to reassure investors on Monday, saying that contingency plans were in place to shore up the economy amid ongoing volatility, but that Brexit won't be "plain sailing" -- something that Cameron reiterated in Parliament.
"People are calming down and looking at it more rationally," said John Conlon, chief equity strategist at People's United Wealth Management, which oversees $5.5 billion. "It's a combination of that plus the fact that by now you've seen the investors that were betting that Brexit wasn't going to happen finally unwinding those bets."
Aside from the Brexit drama, a report today showed the U.S. economy expanded more than previously projected in the first quarter as improved performance in trade and business investment more than made up for weaker consumer spending. Separate data showed consumer confidence rose to the highest since October as Americans became somewhat more optimistic about the economy.
In Tuesday's trading, energy, financial and technology shares were the strongest among the S&P 500's 10 main industries, increasing at least 2 percent. Health-care and consumer discretionary companies added more than 1.9 percent. A Goldman Sachs Group Inc. basket of the most shorted shares in the Russell 3000 Index jumped 2.5 percent, the most in more than two months. About 8.4 billion shares traded hands on U.S. exchanges, 16 percent above the three-month average.
Banks Bounce
Banks in the S&P 500 increased 3.2 percent, the steepest since May 18, after falling 10 percent in two sessions. JPMorgan Chase & Co. and Wells Fargo & Co. added more than 2.4 percent. Comerica Inc. and Regions Financial Corp. were among the biggest gainers in the group, climbing at least 4 percent after back-to-back losses of more than 16 percent.
Biotechnology shares led the rally in health-care, with Gilead Sciences Inc. jumping 4.8 percent, the most in almost five months. Regulators approved Gilead's hepatitis C drug for all forms of the viral disease. Celgene Crop. rose 2.2 percent, while Regeneron Pharmaceuticals Inc. and Biogen Inc. climbed at least 1.5 percent. The Nasdaq Biotechnology Index jumped 3.8 percent, the most in 11 weeks.
In the broader health-care group, Johnson & Johnson rose 1.4 percent in its fourth gain in five days, climbing to an all-time high. Allergan Plc and Medtronic Plc added at least 2.1 percent.
Tech Gains
Microsoft rose 2.1 percent to boost tech companies in the benchmark, clawing back a portion of a 6.7 percent drop in the prior two sessions as the software giant bounced from an eight-month low. Facebook surged 3.4 percent, its best gain in two months. Seagate Technology Plc and Micron Technology Inc. posted the strongest advances, rising at least 6.2 percent. The Philadelphia Stock Exchange Semiconductor Index added the most since May 20.
Oil and gas companies marked their best session since April 12 as West Texas Intermediate crude futures jumped 3.3 percent. Exxon Mobil Corp. rallied 2.3 percent, the strongest since March 7, while Marathon Petroleum Corp. advanced 8.4 percent, its biggest one-day climb since February 2012.
Dow Chemical Co. and merger partner DuPont Co. lost 2 percent after Dow said it plans to eliminate about 2,500 jobs and shut plants in North Carolina and Japan as it slims down after taking full control of its Dow Corning Corp. silicone venture. The company announced the Corning deal in December at the same time it unveiled an agreement to merge with DuPont, a $56.4 billion combination that's under antitrust scrutiny.
Among other shares moving on corporate news, Xencor Inc. soared 32 percent, the most since December 2013, to help boost the Russell 2000 Index. The company announced a deal with Novartis AG to collaborate on developing cancer therapies. Novartis added 3 percent, the most in a month.
Before it's here, it's on the Bloomberg Terminal.
LEARN MORE