business
Corbyn Dismisses Calls to Resign After Losing Confidence Vote
By and
Corbyn ignores calls to resign after losing no-confidence vote

Standoff deepens crisis in British politics since Brexit vote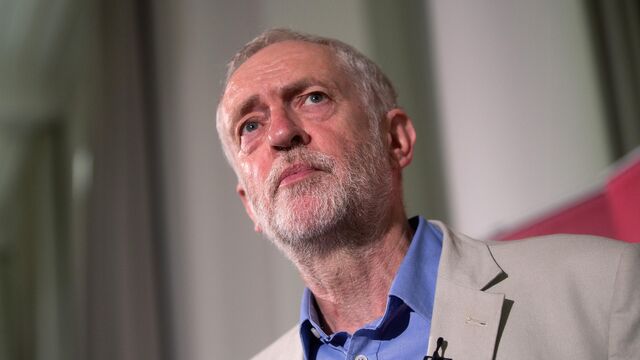 U.K. opposition leader Jeremy Corbyn is facing the prospect of a formal bid to unseat him after he refused to resign following an overwhelming vote of no confidence by his own Labour Party lawmakers.
Corbyn has vowed to carry on after Labour members of Parliament backed the motion of no confidence by 172 votes to 40 on Tuesday. Insisting the vote had no "constitutional legitimacy," he vowed not to "betray" the grassroots supporters who helped him become leader less than a year ago.

In a statement, Corbyn said the vote by lawmakers had "no constitutional legitimacy."
The standoff deepens the turmoil in a party more divided than at any time in more than three decades in the wake of the Brexit referendum. With Corbyn refusing to go, there is speculation that Angela Eagle, one of dozens of Labour lawmakers who have resigned from his team in the past three days, is preparing to mount a leadership challenge.
"How can you not resign?" Chris Bryant, who quit on Sunday, said of the opposition leader in a phone interview Tuesday. "Intransigence will do him no favors. He could barely fill the top level of a double-decker bus with his parliamentary supporters, let alone a full front-bench shadow team of 95."
'Keep Corbyn'
Corbyn became leader in September with the overwhelming backing of rank-and-file members, who have remained vocal fans ever since. Momentum, the group that supports him, has scheduled a "Keep Corbyn" rally for Wednesday evening in London.
But he was never the choice of Labour MPs, many of whom opposed his hard-line socialist policies and now accuse him of doing too little to persuade Labour voters to back staying in the EU. They fear Labour has little chance of winning a general election that could happen sooner than planned if Corbyn remains at the helm.
A leadership election can be triggered if 20 percent of Labour lawmakers put their names to a letter backing a rival. British media were reporting a possible bid by Eagle on Wednesday. Bookmakers have her as the favorite to take over, followed by deputy leader Tom Watson.
Leadership Vacuum
Corbyn may cut a lonely figure when he appears in the House of Commons at noon, surrounded by Labour MPs who want him gone, for his weekly head-to-head with Prime Minister David Cameron.
Britain's shock vote to leave the European Union last week has left the country facing a power vacuum at a time of crisis. Cameron resigned, triggering a leadership contest in the ruling Conservative Party; Scottish politicians are threatening to hold a second referendum on independence from the U.K.; and the pound sank to the lowest level against the dollar in 31 years earlier this week.
The deadlock over the Labour leadership threatens to fracture a party in its worst crisis since 1981, when four senior members broke away to form the Social Democratic Party.
"Any other normal leader in normal times would just go quietly after this," Tim Bale, professor of politics at Queen Mary University in London, said in a phone interview. "But these are not normal times and he is not a normal leader, so anyone betting against him carrying on until a leadership contest is probably foolish. If he were to win a second leadership contest, then I think that the Labour Party will split."
Momentum will stage a rally at 7 p.m. with Corbyn among the speakers, accompanied by labor-union leaders and his allies, finance spokesman John McDonnell and health spokeswoman Diane Abbott.
"Jeremy has made clear that he's going nowhere," Momentum said. "He will need all of our help in sticking to that."
— With assistance by Joe Mayes
Before it's here, it's on the Bloomberg Terminal.
LEARN MORE