Turkey's Airports on Alert After Istanbul Attacks Kill 41
by , , and
Suicide bombers blew themselves up after police spotted them

Attackers were prevented from getting past security controls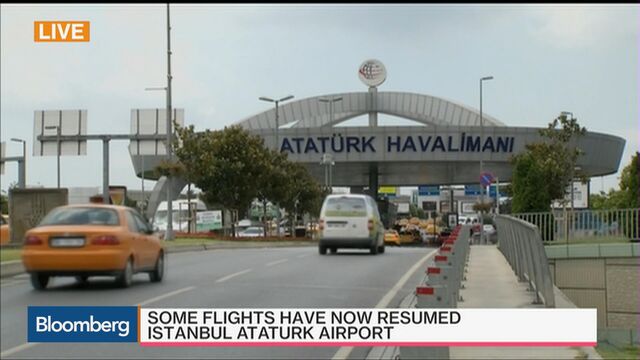 Turkey deployed anti-terrorism squads at Istanbul's main international airport after three suspected Islamic State suicide bombers killed 41 people, underscoring the country's struggle to contain the spillover from Syria's civil war.
QuickTake Fighting Islamic State
Islamic State is likely responsible for the killings, Prime Minister Binali Yildirim said in televised remarks after late Tuesday's attacks. Once an affiliate of al-Qaeda, Islamic State carried out beheadings and crucifixions as it took parts of Syria and northern Iraq. While losing ground in recent months, it is striking abroad more frequently and claimed responsibility for similar airport attacks in Brussels in March.

The attack deals another blow to Turkey's struggling tourism industry. It prompted authorities to tighten security at other airports, including Istanbul's Sabiha Gokcen airport, state-run Anadolu Agency reported.
AbduRahman Hussein, a filmmaker from Yemen, said he was about to eat at one of the terminal's second-floor restaurants when he heard shots and explosions. "I saw the smoke," he said. "Then I started running away."
Assessing Damage
Three suicide bombers opened fire and then blew themselves up in rapid succession around 9:20 p.m., Yildirim said from the Istanbul airport, where he assessed the damage and met with emergency personnel. Among the dead, 13 were foreign nationals from countries including Saudi Arabia, Iraq and Ukraine. More than 200 people were wounded, including a Swiss citizen, Health Minister Recep Akdag said.
The assaults took place near security checkpoints at the entrance to the airport's arrivals hall. Justice Minister Bekir Bozdag told lawmakers in parliament earlier that at least one attacker had sprayed gunfire from a Kalashnikov automatic assault rifle. Two detonated their vests at the arrival hall, and a third in a nearby parking lot, according to a Turkish official who asked not to be identified because he's not authorized to talk to the press.
Normal air traffic resumed at the airport as of 2:20 a.m. local time, according to Yildirim. Turkish Airlines, the national carrier, and TAV Havalimanlari, which operates the Ataturk airport, fell as much as 3.5 percent and 6.7 percent respectively in early trading in Istanbul on Wednesday. The attacks forced Turkish Airlines to cancel 340 flights, CNN-Turk television said on its website.

There was no immediate claim of responsibility. Both Islamist, leftist and Kurdish militants have carried out bomb attacks in Turkey in recent months, hammering the nation's vital tourism sector. Tourist arrivals to Turkey fell almost 35 percent in May from a year earlier, the fastest drop in at least a decade.
The attack "effectively removes any chance of a recovery in the second half of the year for Turkey's troubled tourism industry," Wolfango Piccoli, co-president of Teneo Intelligence in London, said in a report on Wednesday.
President Recep Tayyip Erdogan said in a statement that the attack was an effort to hurt Turkey's image. "For the terrorist organizations, there's no difference between Istanbul and London, Ankara and Berlin," he said, urging all countries to join forces against terrorism.
Spread of Violence

President Barack Obama, in a phone call, offered Erodgan "any support" Turkey needs, including assistance to shore up security, including intelligence-sharing, White House press secretary Josh Earnest told reporters traveling aboard Air Force One on Wednesday.
"We're still learning all the facts, but we know this is part of our broader fight against terrorist networks and we're going to work with Turkey to root them out," Obama told reporters at the North American Leaders' Summit in Ottawa on Wednesday.
The White House expects the assault to be on the agenda of next week's NATO summit in Warsaw.
Both the main candidates to take over from Obama also weighed in. The presumptive Democratic nominee, Hillary Clinton, said the U.S. must "deepen our cooperation with our allies and partners in the Middle East and Europe," and her likely Republican opponent, Donald Trump, said the U.S. must "take steps now to protect America from terrorists."
Unpopular Policy
With Turkish-backed rebels in Syria on the defensive against Syrian government forces aided by Russia, the attacks "put a spotlight on the government's unpopular Syria policy," said Gonul Tol, a Turkey analyst at the Middle East Institute, a Washington research center.
"The government will do its best to control the way the media frames the attack and divert attention from the government's Syria policy to external factors contributing to the growth of ISIS threat," she said, using another acronym for Islamic State.
The attack is also the latest to target airports and the aviation industry in the Middle East and Europe, coming three months after suicide bombers struck Brussels airport. It serves as reminder of the vulnerability of airport lobbies and other public places where large numbers of people congregate, said Hans Weber, an aviation consultant in San Diego.
"The probability of copycat attacks goes way up high after one of those attacks," said Weber, who advised the U.S. federal government on airport security issues following the Sept. 11 attacks. "From a terrorist perspective, Brussels was a success. You can see how they would be motivated to copy that."
Israeli Rift
Earlier this week, Erdogan ended a six-year rift with Israel and unexpectedly moved to mend ties with Russia, as he attempts to draw a line under diplomatic confrontations that had sapped the economy and left him increasingly isolated in the region.
"Improving ties with Israel will enable Turkey to access intelligence from Israel and fight Islamic State more effectively," Ilnur Cevik, a presidential adviser, told AHaber television in an interview on Wednesday.
Before it's here, it's on the Bloomberg Terminal.
LEARN MORE