Triumphant Farage Crows to EU as Juncker Tells Him He's a Liar
by and
UKIP leader says referendum a 'beacon of hope' for Europe

European Parliament says secession process must start soon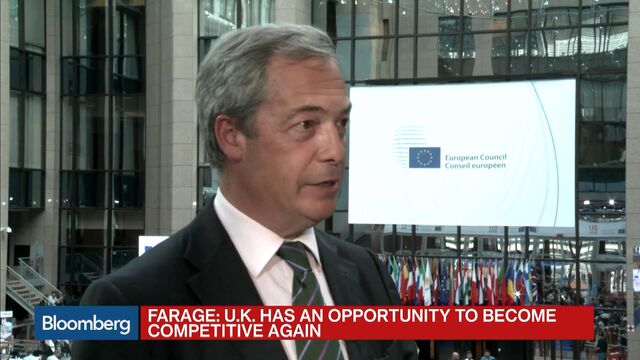 European Union lawmakers said the U.K. should trigger the process for seceding from the EU as soon as possible in a tumultuous session that was overshadowed by a triumphant appearance from Nigel Farage and bragging by France's National Front.
To boos and jeers from much of the rest of the European Parliament in Brussels, Farage, a constant thorn in the side of the EU since he became a member of the assembly in 1999, spoke of his pride that he'd achieved his ultimate goal of Britain leaving the bloc. EU Commission President Jean-Claude Juncker, who joined the debate before meeting with Prime Minister David Cameron, told the U.K. Independence Party leader he was a liar.
The U.K. is "a beacon of hope to democrats across the rest of the European continent," Farage told the chamber on Tuesday, surrounded by lawmakers from across the EU. The referendum outcome was a reaction to Europe's moves to impose a political union by "stealth" and "deception" and policy makers are in denial about their failures, he said.
The EU parliament said the British shouldn't delay activating negotiations on an exit from the 28-nation EU to prevent damage caused by uncertainty and to protect the union's integrity. However, it has far less influence than EU government leaders who are due to meet Cameron in a summit later on Tuesday that will be dominated by the Brexit vote.
Historic Event
Farage said the EU has more to lose than Britain if it hindered trade between the two sides after the U.K. leaves, saying "hundreds of thousands of German workers" risk losing their jobs if tariffs are reintroduced on products like automobiles.
Congratulating the British electorate, French National Front President Marine Le Pen told the assembly the referendum result was "the most historic and important event our continent has known since the fall of the Berlin Wall."
Amid signs that the vote outcome might embolden nationalist groups across the region, Le Pen has pushed for a referendum in her own country to settle EU membership.
 
"You lied," Juncker told Farage as he listed the reasons why he thought British voters were misled during the referendum campaign, including the claim that the U.K. could strengthen control of its borders, when it has never been in Europe's frontier-free Schengen zone anyway.
"Why are you here?" Juncker asked Farage, who like his fellow British members of the EU Parliament, will lose his job when the U.K. leaves. "You're never coming back."
Watch Next: EU's Juncker Blasts Ukip's Farage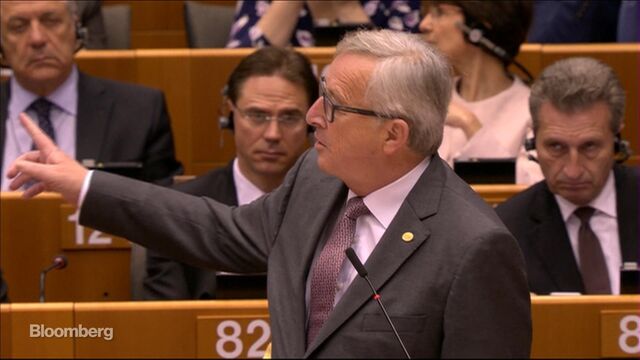 Before it's here, it's on the Bloomberg Terminal.
LEARN MORE