South Korea Plans Supplementary Budget, Cuts Growth Forecast
by
Forecast for 2016 growth cut to 2.8%, CPI lowered to 1.1%

Stimulus of more than 20 trillion won planned to cushion risks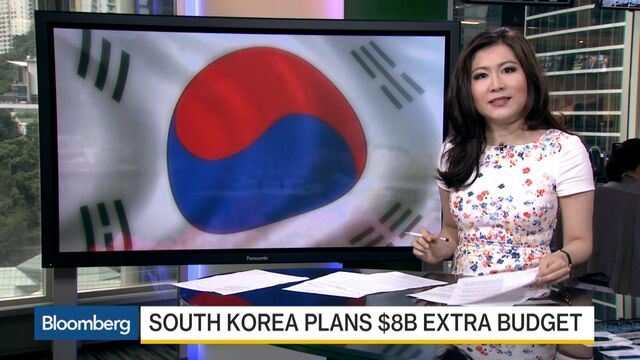 South Korea plans a fiscal stimulus package of more than 20 trillion won ($17 billion) to cushion risks from corporate restructuring as external uncertainties grow with the U.K. 's vote to leave the European Union.
The package will include an extra budget of about 10 trillion won that mainly would be used to create jobs and support regional economies that would be hurt by corporate restructuring, according to government statements on policy outlook for the second half. The growth outlook for 2016 was reduced to 2.8 percent from 3.1 percent, while the government's inflation projection was cut to 1.1 percent from 1.5 percent.
About 10 trillion won in extra budget will be financed by funds left over from 2015 -- about 1.2 trillion won -- and excess tax revenue expected for this year, according to Lee Ho Seung, a director general of economic policy at the finance ministry. No government debt will be issued, he said.
The other spending of more than 10 trillion won in the stimulus package will come from public funds and investments from state-owned companies.
'Downside Risk'
"Brexit is a downside risk to the Korean economy, but the issue wasn't reflected in this revised outlook as it's difficult to quantify the impact," Lee said in a press briefing. "Brexit would increase market volatility in the near term and then affect the real economy through changes in Europe and the U.K.'s growth rate."
The stimulus including extra budget would have the effect of raising this year's growth by 0.2 to 0.3 percentage points, according to Lee. Korea's exports fell for a 17th consecutive month in May, while job growth in the manufacturing sector fell to one third of last year's pace as companies have downsized amid the government's restructuring push. 
The government projects exports to fall 4.7 percent this year from 2015 and imports to decline 6 percent. The nation's current account surplus is expected at $98 billion this year, before contracting to $84 billion in 2017.
Finance Minister Yoo Il Ho said in a briefing on Tuesday that about 60,000 workers could lose jobs in the shipbuilding sector as corporate restructuring proceeds, and said the government will submit the extra budget plan to parliament as soon as possible.

Growth and inflation expectations have been lowered several times in recent years. The economy was projected to expand by 3.5 percent in 2016 when the government first released estimates in June 2015. Tuesday's outlook revision puts the government on par with the central bank, which forecast 2.8 percent growth in April. And the BOK may be on track for another downward revision in July, as Governor Lee Ju Yeol signaled after a surprise rate cut in June.
The announced supplementary budget is smaller than expected and while it will help domestic consumption and the job market, economic growth could slow to 2.2 percent in 2016, Kwon Young Sun, an economist for Nomura Holdings Inc., wrote in Tuesday's report.
The government also pledged bold and timely action to stabilize markets through measures including smoothing operations as U.K.'s vote to leave EU sent shock waves through global financial markets. The won posted the biggest daily drop since 2011 on June 24 as the Brexit vote was announced, while sovereign yields fell to record lows. The Korean currency strengthened on Tuesday as government's fiscal stimulus plan was announced.
To boost consumption and address environmental concerns, the government plans to offer tax breaks to those who scrap old diesel cars to buy new vehicles. The government said it also will announce plans to increase overseas sales of premium consumer goods like furniture.
Before it's here, it's on the Bloomberg Terminal.
LEARN MORE