Puerto Rico's Debt Crisis Plan Awaits Critical Senate Test Vote
By
Many senators say they're backing or leaning toward 'yes' vote

Menendez seeks amendments; others are pushing mining issue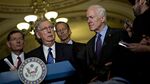 Months of effort to restructure Puerto Rico's debt come down to a critical test vote in the Senate Wednesday morning, with leaders in both parties on board and hoping the legislation will advance and the administration warning of "chaos" if it fails.
Republican and Democratic leaders were furiously whipping members Tuesday, trying to build support for a bill that would establish a financial control board to oversee a restructuring of Puerto Rico's $70 billion in debt. Treasury Secretary Jacob J. Lew said he sensed senators' growing understanding of the urgency of action after a closed-door session.
Many senators in both parties said this week that they would reluctantly back the measure -- citing the risk of not acting before a July 1 deadline for Puerto Rico's next bond payment -- but it wasn't yet clear if it has the 60 votes needed to advance. There were some warning signs, as several senators pledged to vote against the bill, citing opposition to the House-passed measure or other unrelated concerns.
If the procedural vote succeeds, it would set up a final passage vote no later than Thursday afternoon. If the measure is blocked, that would cast doubt on whether the Senate would act before the island's anticipated default on July 1.
"It'll be close," said Dick Durbin of Illinois, the No. 2 Democrat in the Senate.
Senate Majority Leader Mitch McConnell of Kentucky said the bulk of his 54-member conference would back the measure and he's working hard to persuade them to support it. 
To see a story on House passage of the bill, click here.
The bill has some strong opposition. Some unions are against it, angered by minimum wage and overtime provisions, weighing on Democrats. 
Senator Bob Menendez of New Jersey spent hours on the Senate floor Tuesday evening appealing to his fellow senators to block the bill from moving forward until he is allowed to offer amendments. Among other items, Menendez opposes the new financial control board having power over the lives of Puerto Ricans with little representation from the island itself.
Mining Provision
A bipartisan group of senators, led by Democrat Joe Manchin of West Virginia and Republican Rob Portman of Ohio, is demanding a vote on a mining pension bill from McConnell and threatening to hold the Puerto Rico bill hostage. 
And a group of conservatives is complaining that the bill doesn't demand enough austerity from the Puerto Rican government, blaming years of fiscal mismanagement for the island's unaffordable debt load. Judiciary Chairman Chuck Grassley of Iowa said the measure wouldn't do enough to prevent a taxpayer bailout a few years from now. 
Thom Tillis of North Carolina said he wanted more of a commitment to changes by Puerto Rico's elected officials. "There is going to be significant resistance among the voting population, so I'm just wondering whether or not they'll be taking the decisive steps as early as they need to," Tillis said.
Senator Chuck Schumer of New York, the third-ranking Senate Democrat, predicted Tuesday the bill, S. 2328, would pass if enough Republicans support it.
"We are going to need a lot of Republican votes and I've told that to Leader McConnell," he said.
A day earlier, second-ranking Senate Republican John Cornyn of Texas said the Senate won't leave for a brief July 4 break without finishing the Puerto Rico bill, and he predicted most Republicans will support it.
"We're trying to work people through it," Cornyn said. "If we don't pass this Puerto Rico bill and July 1 hits and there's a major default, then there's going to be a demand that we use taxpayer dollars to bail out Puerto Rico, and to me this is an anti-taxpayer bailout bill."
No Bailout
The legislation does not contain any new federal funding, but it would create a path forward to address the island's crippled finances. The commonwealth racked up $70 billion in debt during years of borrowing to cover operating costs. July 1 is the deadline for a $2 billion debt payment, which Governor Alejandro Garcia Padilla has said the island cannot pay.
McConnell's decision to push the bill right up against the July 1 deadline, however, makes it easier for both parties to back a bill containing provisions they oppose.
"If we fail to act now, the timetable will slip into the indefinite future, and that will be truly disastrous," said Senator Richard Blumenthal of Connecticut. The Democrat said he hopes in the future to change some provisions attached by Republicans, such as those on overtime pay and a lower minimum wage.
"I have deep reservations about some of the provisions and hope that we'll have an opportunity to correct them," he said.
Before it's here, it's on the Bloomberg Terminal.
LEARN MORE