Scots Seek Support to Avoid Brexit as Sturgeon Heads to Brussels
by and
Scottish political leaders unite to keep country in EU

Legislation being readied for independence vote if needed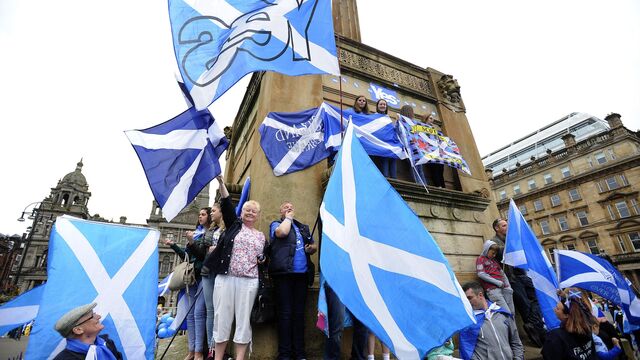 Scottish First Minister Nicola Sturgeon will head to Brussels this week to seek support for remaining in the European Union after she asked her government to prepare legislation for possible referendum on independence.
Addressing the Scottish Parliament in Edinburgh on Tuesday, Sturgeon said the political vacuum in the U.K. was "unacceptable" and politicians in London must "get a grip" on the situation after financial markets tumbled in the wake of the Brexit vote. 
"We face risk and uncertainty greater, perhaps, than at any time in the postwar period and we are already seeing some of the early consequences," she said. "I do fear we're in the early days of risk and uncertainty."
Britain's shock decision to leave the EU last week immediately threw up questions over whether the U.K. will hold together after Scots voted overwhelmingly to remain in the 28-nation bloc. Sturgeon and her Scottish National Party have said Brexit would prompt them to push again for full autonomy, though she said today independence wasn't her first objective.
Scottish Voice
The semi-autonomous government in Edinburgh named a group of advisers on retaining EU status and will convene a meeting of consuls from EU member states next week. In Brussels, Sturgeon will meet Martin Schulz, president of the European Parliament. "Scotland spoke clearly to remain and I am determined Scotland's voice will be heard," Sturgeon said.
Sturgeon spoke as U.K. Prime Minister David Cameron arrived in Brussels for his first meetings with fellow EU leaders since the referendum. In a sign of the cool reception awaiting him, German Chancellor Angela Merkel told lawmakers in Berlin that Britain should have no illusions about life outside the EU. Cameron announced following the vote he'd step down within weeks, leaving him little leverage at the summit.
All parties in the Scottish Parliament are united in wanting to stay in the EU and the country voted 62 percent to 38 percent to do so. During the last independence referendum in 2014, guaranteed membership of the EU was a key weapon deployed against the nationalists.
The pro-union Better Together side warned of the difficulty of joining the EU after secession and the prospect of having to adopt the euro. Seeking to deter Catalonia from a similar path, Spain at the time said that an independent Scotland would have to pass through the same process as other candidate countries. The SNP said Scotland would remain a member regardless.
Before the Brexit referendum, surveys showed the country of 5.4 million was split roughly as it was in the 2014 independence vote, when 55 percent opted to remain in the U.K. Since then, at least two polls have suggested a majority of Scots would back leaving a union dating back to 1707.
Before it's here, it's on the Bloomberg Terminal.
LEARN MORE