Rally of the Century Drives Aussie Bond Returns as RBA Cuts Loom
by and
Australian government bonds have delivered 5.8% gain in 2016

Benchmark 10-year sovereign rate dropped to record low 1.95%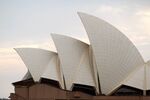 Australian government bonds haven't started a year this strongly in more than two decades and global turmoil means the prospect of more fuel from interest-rate cuts.
Holders of federal debt have earned 5.8 percent since Dec. 31, the best beginning to a year since 1995, a Bloomberg AusBond index showed as of Tuesday. The instability stemming from the U.K.'s European Union referendum has seen investors flock to sovereign debt and helped push Australia's benchmark 10-year yield to an unprecedented 1.95 percent. Risks are also mounting in China, Australia's biggest trading partner.
Bets on additional monetary easing by the Reserve Bank of Australia have increased, with the swaps market indicating a 57 percent probability that Governor Glenn Stevens will lower the cash rate from 1.75 percent by August. While the RBA said at its most recent meeting that current policy was "consistent" with its inflation target, signs of weakness in the next consumer-price index release on July 27 may push it to cut again.
"Brexit and negative interest rates in Japan and Germany are all adding to the strong behavior," said Roger Bridges, the chief global strategist for interest rates and currencies at Nikko Asset Management Co.'s Australian unit in Sydney. "The RBA is likely to ease rates in August and the current dislocation in the market may force them to cut after that as well. The expectation that rate cuts are still on makes it a bond-friendly situation."

In the U.S., fixed-income buyers are now considering not just the possibility of an extended policy pause, but also the idea the Federal Reserve may have to reverse course and actually lower interest rates again. That would place additional pressure on longer-end rates in Australia, and Deutsche Bank AG strategist David Plank predicted in a June 28 note to clients that the Aussie 10-year yield will fall to 1.5 percent by the end of 2016. It rose 2 basis point to 2.01 percent on Wednesday at 9:30 a.m. in Sydney.
The probability of a Fed rate increase this year slumped to 9 percent, from 50 percent before the results of the U.K.'s referendum were known, and the market is now pricing in a 12 percent chance of a cut, according to futures data compiled by Bloomberg.
Spread Compression
The yield on 10-year U.S. Treasuries fell to 1.47 percent, while the equivalent German yield was minus 0.1 percent. In Japan, the yield on every single government bond benchmark fell below 0.1 percent for the first time, with the 10-year rate falling to an unprecedented minus 0.23 percent.
Deutsche Bank expects the yield premium for 10-year Aussie paper over U.S. securities will narrow further from its current level of 54 basis points, especially as China faces ongoing challenges. While the near-term economic outlook for Australia's biggest trading partner is being buoyed by policy support, its medium-term prospects are becoming more uncertain because of rapidly rising credit, excess industrial capacity and financial sector risks, the International Monetary Fund said this month.
The Aussie-U.S. 10-year spread may narrow to 40 basis points, while a push up to 65 basis points in the near term could lead investors to consider "compression trades," according to Michael Turner, a fixed-income strategist at Royal Bank of Canada in Sydney.
"You'd be a bold person to say the rally won't continue given where markets are now amid all the dislocations," Turner said. "We think towards the short end of the curve there is value, even with yields at historical low levels. We expect the RBA cash rate to drop to 1.25 percent by the second quarter of next year, which should help continue the performance of Aussie government bonds."
Before it's here, it's on the Bloomberg Terminal.
LEARN MORE