Rajoy's Waiting Game Endures as Spanish Rivals Threaten Veto
by
Prospect of third election may boost prime minister's leverage

Socialists, Ciudadanos refused to let PP take office Monday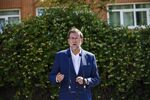 Mariano Rajoy has all the time in the world.
Spain's acting prime minister has already waited six months to renew his mandate as the head of the government and he's prepared to keep waiting if that's what it takes.
Rajoy called on his traditional rivals, the Socialists, and the pro-market modernizers of Ciudadanos to help him push ahead with economic reforms, hold separatists in check and fix the education system after emerging as the biggest winner from last weekend's election. Both turned him down outright.
But with Rajoy's People's Party the only group to increase its vote when Spaniards went to the polls for the second time in six months on Sunday, the prime minister's leverage will increase as the deadlock stretches on, according to Antonio Barroso, an analyst at Teneo Intelligence in London.
"Rajoy will probably push the negotiations to the point where the only possible options are supporting him or third elections," Barroso said in a telephone interview. "Third elections aren't an attractive proposition for his rivals."
The fight over the future of Spain has become a war of attrition after two new groups emerged channeling voters' anger at mass unemployment and the widespread corruption uncovered during the economic crisis. Ciudadanos and the anti-establishment group Podemos garnered enough support to stop the traditional parties from governing in December, but not enough to seize power themselves.
Party Discipline
Now they are struggling to keep their supporters engaged as the power struggle drags on, while Rajoy can rely on dragoons of PP cadres seasoned over successive campaigns.
Podemos dropped a million supporters between December and June, and Ciudadanos lost a fifth of its lawmakers as voters opted for the familiarity of Rajoy's PP with markets in turmoil after Britain's vote to leave the European Union. Socialist leader Pedro Sanchez is trying to keep a lid on internal dissent after posting the worst result in his party's history.
The PP added 600,000 votes and increased its delegation in parliament to 137 seats from 123 by warning sympathizers that they risked economic anarchy if the center-right party was ousted. Spain's 10-year bond yields posted their biggest decline since 2014 as the prospect of a Podemos-led government receded.
Susana Diaz, regional president in the Socialists' Andalusia heartlands, said Tuesday that the country should avoid a third election at all costs and ducked the question when asked whether Sanchez should stay on as party leader. She said that Rajoy's alleged ties to a PP slush fund don't disqualify him from governing, even though the party needs profound reform.
"It's not up to me to overrule the will of the voters," Diaz said in an interview with Cadena Ser radio station.
Rajoy's Art
Rajoy's ability to ride out criticism and stick to his guns has become a hallmark of his style of government.
He let the courts man the barriers against Catalan separatism and turned a deaf ear to party critics calling for a debate on his leadership. He ignored demands he seek a sovereign bailout in 2012 at the height of the crisis (and pretended the EU bailout of the banking system had never happened) and has dismissed persistent calls for his resignation since being linked to the slush fund in 2013 -- even though his denials of any wrongdoing have never been ratified by any independent third party.
"He has a knack, a special art, for managing the timing of events," Rajoy's chief of staff, Jorge Moragas, said in an interview for a pre-election documentary on Antena 3. "It disorientates people and makes them nervous, including people on his own team."
The new parliament will sit for the first time on July 19 and then King Felipe VI will hold discussions with party leaders before nominating a candidate, most probably Rajoy, to face a confidence vote in parliament. If the candidate loses, lawmakers will have two months to decide on a leader before the legislature is dissolved again and that third election looms on the horizon.
"He really manages time well," Antoni Gutierrez, a Barcelona-based political consultant, said in an interview. "He is more alive now than he was before."
Before it's here, it's on the Bloomberg Terminal.
LEARN MORE