Photographer: Chris Ratcliffe/Bloomberg
Quant Currency Fund Wins on Pound Plunge by Looking Past Brexit
by
Stockholm-based IPM seeks value without betting on direction

Currency fund 'made money on Friday,' IPM's Houles says
For one of the year's most successful currency managers, the U.K.'s vote last week to leave the European Union was one more vindication of its investment strategy.
"We made money on Friday, sure, we were up over 3 percent," said Serge Houles, head of investment strategy at IPM Informed Portfolio Management AB, a Stockholm-based fund that manages $5.5 billion.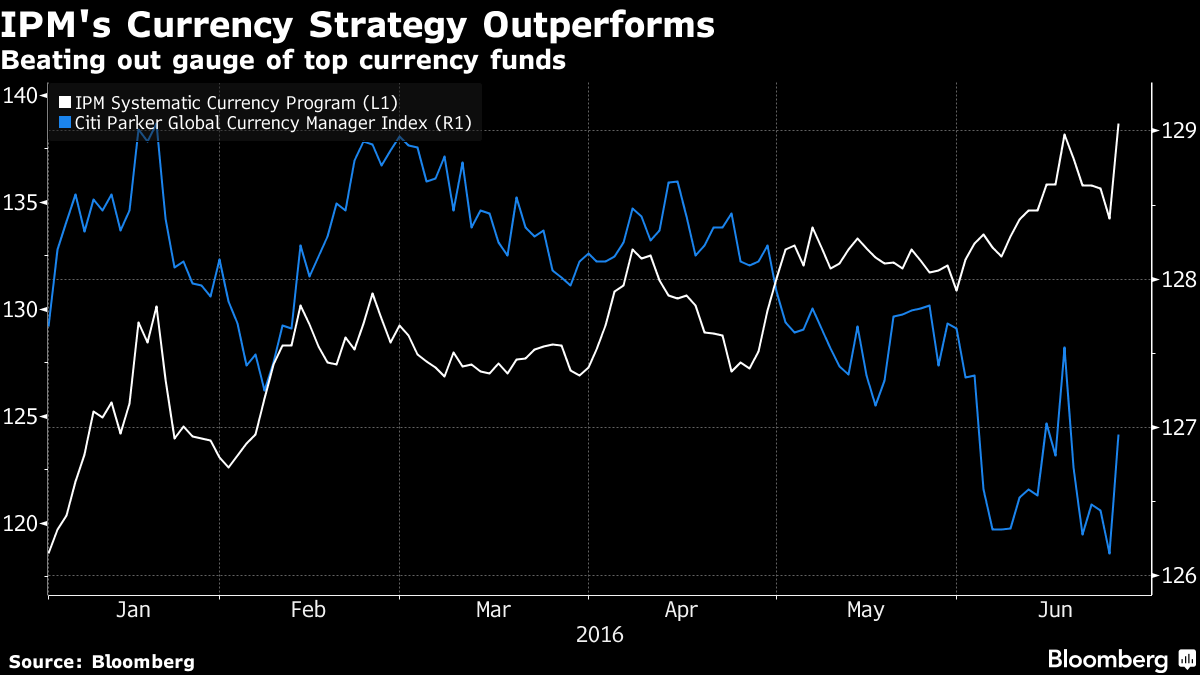 IPM relies on computer models to capture divergences between fundamentals and market prices in its $1.7 billion of currency strategies, Houles said. The approach is paying off, with a return of 18 percent in 2016, versus 3.5 percent last year, according to data compiled by Bloomberg. The Parker Global Currency Manager Index, which tracks the top foreign exchange funds, is poised to drop for a fourth-straight month, the longest losing streak since August 2013.
"Our positioning was not in relation to Brexit, but related to fundamentals," Houles said, noting the firm reduced its portfolio risk by 25 percent to anticipate market volatility. "What happened on Friday went our way for fundamental reasons -- we're short the pound, but we've been positioned this way all year."
Systematic Funds
Unlike the traditional discretionary style of trading that relies on fund managers' intuition, insight or interest-rate differentials, systematic funds such as IPM's don't take directional views and let the computers do the work. IPM monitors 50 factors and uses quantitative models to exploit dispersion in economic fundamentals across countries.
Implementing positions using three-month currency forwards, IPM's approach seeks discrepancies between a currency's price and longer-term value. One strategy assesses current-account balance relative to gross domestic product for Group-of-10 countries, compared with foreign exchange performance versus a G-10 basket, in order to determine a currency's relative value.
"Quantitative strategies and commodity trading advisers in particular are attractive because they deliver returns that are not correlated with traditional asset classes," said Philippe Ferreira, head of research at Lyxor Asset Management, which earlier this year increased its exposure to CTAs. "The power of diversification of such strategies is huge."
Brexit Jolt
During the past year, Houles said IPM has made money with bullish positions on the euro and the yen, which benefit from among the world's biggest current account surpluses, as well as the Swiss franc, Brazilian real and South African rand.
As the market reeled from a historic jolt on June 24 that sent the pound to a three-decade low, some currency fund managers were able to take advantage of the volatility, with the Parker Global Currency Manager Index posting the biggest jump in 10 months. Still, the gauge has lost 0.1 percent in 2016 after dropping 2.3 percent in 2015.
The dollar, which benefited from forecasts for higher interest rates and almost two years of upward momentum, has depreciated against 13 of 16 major currencies this year. The yen and the euro, traditionally spurned by investors for their negative returns on yields, have strengthened.
The firm's current bets include long positions in the yen, the Swiss franc and the euro, as well as short positions in the Australian dollar, Canadian dollar and pound.
Industry Challenges
Trusted methods of making money in the $5.3 trillion-a-day foreign-exchange market have struggled this year. The Deutsche Bank G-10 FX Carry Index, which measure trades that borrow in low-cost funding markets and invest in currencies with higher yields, has lost 3.6 percent this year.
IPM's returns come at a time when much of the $2.9 trillion hedge-fund industry is facing unprecedented challenges, with investors fighting back against the high fees. More funds shut than started in the first three months of the year, while clients pulled a net $15 billion from the vehicles in the first quarter, the most since the financial crisis, according to Chicago-based Hedge Fund Research Inc.
Bucking this trend has helped IPM more than double its Systematic Macro fund's assets in the past two years. Earlier this month, the firm opened an office in London to cater to a growing U.K. investor base.
"The way we run, that's the difference with us," Houles said. "We use these factors that completely disconnect from price action, and the positions remain within typical periods of volatility. When markets afterward settle down, it comes back to fundamentals. We tend to exploit that."
Before it's here, it's on the Bloomberg Terminal.
LEARN MORE