Nike Reaffirms Its Forecast Despite Signs of Slowing Growth
By
Sports giant seeing more competition from Under Armour, Adidas

Foot Locker shares also gain following Nike giving outlook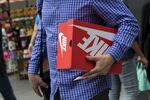 Nike Inc. reiterated its sales forecast for the year, helping restore investor confidence in the world's largest sports brand after revenue and orders missed estimates last quarter.
The company said late Tuesday that sales would grow at a high single-digit percentage in the year ending next May, in line with what it said earlier. That helped bolster the stock after Nike reported disappointing growth for so-called futures orders earlier in the afternoon. The orders gained just 11 percent last quarter -- below the 13 percent projected by analysts, according to Consensus Metrix. The number, which excludes currency fluctuations, is a key benchmark for investors because it serves as an indicator of demand.
After years of robust growth, Nike is facing challenges on several fronts. The strong U.S. dollar is hurting sales overseas, and footwear competition is mounting. Under Armour Inc. is making headway in Nike's longtime stronghold of basketball shoes, while a revived Adidas AG is encroaching on the running-sneaker segment. That's raising concern about Nike's plan to reach $50 billion in revenue by 2020, up from about $32 billion now. Still, its China division showed no signs of slowing down, and an inventory glut in North America that hampered results has largely been fixed.
Management's Confidence
"The fact that management has enough confidence to reiterate its fiscal 2017 sales guidance from earlier in the year, despite the slowdown in the fourth quarter, suggests recent sales trends and inventory positions -- at least in the full-price channels -- have improved," said Chen Grazutis, an analyst at Bloomberg Intelligence.
The shares rose as much as 3.7 percent to $55.08 on Wednesday. Nike had slid 15 percent this year through Tuesday's close, dragged down by concerns about a slowdown. The stock surged 30 percent in 2015, the biggest gain of any company in the Dow Jones Industrial Average.
Foot Locker Inc., a major Nike customer, rose as much as 5.7 percent to $55.15. The retailer should be helped by Nike doing less discounting in North America, according to a research note from Corinna Freedman, an analyst for BB&T Capital. Freedman also said the chain may benefit from basketball sneaker lines for LeBron James and Kyrie Irving, which Nike said have been selling well since the two players led the Cleveland Cavaliers to an NBA title this month.
Nike's fourth-quarter revenue climbed 6 percent to $8.24 billion, missing the $8.28 billion predicted by analysts. Earnings were flat from a year earlier, at 49 cents a share, though the number did exceed the 48-cent average estimate.
More Competition
For years, Nike was in the enviable position of being a market leader in sneakers with little competition. Adidas was floundering, and Under Armour's shoe business hadn't yet gained traction.
But times are different now. Stephen Curry's basketball shoes have given Under Armour a foothold in that category. Nike still has more than 90 percent of the North American basketball sneaker market, but it's losing share to Under Armour, according to SportsOneSource.
"A lot of the initial fears investors had about the increasing competitive landscape, specifically around this quarter, actually came true," Grazutis said.
In running shoes -- both in the performance and fashion categories -- Adidas has had a major U.S. comeback. Running sneakers are especially critical because they're increasingly worn as casual shoes, whereas basketball footwear has fallen out of favor. The challenges now facing Nike were highlighted by retailer Finish Line Inc. last week when Chief Executive Officer Sam Sato heaped praise on Adidas and Under Armour, calling the performance of both brands "explosive."
North America
Nike's results in North America showed how much this competition is hurting it. Sales last quarter were little changed at about $3.7 billion. Orders for that region also missed estimates. The company said it had a tough comparison in the region during the quarter because of the slowdown at U.S. ports last year. That labor dispute delayed shipments, pushing more into last year's fourth quarter, giving the period a one-time boost in revenue.
In addition, Nike has endured a management shake-up in recent months. Michael Spillane was named president of product and merchandising, making him a legitimate candidate to one day replace Chief Executive Officer Mark Parker. The reshuffling also hit the company's basketball business. Michael Jackson, head of global basketball, resigned earlier this month and was replaced by Craig Zanon.