Photographer: Rupert Hartley/Bloomberg
Who Will Now Invest £100 Billion to Keep Britain's Lights On?
by and
Government needs investment to replace aging generators

Wind farm developer Vattenfall reconsiders risk of U.K. work
As if managing the Brexit crisis weren't enough, the U.K. government also needs to find 100 billion pounds ($132 billion) to keep the lights on nationwide after 2020.
With more than a dozen power plants due to close in the next decade, Prime Minister David Cameron's government has been working to lay out incentives that will draw in money for new electricity infrastructure. Finding that investment will be made more difficult by voters' decision to leave the European Union, said Fatih Birol, executive director of the International Energy Agency.
"Decision makers don't like uncertainties, especially in the economic outlook," Birol said in an interview in London. "The U.K.'s electricity system is one of the oldest in the world. It's aging very quickly, and we need to bring in new capacity."
There's already evidence of investors rethinking British projects. Vattenfall AB, which is planning a 5.5 billion-pound wind farm off England's east coast, said it's reassessing the risk of working in the U.K. PensionDanmark A/S, which also is funding energy projects in Britain, has said it would lose interest in new deals if the U.K. voted to leave.

That's unsettling for the government's effort to attract the 100 billion pounds it says is needed for energy infrastructure by the end of this decade. Already, the U.K. is facing the risk of price spikes this winter after a number of plants finish their life in service, according to Deutsche Bank AG analyst James Brand. As much as 7 gigawatts of closures were announced for 2016, equivalent to 11 percent of U.K. peak demand.
Winter Shortages
"We were already fearing severe problems of grid control in coming winters," said Paul Younger a professor of engineering at the University of Glasgow. "The challenges just got a whole lot worse."
To date, the government has focused on stimulating offshore wind and new nuclear power plants as part of a program to boost energy security, cut pollution and keep electricity affordable. The board of Paris-based Electricite de France SA is considering whether to make a final investment decision on new reactors at Hinkley Point in southwest England. Several large offshore wind farms in the North Sea got financing last year.
The Department of Energy & Climate Change hasn't detailed how the Brexit vote will reshape its policies. Ministers are due to adopt a target this week on slashing carbon emissions by 2030. After the vote, Energy Secretary Amber Rudd said in a posting on Twitter that the government is "still committed to making sure consumers have secure, affordable and clean energy now and in the future."
Even so, uncertainty created by the Brexit decision may slow investment decisions in the energy industry for two or three years, said Simon Currie, global head of energy at Norton Rose Fulbright LLP.
Unsteady Policy
"It's not like the U.K. can say, 'We're a steady state and we don't need to build anything, we can just keep going.'" Currie said. "That's not where we sit. We need more investment. We can't have the entire industry pause for two years."
The next government might renege on its deal with EDF over Hinkley because the project will push up electricity bills, said Elchin Mammadov, an industry analyst at Bloomberg Intelligence. The reactors would sell power for double the current market price -- and more than what wind turbines or natural gas-fired plants cost.
Nuclear Question
"Hinkley Point is a big issue," said Mammadov. "The current government has been pushing to get the deal done. The next government may start asking questions about whether we need it. It's very expensive, and it's an EU project."
EDF Chief Executive Officer Jean-Bernard Levy said on Friday the utility is undeterred by the referendum and is pressing ahead with its consideration.
A Vattenfall spokesman said Britain's exit from the EU introduces more risk to the industry over a period of time that can't yet be measured. The company's proposed offshore wind farm would produce 1.8 gigawatts of electricity. 

The aftermath of the vote "brings considerable uncertainty and market turmoil," said Stephanie Pfeifer, chief executive of the Institutional Investors Group on Climate Change, which represents more than 120 pension, insurance funds and other institutional investors across Europe.
Not everyone is fazed by the vote. Energy UK, a trade association that represents more than 80 generators, said "people need not worry, the lights will stay on and power and gas will continue to flow to homes and businesses." Dong Energy A/S, the world's biggest offshore wind developer, also said it's confident the U.K. will stick with offshore wind, in part because its long coastlines and high-wind speeds are favorable for investment.
"U.K. energy policy is not dependent on EU membership," Marianne Wiinholt, Dong Energy's chief financial officer, said by e-mail.
Even so, leaving the EU stands to tear up some of the structures that financed projects. The status of the European Investment Bank, an EU development bank based in Luxembourg, is one of the many details policy makers will have to work out. The institution loaned 42 billion euros ($46 billion) to the U.K. over the past eight years, including 7.7 billion euros in 2015. Almost half went for projects that fight climate change.

"A significant portion of this was for offshore wind such as the Galloper wind farm and transmission links," EIB spokesman Richard Willis said by phone. "Our engagement in this sector in U.K. waters would be under threat. There's a significant potential for ramping down."
Vestas Wind Systems A/S, one of the largest turbine manufacturers, also sees potential uncertainty.
"It will be interesting to see how this develops," Vestas Chairman Bert Nordberg said by phone. "It could affect the wind industry. One could think that it could be a time for the government to pause and see that it costs too much. On our strategy, it's too early to say if it will have much of an effect."
Watch Next: Why Brexit Might Not Happen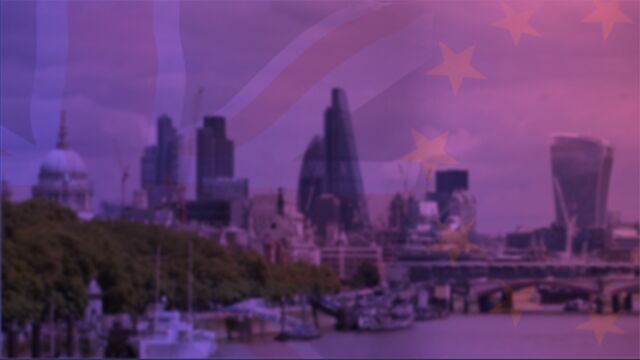 Before it's here, it's on the Bloomberg Terminal.
LEARN MORE