markets
Merkel's 'Cherry Picking' Ban May Apply as Much to Italy as the U.K.
Italian banks shouldn't expect an exemption from rules imposing losses on bondholders.
By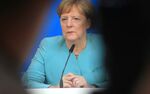 Angela Merkel warned Britain on Tuesday it shouldn't expect it can choose the parts of the European Union it wants to keep while wriggling free of those it doesn't.
She might as well have been talking to Italy.
Italian banks, already burdened with 360 billion euros ($399 billion) of non-performing loans and battling sluggish economic growth, have emerged as a focal point of market stress since Britain voted to leave the European Union last week. Rome is so concerned about its lenders that it's weighing measures that may add as much as 40 billion euros in capital or pledge guarantees, according to people with knowledge of the matter. 
Another option being considered is to make use of a carve-out of European rules designed to put taxpayers last in the line to foot the bill for a bank's failure by imposing losses on bondholders. Avoiding such "bail-ins" for bondholders could bolster investor confidence at a time when it's needed most.
Reports in the local press that Italy may evoke the carve-out sent Italian bank stocks up by about 5 percent on Tuesday, halting a two-day hammering.

An exemption from Europe's Bank Recovery and Resolution Directive, or BRRD, can be applied in exceptional circumstances on the grounds of financial stability. But such talk is unlikely to pass muster in Brussels, according to Citigroup Inc. Analysts Lee Street and Muriel Perren
"Overall, it is hard to see the [European Commission] accepting this rationale at this stage in our view," the analysts wrote in a note. "Whilst we do not think it is impossible, it feels like there would need to be a more extended period of weakness in the market directly linked to Brexit for this to be permitted i.e. we'd need to go a lot wider than current levels."
Merkel advised her "British friends" not to delude themselves. She may have similar words for her Italian amici.
Before it's here, it's on the Bloomberg Terminal.
LEARN MORE