London's Loss Is Asia's Gain as Property Funds Seek Havens
by
Investors to favor Singapore, Hong Kong, Australia real estate

Value will emerge in the U.K. as currency, pricing decline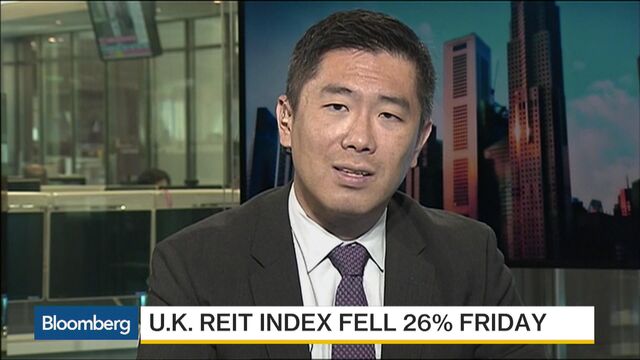 London may have just shed its safe-haven property market tag with the U.K.'s vote to break away from the European Union. That's good news for real estate markets in Asia that offer stability.
Singapore, Hong Kong and Australia, which face headwinds including oversupply and high prices, may see money flowing into property as investors flee to safer assets as volatility picks up, according to global commercial real estate services firm CBRE Group Inc.
"Capital will look for safe havens, countries that offer stability," Henry Chin, head of research for Asia-Pacific at CBRE, said in an interview in Singapore. "Mature, developed markets will look attractive again."
Britain's vote to secede from the EU wiped almost $4 trillion off the value of global equities, with investors selling riskier assets amid concerns that trade snarls and political paralysis will disrupt an already-fragile global economic recovery.
Japan may also benefit from the Brexit fallout.
"The world recognizes Japan as a safe haven," Takeshi Akagi, national director at Jones Lang LaSalle Inc., said. "Because of that, Asian money that has been looking to invest in Europe will come to Japan. As uncertainties unfold in Europe and spread out to global markets, Japan would, relatively, be considered as a predominant place to be."
Why Britain Is Saying 'Adieu' to the European Union: QuickTake
Commercial property values could fall about 10 percent over the next year, led by declines in oversupplied central London, BlackRock Inc. said in a note. Reduced tenant demand and a shift toward shorter lease terms are anticipated, while overseas investors are set to demand a larger risk premium, or more compensation, for holding U.K. assets, BlackRock said.
London office rents could fall 18 percent within two years of Article 50 -- which would set in motion the process to extricate the U.K. from the EU -- being invoked, Jefferies LLC analyst Mike Prew said on Friday. International businesses could move 100,000 jobs out of the U.K. following the vote as they may lose their passporting rights, Prew wrote. That's bad news for developers, which plan to build the equivalent of 50 skyscrapers the same size as the Gherkin, the iconic London office tower, in the next four years, he said.
Private banks are also urging investors away from U.K. property, with UBS Group AG predicting pressure in the real estate market , especially in London, as banks move to other locations in Europe. While Credit Suisse Group AG is neutral on U.K. property as interest rates could remain "very low for long," the bank's wealth managers expect U.K. real estate investment trusts to underperform other real estate markets.
Who's on the Hook for Real Estate in Post-Brexit London: Q&A
"Investor sentiment will deteriorate further, subduing capital flows in the short to medium term," Chris Ireland, chief executive officer for the U.K. at JLL, said. "London sectors remain most vulnerable to a correction given current keen pricing and their multinational occupier base."
Still, for opportunistic funds, the U.K will become attractive as the currency declines and prices drop, according to CBRE and JLL.
"With the Brexit event, one thing is a given: that interest rates are going to remain low for a long time and that's good for the property markets," CBRE's Chin said. "We will see value emerge in the U.K. over time but no deals are going to happen in a hurry."
Before it's here, it's on the Bloomberg Terminal.
LEARN MORE