King Says Carney Calm Will Guide U.K. Through Brexit Uncertainty
by and
Most important thing for U.K. now is a new government

BOE governor's credibility is intact, King says in interview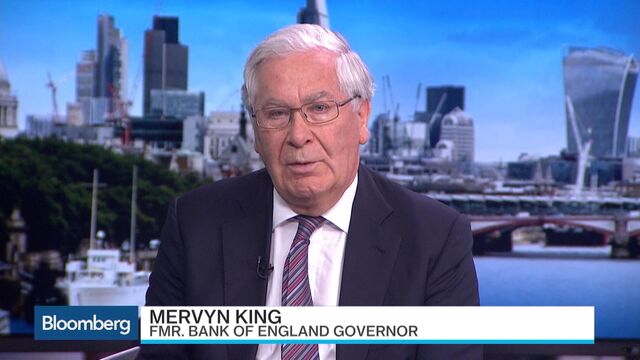 Mark Carney will help to guide the U.K. through the next few months amid political stasis after the Brexit vote, according to his predecessor as Bank of England governor.
Mervyn King said the "most important thing" for the U.K. is an effective government and opposition. Both are absent after Britain's vote to leave the European Union prompted Prime Minister David Cameron to resign and led to turmoil in the opposition Labour Party. Concern about political leadership was one factor cited by S&P Global Ratings on Monday when it stripped the U.K. of its top credit grade.
"The source of the problem at present is precisely that we don't have a new prime minister, and won't have one until September at the earliest," King said in a Bloomberg Television interview on Tuesday. "That political uncertainty and the consequences of that, and the uncertainty which it creates, are I think one of the things which are driving volatility in financial markets."
In the meantime, "the bank will undoubtedly lower the temperature on this, keep calm, and wait and see," King said of the BOE, which he led for 10 years until 2013. He added that it's not clear if the U.K. economy will slip into a recession now.
Governor's Duty
King also said Carney's credibility hasn't been damaged by the referendum campaign, despite the governor being dragged into the political battle for comments that pro-Brexit lawmakers saw as biased. King said Carney did his "duty" by providing judgments on the outlook, taking into account the risks to the economy.
Watch Mervyn King interview here
"I don't think it's at all damaged his credibility," he said. "It's damaged the credibility of the politicians on the side who wanted the U.K. to vote to remain."
According to King, that's because the remain side "put forward exaggerated claims." The former governor declined to say how he voted in the referendum.
The BOE has already been responding to the Brexit vote. On the morning of the result, Carney said that 250 billion pounds ($334 billion) in liquidity is available to the financial system if needed. On Tuesday, in the third of the extra liquidity auctions held this month, it allotted more than 3 billion pounds to banks.
King said the BOE's focus on the resilience of the financial system has been correct.
"One of the benefits of the regime after 2008 was that central banks right around the world re-thought the way in which they provided liquidity to the banking system," he said. "That's been a big plus. So I don't think anyone need worry on that score."
Before it's here, it's on the Bloomberg Terminal.
LEARN MORE