Japan Feedback Loop Seen Turning All Sovereign Yields Negative
By and
Yield on 40-year JGB, Japan's longest, drops to record 0.065%

'Only God knows how far yields will fall,' SMBC Nikko says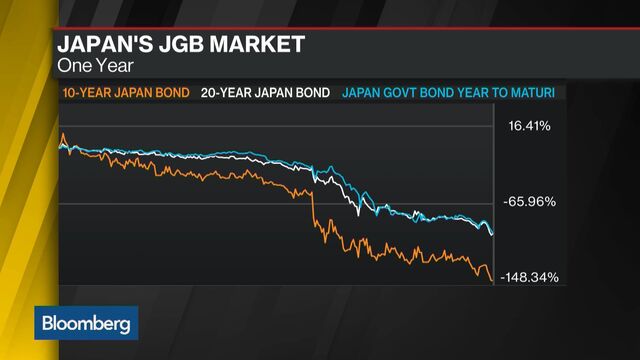 Japanese government bonds are caught in a self-propagating spiral that could soon see yields on every maturity below zero.
QuickTake Negative Interest Rates
Bank of Japan debt buying and more recently Britain's shock vote to exit the European Union have turned yields negative on tenors as long as 15 years, forcing domestic investors to crowd into the longest bonds or flee into other foreign debt including U.S. Treasuries. The resulting rush into dollars is fueling demand from the fastest-growing investor pool for JGBs -- foreigners entering cross-currency swap trades seeking returns higher than in their home markets.

This feedback loop sent yields on Japan's longest bond, the 40-year, to as low as 0.065 percent on Tuesday, potentially hampering the effectiveness of any effort by the central bank to increase stimulus. Local investors highlighted dollar funding costs and foreign debt buying in a regular meeting with Finance Ministry officials Monday, complaining that trading had become difficult.
"Only God knows how far yields will fall," said Souichi Takeyama, a rates strategist at SMBC Nikko Securities Inc. in Tokyo. "If all bond yields are zero, even if the BOJ expands stimulus, you can't expect yields will go much lower."
Sub-Zero World
About 85 percent of the JGB market now yields less than zero. That on the 10-year note dropped to as low as minus 0.24 percent Wednesday, while the yield on 20-year bond fell to 0.04 percent and the 30-year yield reached 0.05 percent the day before -- all records.
BOJ Governor Haruhiko Kuroda has said lower interest rates are one of the goals of his policy mix of unprecedented asset purchases and a negative deposit rate, designed ultimately to drive inflation to 2 percent. The JGB market has been the most affected by the central bank's stimulus, whereas weakness in the yen and gains in stocks have reversed course since the middle of last year.
The BOJ wrote down the value of its holdings of government debt by 874 billion yen ($8.5 billion) in the last fiscal year, undercutting the income from its still profitable asset-purchase program. With yields below zero, the central bank is buying debt at prices higher than the face value. As the bank purchases and holds debt until maturity, it doesn't value the bonds at market price but takes the markdown gradually so that at maturity the book value equals the principal. 
Monitoring Markets
Kuroda declined to comment Tuesday on the possibility of any emergency policy meeting after Brexit triggered a global stock rout and a surge in the yen, saying he will continue monetary policy management in the same way he has stated previously. Prime Minister Shinzo Abe said after meeting the BOJ governor and Finance Minister Taro Aso earlier the same day that he asked them to watch markets more closely.
Japanese demand for U.S. currency was clear as a regular central bank operation to supply dollar funding Tuesday attracted the largest amount of bids since December 2014.
Kuroda said Wednesday that the monetary authority can add sufficient foreign exchange liquidity as needed and that Japanese banks have no problem with currency funding.
Dollar Demand
Cross-currency basis swap spreads showed the cost to borrow dollars in exchange for yen reached 68 basis points on Friday, in the immediate aftermath of the U.K. referendum decision. That was the highest level since November 2011.
Foreign ownership of JGBs has risen to 110 trillion yen, making up an unprecedented one-tenth of the market, according to BOJ data. Overseas investors bought a net 1.7 trillion yen of mid-to-long term JGBs in May after purchases reached an all-time high in April, Japan Securities Dealers Association figures show. They were net buyers for a 23rd month, the longest stretch since JSDA began compiling the statistics in 2004.
"Everything is becoming expensive for Japanese investors, leaving them with no yield, only risk," said Shuichi Ohsaki, chief rates strategist at Bank of America Merrill Lynch in Tokyo. "The possibility that yields on everything including the 40-year bond will drop into negative territory is undeniable."