Photographer: Bob Chamberlin/Los Angeles Times via Getty Images
Health
It's Comical. It's Critical. It Might Even Help You Lose Weight
It's fiber, the powerful nutrient we don't eat nearly enough of.
By
Last summer, a commercial laid bare some of the realities of expecting: the protruding belly and accompanying lower back pain, the sleepless nights alongside a dozing partner, the discomfort, the calendar countdown. The images played to a soundtrack of a Michael Bolton song about pregnancy, I Just Can't Wait to Meet You. 
But the ad doesn't end in a hospital room with a swaddled infant. It's a man with that baby bump, and he loses it only after a successful trip to the bathroom, emerging newly svelte. His wife, thrilled, rushes into his arms, and the ad for FiberOne Chewy Bars tells viewers, "If you're irregular, get more fiber."
Such is the embarrassing fate of fiber in popular culture. Yet this nutrient crucial to our health, besides moving the bowels (a blessing in itself, for many), probably reduces the risk of heart disease, diabetes, breast cancer, diverticulitis (a common colon inflammation disorder in middle-aged patients), and death.
On top of all that, fiber may play an important role in that ever-elusive health goal, weight loss. 
Data from MyFitnessPal, Under Armour's calorie-counting app that reflects the activities of 4.2 million active users in the U.S., show that fiber may be a singular dietary driver of weight loss. In examining the "successful users," those who come within 5 percent of their weight loss goals, MyFitnessPal's experts found they had more or less the same calorie goals—as well as percentages of carbohydrates, fat, and protein—as everyone else. But there was a significant gap in fiber consumption: Successful users ate an average of 13.5 grams of fiber a day, 29 percent more than the others.
While recent consensus in the health community has been to focus on whole foods instead of single nutrients, if you're going to pick one to focus on, fiber turns out to be a better yardstick for weight loss than the macronutrients—fat, protein, and carbs—so often mentioned in popular diet literature. That's partly because fiber helps you feel full and also because high-fiber foods tend to be those that are inarguably healthy.
"In order for you to meet fiber recommendations, you have to be eating a good amount of fruits and vegetables," said Trinh Le, a registered dietitian at MyFitnessPal. "An extra apple a day is an extra five grams of fiber a day." (Worth noting: 13.5 grams of fiber is still far below the 20 grams to 30 grams recommended for adults; everyone should be eating more apples.) 
"The foods I'm recommending for a wholesome diet—fruits, vegetables, 100 percent whole wheat bread, and whole grains, legumes—are naturally high in fiber," said Keri Gans, a registered dietitian nutritionist and author of The Small Change Diet. Like many health professionals these days, Gans prefers to talk about foods over nutrients, but fiber, she said, is a natural part of that conversation. When she tells her clients what a healthy plate looks like, fiber is specifically called out: half vegetables, one-quarter protein, and one-quarter a high-fiber carbohydrate. (Both Le and Gans tell patients to add fiber slowly and with plenty of water.)
The findings of a February 2015 study published in the Annals of Internal Medicine point to the potential of a fiber-focused weight loss approach. Researchers divided 240 volunteers with metabolic syndrome—a group of risk factors, such as high blood pressure and a large waistline, that raise a person's risk for heart disease—into two groups, each with its own set of diet instructions. Half were told to follow the American Heart Association's recommended diet: more fruits and vegetables, fish, lean proteins, and high-fiber foods, along with less sugar, salt, fat, and booze. The other group was given only one rule: Aim for 30 grams of fiber a day.
After a year, both groups ended up eating an average of 19 grams of fiber a day, and both groups lost weight. While the AHA group lost more—5.9 pounds vs. 4.6—the simple approach was still effective, presenting a much more manageable way to build a diet.
And yet, despite all the benefits of fiber, Americans aren't eating nearly enough of it. Fiber is called out in the most recent U.S. Dietary Guidelines as one of the relatively few underconsumed nutrients. The lack of fiber, along with calcium, potassium and vitamin D, is listed as a "public health concern." 
Compare that with protein, a nutrient most Americans eat too much of, so much that the guidelines caution teen boys and adult men to cut back. Meanwhile, fad diets and food marketers keep urging consumers to eat more. "Protein" has been one of the biggest buzzwords in food marketing for years now, driving sales of everything from Greek yogurt to meat snacks to smoothie powders. In a 2014 Mintel survey, 25% of Americans said they were eating more protein than they were in 2013. 
"Protein is perceived as a way to stay full, build muscle mass," said Darren Seifer, a food and beverage analyst at NPD Group. "Fiber, to consumers, is seen as a way to help deal with something, like your gastrointestinal tract."
The image problem isn't lost on the whole-grains industry. "Because fiber is perhaps best associated with keeping you 'regular,' it might not have the sex appeal that 'muscle-building' protein has," Kelly Toups, Oldways Whole Grain Council program director, told Bloomberg in an email.
What, fiber isn't sexy? 
Even Weight Watchers, which may know weight loss better than anybody, has removed fiber as an explicit piece of its diet equation. An earlier model, the Points Plus program, included carbs, protein, fat, and fiber in determining a food's points value. The new, Beyond the Scale program goes a different route, using calories as the points baseline and then adjusting depending on sugar, saturated fat, and everyone's favorite nutrient, protein.
The equation change was made in response to consumer preferences and based on sound science, said Laura Smith, a nutrition consultant and product and program innovation manager at the weight loss company. "We are really confident that fiber-rich foods are still a big part of the program," she said. Because vegetables and fruits don't cost you any points, members almost always end up eating a lot of them, Smith says, and the company notes that members lost 15% more weight in the first two months on the new program than on the old one. But fiber's deletion from the Weight Watchers equation both reflects and furthers what a small role it plays in the consciousness of today's dieters. 
The U.S. Dietary Guidelines blame America's fiber problem on a lack of fruit, vegetables, and whole grains in the diet, but their replacements, processed foods, are as much of a culprit as the absence of berries and broccoli. Between 1909 and 1963, fiber consumption dropped by 40%, according to a 2004 study published in the American Journal of Clinical Nutrition. Even as carbohydrate, protein, fat, and total calorie intake went up, fiber intake never rebounded.
"Modern carbohydrates are considerably different from those consumed before the beginning of the 20th century," the researchers wrote. "The refining process has changed the composition and thus the quality of carbohydrates." They specifically point to whole grains being turned into white flour, which simultaneously increases calories by more than 10% and decreases fiber by 80%.
But hope springs eternal, even for ignored nutrients. While fiber might not get the attention it deserves, whole grains are gaining traction. The Whole Grains Council touts a litany of statistics showing their growing popularity, including a spike in their appearance on restaurant menus and increasingly aware customers. Earlier this month, the New York Times covered two new major studies tying whole grains to longer lives. 
Though a trip down the supermarket aisle might not draw your attention to fiber, the "made with whole grains" claim is becoming ever more ubiquitous, for better or for worse. In a 2012 press release, the watchdog Center for Science in the Public Interest warned, " 'Made with Whole Grain' typically means 'mostly white flour.' "
Just another reminder to hark back to that now standard dietary advice: Eat whole foods, like fruits, vegetables, legumes, and the whole grains themselves. And when you're eating something out of a box, turn to the Nutrition Facts and check that fiber content. No joke.
Watch Next: Confused About What to Eat? You're Not Alone.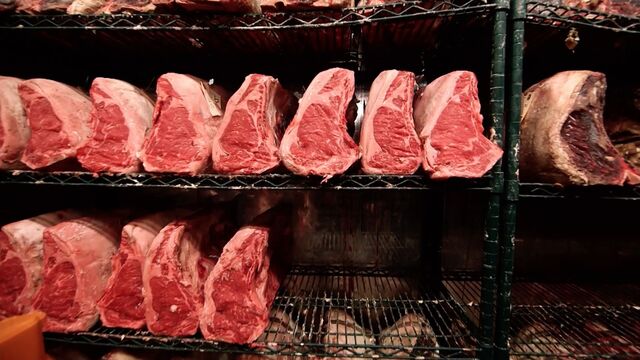 Before it's here, it's on the Bloomberg Terminal.
LEARN MORE