It Looks Like Retail Investors Didn't Join In The Brexit Selling Frenzy
Hot money took this one on the chin.
By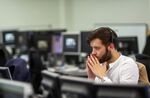 Hot money was scalded by the outcome of the U.K. referendum, but an early reading of the flows ebbing in and out of exchange-traded fund (ETFs) suggests retail investors weren't similarly startled into selling.
Eric Balchunas, ETF analyst at Bloomberg Intelligence, made this inference after examining the exchange-traded products that saw the largest inflows and outflows on Friday as the world reacted to Brexit.
ETFs that saw a mass exodus of funds are particularly popular with hot-money investors, a group which includes some hedge funds which tend to take a more opportunistic and short-term approach, he said.



The $6 billion in outflows from the SPDR S&P 500 is an amount that exceeds the worst reaction seen in the aftermath of the devaluation of the Chinese yuan in August 2015.
"Friday was this year's trend on steroids," said Balchunas. "People were scared and went into gold and utilities."
Had ETFs operated by Vanguard Group Inc. or Charles Schwab Corp. ETFs, which are more popular with the retail investors, seen a mass exodus of assets, that would've been a sign that the mom-and-pop crowd were major sellers. Inflows into low-volatility ETFs further support the notion that retail investors didn't join Friday's selling frenzy.
"It's unclear yet whether Brexit spooked retail investors," concluded Balchunas. "This looks like a story of hot money getting spooked,
Before it's here, it's on the Bloomberg Terminal.
LEARN MORE