Goldman: China's Corporate Bonds Are a 'Microcosm' of Its Credit Problems
A willingness to default could indicate a willingness for structural reform.
By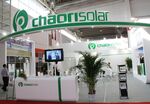 Want a clue as to whether China will embark on structural reform of its bloated corporate sector, or shed its addiction to credit-fuelled growth?

Analysts at Goldman Sachs Group Inc. suggest watching the onshore Chinese bondsmarket.
China's domestic corporate bond market has been around for just over a decade and in that period has experienced only 18 official defaults, with the first not taking place until 2014, when Shanghai Chaori Solar Energy Science & Technology Co. failed to repay its lenders on time. Defaults were roughly split between private companies and state-owned enterprises (SOEs) famous for their inefficiency.
China's young domestic corporate bond market is therefore "a microcosm of the country's credit issues," writes Goldman's Kenneth Ho. "Many SOEs rely on implicit government support to raise debt financing, with lenders often preferring to extend credit to state-related entities on the assumption that there will be government backing — creating moral hazard risks. In our view, allowing SOEs to default is a strong reflection of policymakers' willingness to tackle moral hazard issues. And, again, this reflects what has been occurring in the broader credit market."

Still, even the 18 "defaults" seem to sport their own moral hazard with Chinese characteristics as authorities have traditionally proved willing to provide support after the fact, while companies have grown increasingly creative when it comes to finding ways to pay back their debt (and for that matter, when it comes to finding excuses for not paying it back). Goldman points out that of the 18 defaults it's identified, lenders have received a full recovery in seven cases while 11 continue to play out in bankruptcy courts and elsewhere.
That leaves the number of companies — state-owned or private — that have left lenders nursing losses at a big fat zero.
With non-performing loans on the rise in China's banking system, local corporate bonds may prove a test case for the country's willingness to take the bitter pill of defaults and losses in the name of structural reform and a reduced reliance on credit expansion. As Goldman points out, China's short history of onshore bond defaults have mostly occurred in industries marked by chronic overcapacity and where a true shakeout might prove most desirable.
"We see the risk of a 'sudden stop' as low, given policymakers' ability to enter into forbearance, and with an overwhelming majority of China's debts being domestic, external funding is not a principal concern," concludes Ho. "But we think that China growth will slow in [the second half of 2016,] as the pace of credit growth will likely slow."
Before it's here, it's on the Bloomberg Terminal.
LEARN MORE