Brexit Hits S&P 500 Pain Threshold Though Wounds Seen Survivable
By
From revenue to yields, stocks remain relatively attractive

Losses endured thus far partly due to bad trades ahead of vote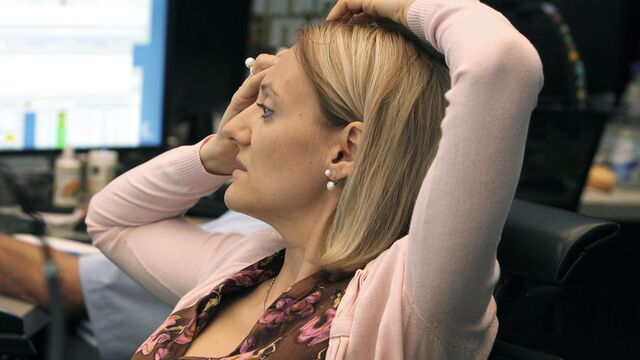 U.S. stocks tumbled after the U.K.'s shock vote to secede from the European Union. In two days, the S&P 500 Index plunged the most since its August swoon and the Dow Jones Industrial Average erased 871 points. Here are cases cited by strategists and traders for why Brexit isn't the death knell for the seven-year bull market.
Few U.S. companies rely heavily on revenue from Europe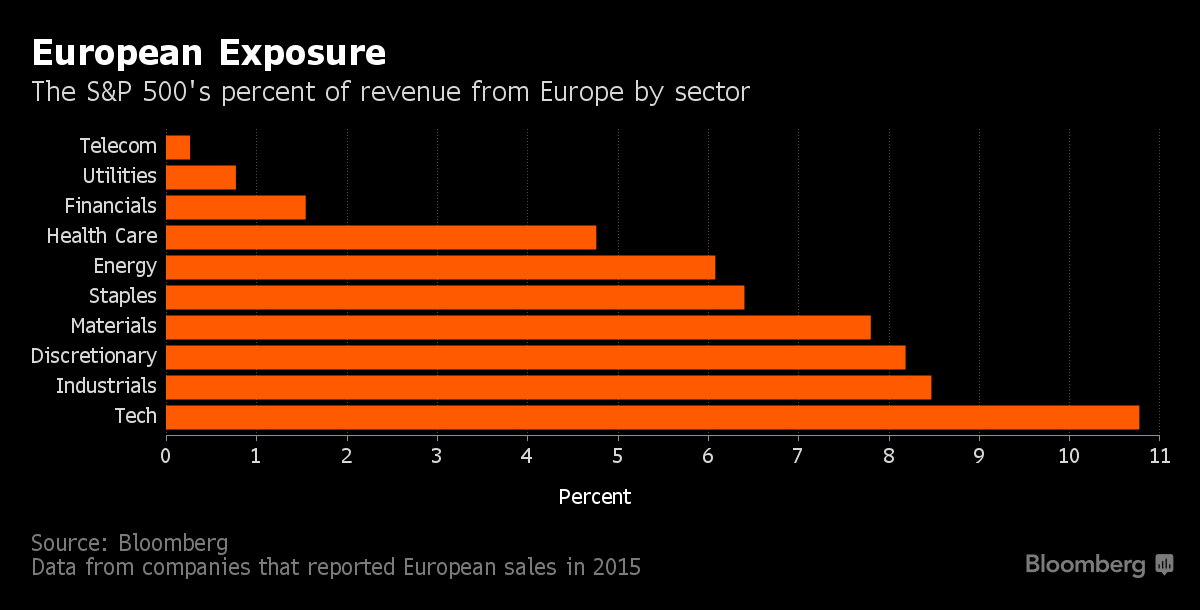 The EU may be one of the world's largest trading blocs, but U.S. companies aren't as reliant on a bustling European consumer as that status might suggest. Even in the most exposed group -- technology stocks -- less than 11 percent of sales originated in Europe last year. "Direct impact of Brexit to U.S. corporate profitability will likely be contained, with S&P 500 revenue exposure at ~1 percent to U.K. and 6-7 percent to Europe," Dubravko Lakos-Bujas, JPMorgan Chase & Co.'s head of equity strategy and global quant research, wrote in a note to clients Friday.
Forget About Interest Rates Jumping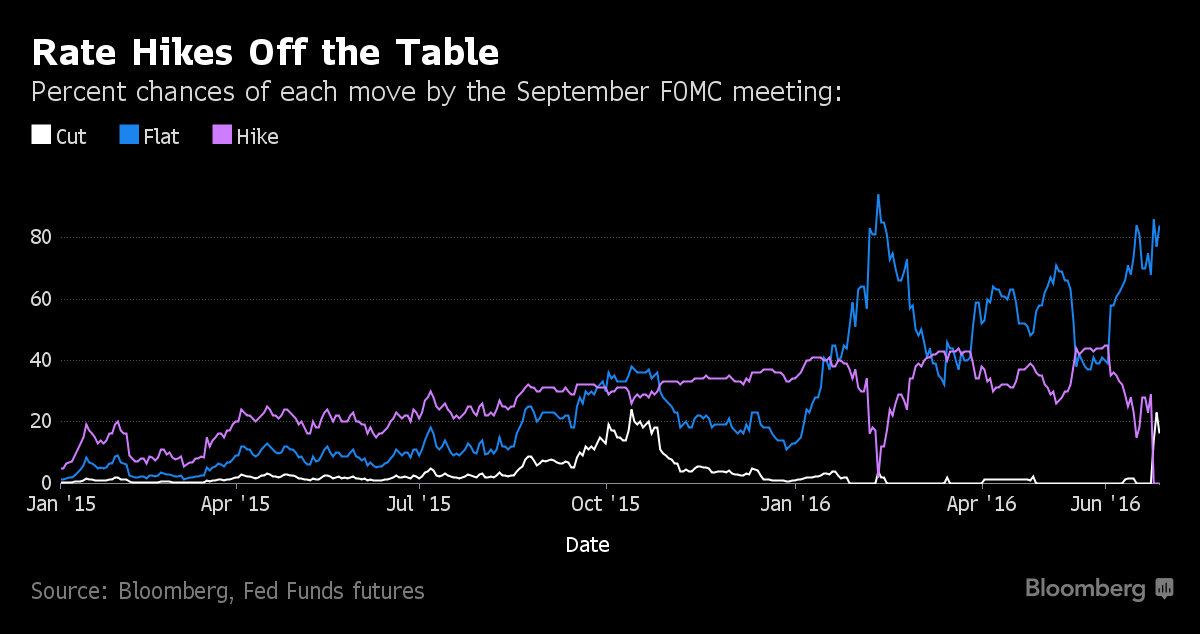 Chances of further interest-rate hikes by the Federal Reserve this year are now all but nonexistent, according to traders in the Fed funds futures market. In fact, the likelihood of a rate cut at one of the next three Fed meetings is now perceived as being more probable than an increase. "Brexit puts Fed on hold," Canaccord Genuity equity strategist Tony Dwyer said in a note Monday. "There is no question in our mind the U.K. result postpones a July or September rate hike. This actually is akin to an easing move."
Turning to Stocks for Income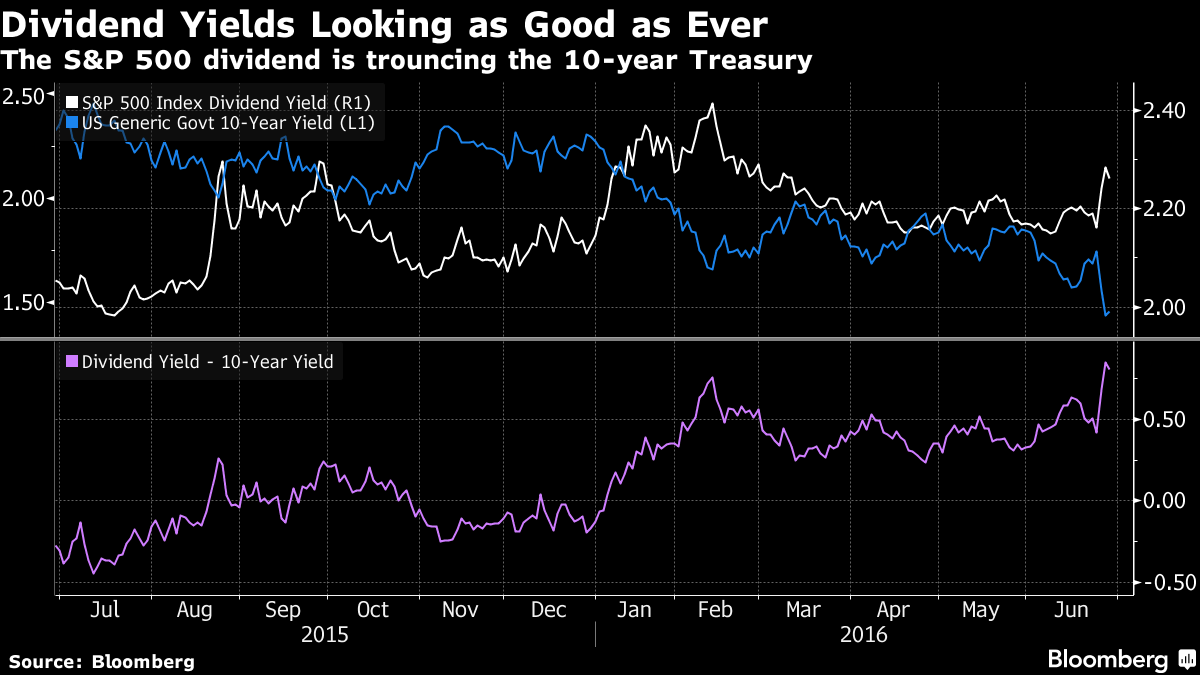 Treasury yields plunged after the vote, with the 10-year plumbing new three-year lows down to 1.44 percent. With a dividend yield on the S&P 500 of 2.26 percent, that means investors looking for regular income will likely continue to favor dividend-paying stocks as an alternative to bonds. The earnings yield of the S&P 500 remains high as well -- at 5.41 percent, the valuation advantage of equities over Treasuries is the greatest since the beginning of the year. Careful viewing stock valuations through that lens, though -- the tool has a handful of associated caveats.
Post-Brexit Plunge a Temporary Reversion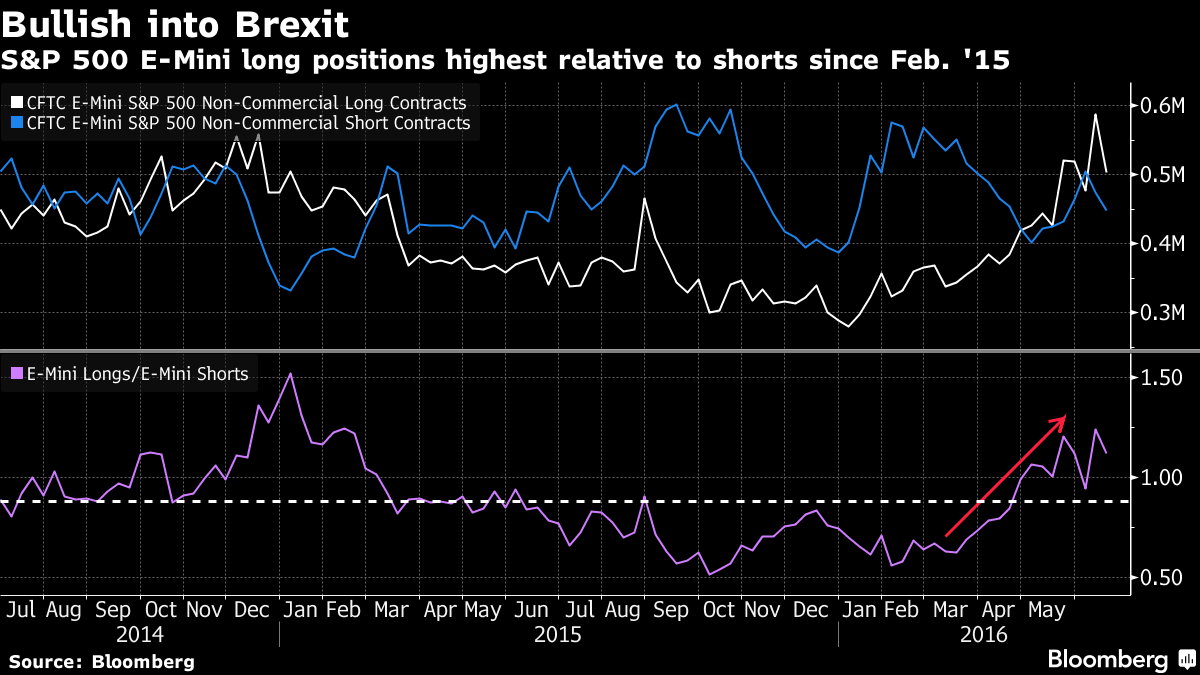 The last one is less a fundamental reason and more an explanation for why stocks moved so sharply downward in the immediate aftermath of the U.K.'s secession vote. Going into the vote, investors were the most bullish on stocks since the start of the year, according to S&P 500 futures ownership records reported by the Commodity Futures Trading Commission. While Barclays strategists on Tuesday warned that "active investors considerably increased risk exposures in the week leading up to the U.K. referendum," the data suggest losses in the stock market may be fueled by a reversal in wrongway trades, and not a structural change to U.S. corporate fundamentals.