Two BNSF Freight Trains Collide in Texas on Busy Rail Route
by
One worker injured, rescue efforts continue for three others

'Doubtful' others are alive, sheriff's office spokesman says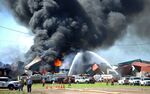 Two BNSF Railway Co. freight trains collided in Texas, leaving at least one worker injured. Rescue efforts were under way for three other employees involved in the accident. 
The prospects for finding the missing crew members alive "would be doubtful," Scott Sherwood, a spokesman for the Carson County sheriff's office, said in a telephone interview at about 6 p.m. local time.
"It's still smoking and smoldering, but we don't have flames," he said. "Until maybe an hour ago, we still had significant flames. It'd still be way too hot to go in there right now."
The collision occurred at 8:25 a.m. local time near Panhandle, Texas, BNSF said in a statement Tuesday. The railroad said it would provide more details as they became available. Photographs from the scene showed fire and smoke billowing from the crumpled freight cars. Sherwood said he heard the impact of the trains from his house, which is almost two miles from the scene.
Chicago-Los Angeles Line
The trains were carrying intermodal cargo, which are usually consumer goods. The accident occurred on the main line known as the Southern Transcon linking Los Angeles with Chicago. There was no estimate for re-opening the track and the effect on traffic flows was being evaluated, Mike Trevino, a BNSF spokesman, said in an e-mail. BNSF is a unit of Warren Buffett's Berkshire Hathaway Inc.
One employee was transported to a local hospital by 9:02 a.m. and was being treated, according to the statement. Trevino said authorities are still treating the operation as a rescue for the three missing employees.
Railroads received an extension on the implementation of a remote safety system, known as positive train control, until 2018 after failing to meet an original deadline at the end of last year. The system, which is estimated to cost the industry $10.6 billion, is designed to stop trains when they are out of position or don't observe traffic signals.
"Our investigation is in the very early stages but based on the limited information we have reviewed, it appears that this is the type of incident that positive train control technology (PTC) is intended to prevent," Trevino said by e-mail. "This is why we have been aggressively deploying PTC across our network."
BNSF plans to install PTC next year in the section of track where the accident occurred, the carrier said.
The Federal Railroad Administration said in a statement that its investigators had arrived on the scene, which is about 28 miles east of Amarillo, Texas. The National Transportation Safety Board is sending a team of six rail specialists to investigate the accident, the agency said in a tweet.
Before it's here, it's on the Bloomberg Terminal.
LEARN MORE