Italy Explores Bank-Rescue Options With EU on Brexit Losses
by , , and
Commission is in touch with Italian government: Dombrovskis

State aid rules require imposing losses on junior bondholders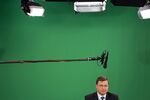 The Italian government, which failed to gain European Union backing for a bad bank just months ago, is sounding out regulators on ways to shore up its banks after their shares were hammered following the U.K.'s vote to secede from the bloc.
Valdis Dombrovskis, a vice president of the European Commission, said on Tuesday that the EU's executive arm is "closely monitoring the situation with the banking sector in Italy" and is "in close touch with the Italian authorities as regards possible steps." Various options are under discussion, "so I cannot comment in more detail right now," he said in an interview in Brussels.
The government in Rome is considering measures that may inject as much as 40 billion euros ($44 billion) into banks, possibly by providing capital or pledging guarantees, said a person with knowledge of the talks. The amount is still under discussion and no final decision has been made, the person said.
Italian banks, weighed down by 360 billion euros of non-performing loans, sluggish economic growth and record-low interest rates, are under pressure to clean up their balance sheets and restore investor confidence. Government and Bank of Italy representatives met over the weekend to discuss proposals, while also holding informal meetings with the European Commission, according to people with knowledge of the talks. Italian authorities are monitoring markets and a decision on possible measures to support banks will be taken in the next few days, they said.
Worst Performers
UniCredit SpA has lost about 60 percent of its value this year, while Intesa Sanpaolo SpA dropped 45 percent. Italian banks have been among the worst performers on the Bloomberg Europe Banks and Financial Services Index, which is down 33 percent in the period.
Italy's government earlier this year was forced to water down plans for a publicly funded bad bank on EU resistance, instead creating a smaller fund backed by lenders and investors to help stabilize the financial system and speed up consolidation.
Use of public money to prop up banks would require European Commission approval under EU state-aid rules. Dombrovskis declined to be drawn on specifics of the plan or the way the EU is leaning. 
"We're monitoring the situation and assessing what can possibly be done," he said. "There are various aspects as regards financial stability, as regards competition rules, and so on."
'Strong Discussion'
Margrethe Vestager, the EU's competition chief, said she's been in contact with Italian authorities on possible measures, but declined to provide further details.
Matteo Renzi, Italy's prime minister, said before an EU summit in Brussels on Tuesday that formal negotiations weren't under way with the EU, but "there is in these hours a very strong discussion at all levels."
"I was in Germany yesterday and Saturday in France, today we are in Brussels and we are discussing everything, also what is needed from an economic and social point of view," Renzi said.
Italy may evoke exceptional circumstances of systemic stress caused by Brexit to allow all European governments to help banks with public funds, la Repubblica reported without citing anyone. Under the plan, Europe would close the window for waiving state-aid rules after six months, the newspaper said.
'Exceptional Circumstances'
EU state-aid rules normally require shareholders and junior creditors to take losses before public money is put into a bank. One exception foreseen is for aid provided in "exceptional circumstances." This requires a unanimous decision of EU member states. Another provision allows for an exception from the bail-in requirement when enforcing it would "endanger financial stability."
"Italy is trying to show that bail-in is something that can be talked about in good times, but that doesn't survive in real life," said Nicolas Veron, an economist at Brussels-based think tank Bruegel. There's "no case" for suspending state-aid rules in Italy, he said. "There is no way around a triage of Italian banks and resolution of the ones that aren't viable."
The core issue now is "not about non-performing loans; it's about zombie banks," Veron said. "I doubt you can solve the Italian banking problem without killing the zombie banks."
Dombrovskis left open whether the post-Brexit turmoil created a situation that's extraordinary enough to justify aid. 
"We're seeing some market turbulence following the British referendum, but of course we need to see whether there are some more fundamental processes taking place behind that market turbulence," he said.
Sven Giegold, a German member of the European Parliament, said Italy was "quite brazen" to try to use the "Brexit confusion" to push through state aid for banks.
"The attempt by the Italian government to override the principle of investor responsibility is unfounded and unacceptable," he said. "The must be no further state aid for banks. Bank creditors must be liable for lenders, not taxpayers. Member states should stop putting the commission under pressure to act against European law."
Before it's here, it's on the Bloomberg Terminal.
LEARN MORE