business
EU Chiefs 'Held Hostage' Tell Cameron to Lay Out Brexit Plan
By , , and
British prime minister joins 27 other leaders at EU summit

'Psychologically, Brexit is already in place,' Lithuania says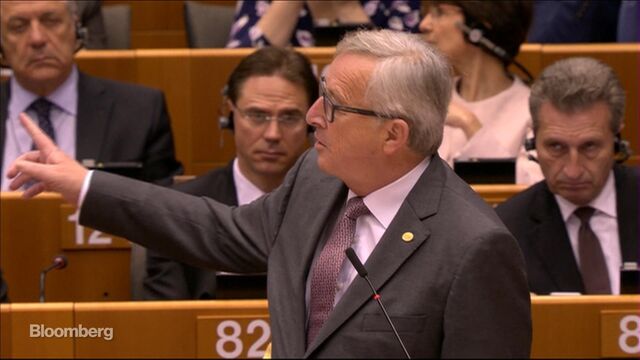 European Union leaders pressed the U.K. to spell out how it wants to move forward after voting to leave the bloc, saying uncertainty surrounding the process risks damaging them all.
As David Cameron attended what is probably his last EU summit as prime minister, fellow government chiefs warned that delaying the period before the U.K. formally activates the EU's exit mechanism will prevent the start of negotiations over any future relationship.
"The uncertainty we have right now is no good for anyone," Swedish Prime Minister Stefan Loefven told reporters in Brussels earlier on Tuesday as he arrived for the two-day summit. "They should make up their mind as quick as possible."
During a debrief over dinner, Cameron told his 27 counterparts that their refusal to give him a deal that reduced immigration to the U.K. had cost him the referendum and his job, according to a British government official. He warned them that if they want a close economic relationship with the U.K. in the future, they will have to shift ground and find a way to tackle immigration, the official said.
Leaders signaled a growing frustration across Europe that the June 23 referendum has left a power vacuum in the U.K. and the whole EU in a state of limbo. European Central Bank President Mario Draghi told the closed-door session that growth in the euro area could decline by as much as 0.5 percentage point for the next three years cumulatively, according to a European official with knowledge of the meeting.
Domestic Turmoil
While in Brussels, Cameron left behind a deepening political crisis at home with candidates from both his Conservatives and the Labour opposition challenging for the leadership of their respective parties, exacerbating the sense of a country adrift. Attention among the Tories turned to which candidate might be the one to stop Boris Johnson from taking over in Downing Street, while Labour's Jeremy Corbyn lost a confidence vote but pledged to carry on as leader anyway.
Cameron has said a decision to start the EU withdrawal process is for his successor to make, yet his counterparts have no other interlocutor as long as there's no successor in place. The Conservatives aim to elect a new party leader by early September.
"We're all waiting to get a clear answer," said Danish Prime Minister Lars Loekke Rasmussen.
Leaders from Britain's traditional allies in the Netherlands and the Baltic states said they understand the need for a period of reflection and for Britain to overcome its political upheaval before any negotiations can start. They still joined others like France and insisted the U.K. needs to act as fast as possible to ensure stability across the region after financial markets tumbled.
'Held Hostage'
"The EU can't afford being held hostage by the U.K. political crisis for months," said Belgian Prime Minister Charles Michel.
Four months after Cameron won a deal from his fellow leaders on reforms to the U.K.'s terms of EU membership, he returned to their dinner table humbled by his electorate in a self-inflicted defeat that prompted a selloff in stocks and the pound. While he can't say for sure what sort of ties with Europe the next prime minister will seek, Cameron will be asked for an indication.
"I'll be explaining that Britain will be leaving the European Union but I want that process to be as constructive as possible," Cameron said as he arrived. "I hope the outcome can be as constructive as possible because, of course, while we're leaving the European Union, we mustn't be turning our backs on Europe."
For Poland, whose citizens comprise the largest foreign community in the U.K., the concern is not Cameron but his potential successors. The Polish government encouraged other member states to have the patience to let the U.K. install a political leadership "able to present a sensible, reasonable plan" on renewing relations with the bloc post-Brexit, EU affairs minister Konrad Szymanski told reporters in Brussels.
As it is, "some voices that can be heard from London already now seem to be out of touch with reality," he said.
— With assistance by Arne Delfs, Marine Strauss, Jonathan Stearns, Robert Hutton, Helene Fouquet, Esteban Duarte, Karl Stagno Navarra, and Peter Levring
(
Updates with Cameron comments to leaders in fourth paragraph.
)
Before it's here, it's on the Bloomberg Terminal.
LEARN MORE