Cameron Makes Emotional Adieu as Sun Sets on U.K. EU Membership
by
Leaders relate their country's historic relationship to U.K.

British premier 'genuinely sorry' to bear Brexit news to EU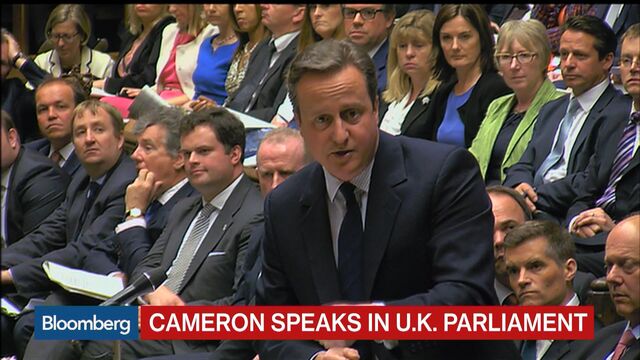 The Union Jack hoisted on one of the 28 flagpoles outside the European Commission building might as well have been flying at half-staff.
Even before David Cameron arrived in Brussels Tuesday for what was almost certainly his final summit as British prime minister, EU Commission President Jean-Claude Juncker was setting the tone for the day ahead. And, as with the stages of mourning for a dear departed friend, anger, denial and finally acceptance would all play their role at this Brexit wake.
Addressing European Parliament lawmakers on Tuesday morning, Juncker said he'd ask Cameron to clarify "as soon as possible" the next steps for Britain after the vote to quit the European Union that both had sought to avert. All the same, the U.K.'s complex political system made it unrealistic to expect the secession process to be triggered immediately. Above all, Juncker said, the vote made him "sad."
"I think the mood will be sad today," Swedish Prime Minister Stefan Loefven told reporters as he arrived for the leaders' meeting. "I know Cameron is genuinely sorry to bring us this sad news."
Burdened by the historic aspect of the summit, the U.K.'s traditional allies in eastern Europe and the Netherlands and rivals closer to home were all forced to acknowledge that the EU was going into reverse for the first time in its near half-century of existence.
Past Battles
Over a dinner of quail, veal and then strawberries, Cameron was told by leader after leader of their country's association with the U.K. Estonia's prime minister related how the Royal Navy had helped secure independence; the Czechs talked of Britain as a home for exiles, while all from eastern Europe acknowledged a debt they felt was owed for British help during the years of communism. French President Francois Hollande, with whom Cameron will visit the World War I battlefield of the Somme on Friday, recalled how British and French troops had fought and died together in both world wars.
Cameron showed "a lot of emotion," Hollande said, describing the occasion as "somber."
The prime minister said the tone was one of "sadness and regret," with EU leaders "genuinely sad" at the referendum's outcome.
For all the kind words, the U.K. was already being treated as an outsider, according to one participant. It took Angela Merkel of Germany to spell out the reality, saying that she saw no way back for the U.K. following the vote to leave the bloc.
"We love Britain, we're a little bit sad," said Lithuanian President Dalia Grybauskaite. "Psychologically, Brexit is already in place."
As Cameron left the commission's Berlaymont building, the Union Jack marking his visit to Juncker had been taken down and the EU's blue and gold stars run up in its place.
Before it's here, it's on the Bloomberg Terminal.
LEARN MORE