Buffett-Backed BYD to Enter $450 Billion China Monorail Market
Bloomberg News
Monorail to be next growth area after electric cars: Chairman

Several Chinese cities in talks with BYD about monorail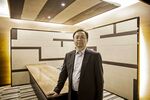 BYD Co., the electric-car maker that counts Warren Buffett's Berkshire Hathaway Inc. as a shareholder, is in talks with several of China's smaller cities on building monorail systems to preempt traffic congestion spurred by rapid growth in automobile ownership.
Monorail systems are a potential 3 trillion yuan ($450 billion) market in China, based on an average 70-kilometer (44 miles) network in each of an estimated 300 cities, and will become a new major growth area for the company, according to Chairman Wang Chuanfu.
The elevated single-rail tracks can be built on road dividers and are especially suited for smaller, less-developed cities because they cost one-sixth the price of a subway system and are cheaper to maintain, Wang said. With the number of vehicles growing at an average annual rate of 15 percent in such cities and road space at only 1 percent, these urban areas are on course for the same gridlock gripping major Chinese cities like Beijing if they don't adopt light transit, he said.
"Many third- and fourth-tier cities have approached us to discuss monorail," Wang said in an interview Monday in Tianjin, adding those discussions are preliminary. "For many of these cities facing traffic congestion and financial constraints, if you can't go underground, you have to go above."
EV Startups
After leading BYD to top electric vehicle sales in China, Wang is steering the company into monorail as an area where he sees high barriers to entry and fewer competitors. This foray is taking place as industry sales of new-energy vehicles more than tripled last year, attracting a wave of startups touting their plans to build battery-powered cars. Besides autos, BYD's other businesses include producing handsets and storage batteries.
"BYD is taking advantage of its relationships with municipalities and the know-how in urban public transport that it's built through the years marketing electric buses," said Steve Man, an auto analyst with Bloomberg Intelligence. "The foray into electric monorail expands the company's electric propulsion and battery businesses."
BYD's Hong Kong-traded shares rose 2.2 percent to close at HK$45.90. The benchmark Hang Seng Index fell 0.3 percent.
Monorail elsewhere in Asia includes the system operated by Bangkok's BTS Group Holdings Pcl, which uses 208 railcars built by Siemens AG and CRRC Corp. in Thailand's capital, according to its website. BYD's competitors in monorail-making will include Bombardier Inc. and Hitachi Ltd., Wang said.
Shenzhen Line
BYD will utilize its core technology in electric vehicles, batteries and materials to build the monorail systems, which will be paid for by local governments, he said. The company will begin operating a 4.4-kilometer line at its base in the southeastern China city of Shenzhen in September, he said. An eight-carriage train will be able to carry about 1,600 standing passengers.
"Expanding into this new area further extends BYD's product lineup and brings
new opportunities," said Xu Yingbo, chief analyst at Citic Securities Co. in Beijing. "The challenge is whether and how quickly Chinese cities will embrace such new transportation options."
— With assistance by Tian Ying
Before it's here, it's on the Bloomberg Terminal.
LEARN MORE