Brexit Risks Pile Up for Hitachi Construction, CEO Says
By and
Yen's strength and Europe's economy are immediate risks

Europe was seen as a relative bright spot for the company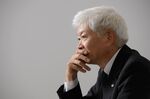 The risks are piling up for Japan's construction equipment makers in the aftermath of Brexit.
Already contending with China's slowdown and a rout in commodities prices, Hitachi Construction Machinery Co. now faces two new threats after the U.K.'s vote to quit the European Union: the yen's rapid appreciation and fears that Brexit could hit demand in Europe, according to its chief executive officer.
"The yen has been strengthening sharply and that's the biggest impact on our business," Yuichi Tsujimoto said in an interview Tuesday. "Immediate risks are the currency movement and the European economy."
Japan's No. 2 in the sector has forecast that demand for diggers in western Europe, particularly the U.K. and Germany, would be a relative bright spot for its business as China's faltering growth spills over into other emerging markets and cuts investment among its major mining customers.
"We anticipated the European market would remain flat this fiscal year, while many other regions would be negative from a year earlier," Tsujimoto said at the company's Tokyo headquarters. "We're now wondering whether demand there will cool."
Europe Sales
Hitachi Construction derives 69 percent of its sales from overseas, with 12 percent coming from Europe. Its larger rival, Komatsu Ltd., said earlier this week that Brexit may delay a recovery in commodity prices. That could hit both companies' sales of the equipment used to dig up and transport metals, coal and other minerals. The strength of the yen, which saw its biggest rally against the dollar in almost two decades on Friday, imposes an additional burden on their competitiveness.

Hitachi Construction has budgeted for 110 yen to the dollar and 120 to the euro for the year through March 2017. It estimates every one yen gain against these currencies will cut its operating income by 900 million yen and 500 million yen, respectively. Based on an exchange rate of 100 yen to the dollar and 110 to the euro, the currency impact on its profit would be 14 billion yen ($137 million), according to Tsujimoto.
Yen's Gain
The yen was at 102.3 to the dollar and 113.1 to the euro at 10:25 a.m. in Tokyo. Hitachi Construction, half-owned by conglomerate Hitachi Ltd., gained 1.5 percent to 1,455 yen, paring its decline this year to 23 percent. The company reported a two-thirds decline in net income for the year through March, and forecast a 9 percent drop in fiscal 2016.
Tsujimoto said he remains cautious on China's outlook and doesn't expect a recovery this year. He said local industry data showing the nation has 1.3 million excavators that can be used for the next 10 years was more than twice the company's estimates. Foreign companies sold only 19,000 new diggers in China last fiscal year, and including local suppliers the figure is just over 30,000, he said, suggesting the market may be saturated.
Hitachi Construction Machinery will compile a three-year plan starting April next year that's based on the assumption total demand won't increase over the period, Tsujimoto said. In the face of the downturn, Hitachi will challenge larger rivals such as Komatsu Ltd. and Caterpillar Inc. for a bigger slice of the markets for its key products -- diggers, wheel loaders and dump trucks .
While Hitachi Construction Machinery is the top supplier of ultra-large excavators, it trails peers in sales of wheel loaders and dump trucks. Tsujimoto will make it a top-2 or top-3 supplier for those products during the three years, bringing its share of wheel loaders and dump trucks to about 15 percent and over 20 percent, respectively, he said. Its current share for loaders is in single digit-percentages and over 10 percent for trucks.
"The key is how we expand the top line while demand isn't growing," he said.