Brexit Raises Stakes for Foreign Banks on Fed's Stress Tests
By
Exams to have more impact in 2018, as U.K. retreats from EU

This week's results could show further snags for foreign firms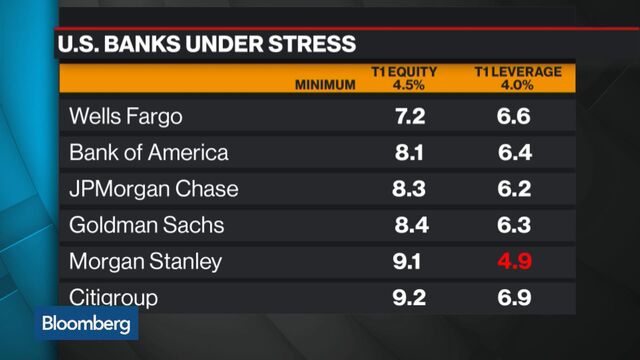 Bankers have a new year to fear: 2018. 
That's when the U.K. could complete its retreat from the European Union, potentially revealing the full scope of consequences for lenders entrenched in London. It's also the year that European banks have to get their act together on the Federal Reserve's annual stress tests to avoid having a chunk of their profits locked up across the Atlantic.
The Fed's latest assessments of whether banks can weather a financial crisis come Wednesday. U.S. units of Deutsche Bank AG and Banco Santander SA were the only firms of 31 tested that failed in 2015. While some foreign banks could again fall short this week, that kind of floundering will have a much greater impact two years from now.
Stress Tests Flunk Banks to Build Confidence in Them: QuickTake
"The whole foreign-bank process is going to be a little bumpy for a while," said Oliver Ireland, a partner with law firm Morrison & Foerster in Washington.
Stress-test stumbles have been frequent for foreign banks but not very meaningful -- except in the case of Santander, which drew an enforcement action for issuing unauthorized dividends in 2014. Because only a small number of overseas lenders are currently subject to exams, the impact on non-U.S. firms has been limited. The operations reviewed also tend to be narrow.
But things will change in 2017 when the Fed starts evaluating the full U.S. business of every major foreign bank, bringing in firms such as Credit Suisse Group AG, Barclays Plc and UBS Group AG for the first time.
Spokesmen for the banks declined to comment.
The new regime stems from a requirement taking effect July 1 that foreign lenders establish U.S. bank holding companies. The companies will have to demonstrate to the Fed that their risk controls and capital levels are sufficient to withstand a crisis, an annual exercise that U.S. lenders still sweat more than six years into the process.
After next year's dress rehearsals, foreign banks' results will begin to really matter in 2018 -- the first time they'll be made public. A failing grade permits the Fed to block a firm from sending billions of dollars in revenue back to their European parents.
Higher Stakes

The stakes will be even higher as lenders look to the U.S. to help offset profits they could lose in the U.K. following voters' surprise June 23 decision to withdraw from the EU.
Analysts at JPMorgan Chase & Co. estimated last week that Brexit might trigger a 20 percent earnings hit for banks exposed to the U.K., with a 17 percent impact on pretax profit at Deutsche Bank and 21 percent at Credit Suisse. The U.K.'s withdrawal could shave 32 billion euros ($35.4 billion) off European banks earnings through 2018, an 11 percent decline from what earnings would have been without the economic shock, Goldman Sachs Group Inc. analysts said in a note to clients Tuesday.
Why Britain is Saying 'Adieu' to the European Union: QuickTake
Deutsche Bank is quick to point out that the failing grade it received from the Fed in 2015 applied to only a tiny piece of its U.S. operations: Deutsche Bank Trust Co. It's "a rather smallish unit" at less than 5 percent of the lender's balance sheet, Chief Financial Officer Marcus Schenck assured listeners in a May earnings call, not the giant investment-banking arm more often associated with the company's U.S. business.
Deutsche Bank has been working to address everything that bothered the Fed about the trust bank's risk management, Schenck said. Still, he said he didn't know whether the unit will pass in 2016, adding that the broader testing starting next year is "maybe more relevant." A spokesman for the Frankfurt-based lender declined to comment further.
If Santander suffers another stress-test setback this week, it would be its third in a row. Daragh Quinn of Keefe Bruyette & Woods said it's not sustainable for the firm to keep failing, a prospect that he believes the company has hinted is possible.
Chairman Ana Botin named Scott Powell, JPMorgan's former consumer banking chief, to lead its U.S. holding company last year. Santander also expanded the bank's board in the U.S. with new independent directors including a former head of banking supervision at the Fed. The firm's chief financial officer said in April that passing isn't as important as establishing a healthy, long-term U.S. foundation for the business. U.S. spokeswoman Ann Davis declined to comment further.
Real Impact

The Fed's stress tests hit each bank with hypothetical financial turbulence, and the process is split into two parts. The Dodd-Frank Act Stress Test is announced first and is the simpler of the two, measuring whether a firm's capital can withstand scenarios for financial mayhem invented by the Fed. The Comprehensive Capital Analysis & Review, or CCAR, is the one with real impact, because it decides whether each firm can afford to return capital to investors.
The Dodd-Frank results were announced last week, and all eight of the non-U.S. banks were found to have enough capital to clear the target thresholds. The U.S. unit of Bank of Montreal barely exceeded the minimums in a few of the capital measures, and the U.S. subsidiaries of Toronto-Dominion Bank and Spain's Banco Bilbao Vizcaya Argentaria SA each came within a percentage point of one of the minimums.
Still, receiving low marks in the first test doesn't necessarily mean much. Deutsche Bank's subsidiary failed CCAR last year even with some of the highest capital tallies, because it didn't persuade the Fed on the second hurdle each bank must clear: that it's risk management is good enough to navigate a crisis.
David Wright, who works in the banking practice at Deloitte & Touche LLP, said clients based overseas are devoting a lot of money and management to the stress tests. But he said they've not had nearly as much practice as U.S. banks and that working out the kinks for their new U.S. holding companies will take time.
"You're kind of building the bike while you're riding it," Wright said.
Before it's here, it's on the Bloomberg Terminal.
LEARN MORE