ATM-Fee and Housing-Bias Cases Bolster U.S. Supreme Court Agenda
By
Supreme Court adds eight cases to term that starts in October

Court rejects bid by union foes, won't revive abortion rules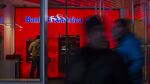 The U.S. Supreme Court agreed Tuesday to hear eight new cases, including business clashes over ATM fees and housing discrimination, as it bolstered its agenda for the nine-month term that starts in October.
A day after issuing their final rulings before their summer recess, the justices also turned down a handful of appeals, acting in cases involving abortion and union fees.
In the ATM-fee case, the court said it will hear appeals by Visa Inc., MasterCard Inc. and affiliated banks. A lower court allowed lawsuits claiming Visa and MasterCard's rules prevent some cash machines from charging lower fees for transactions processed on other networks.
Visa and MasterCard argue that the allegations in the lawsuit aren't specific enough for the case to go forward. The suit also names JPMorgan Chase & Co., Bank of America Corp. and Wells Fargo & Co. as defendants.
Bank of America and Wells Fargo will also get a hearing as they try to stop lawsuits by Miami over allegedly discriminatory lending practices. The suits claim the banks targeted black and Hispanic customers for predatory loans, causing their homes to fall into foreclosure and contributing to neighborhood blight.
The banks argue the alleged impact on the city was too attenuated to permit Miami's suits under the U.S. Fair Housing Act. Miami is also pressing a similar suit against Citigroup Inc., which isn't involved in the Supreme Court case.
The Supreme Court also:
Rejected a last-ditch effort by California teachers claiming a First Amendment right not to contribute to the union that represents them. The group had sought to topple laws in more than 20 states requiring public-sector workers to pay union fees, even if they don't join. In March the court deadlocked, voting 4-4 and leaving those laws intact.


Left intact rulings striking down Wisconsin and Mississippi laws requiring abortion doctors to get admitting privileges at a local hospital. The rebuffs follow Monday's Supreme Court ruling striking down similar Texas regulations as an unnecessary intrusion on the constitutional right of abortion access.


Agreed to consider the constitutionality of provisions in federal law that make it harder for some foreign-born children of American men to become citizens than children born abroad to American women. 


Accepted an appeal from Venezuela and its state-owned oil company in a dispute stemming from the seizure of drilling rigs. The country is trying to derail a lawsuit by the drilling company, Helmerich & Payne Inc., arguing the case is barred by a U.S. sovereign-immunity law.


Agreed to review a bankruptcy strategy, known as "structured dismissals," that lets favored creditors jump the repayment line, sometimes at the expense of parties otherwise be entitled to some recovery.


Rejected an appeal by a Washington state grocery store and pharmacy whose owners say they object on religious grounds to regulations requiring them to dispense emergency contraceptives. Three justices voted to hear the case, including Samuel Alito, who wrote that "if this is a sign of how religious liberty claims will be treated in the years ahead, those who value religious freedom have great cause for concern."
Before it's here, it's on the Bloomberg Terminal.
LEARN MORE