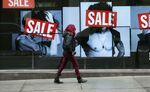 The widening rich-poor divide in America has robbed the economy of a year's worth of consumption, according to the International Monetary Fund.

Middle-class households declined as a share of the population between 1970 and 2014, while the proportion in high- and low-income brackets expanded, according to new research by IMF economists Ali Alichi, Kory Kantenga and Juan Sole. 

Over the period, the rich also saw their proportion of the total income pie rise, while that of middle-income households dropped and low-income was roughly flat. 

The effects were augmented by the fact that low- and mid-level earners tend to spend a bigger share of their income on consumption than the wealthy, the IMF said.