Who's on the Hook for Real Estate in Post-Brexit London: Q&A
by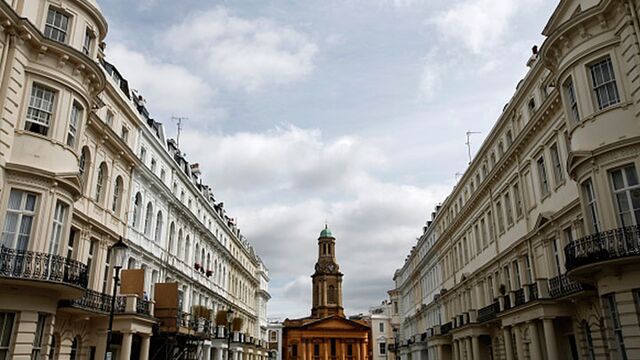 Developers are coming to terms with Britain's decision to leave the European Union, a decision that sent the FTSE 350 REIT index down as much 26.4 percent on Friday on fears that businesses would move staff out of the U.K. The decline continued Monday and the index is on track to close at the lowest since December 2013.
Who has most exposure to development risk?
The most experienced London office developers cut their exposure to speculative office development over the last two years as more projects started, increasing the risk of oversupply. Developers started a record number of central-London office projects in the six months through March, but the proportion of office space under construction by publicly-traded property companies and real estate investment trusts has fallen to 31 percent, according to data compiled by Deloitte LLP.

Land Securities Group Plc. is more likely to start new speculative projects following a Brexit, Chief Executive Officer Rob Noel said last month, because of the likelihood that other companies would put projects on hold.
Institutions, including insurance companies and private-equity firms, are now the largest London office developers, making up 39 percent of the workspace under construction, up from an average of 17 percent from 2011 through 2015, the data show.
Axa SA's real estate unit was awaiting the result before deciding whether to proceed with a plan to build the tallest approved tower in the City of London financial district. "We remain committed to the site, we are continuing to work and we are considering all our options," a spokesman said in an e-mail on Monday.
Is there a risk of oversupply?
London office rents could fall 18 percent within two years of Article 50 being invoked, Jefferies LLC analyst Mike Prew said on Friday. International businesses could move 100,000 jobs out of the U.K. following the vote as they may lose their passporting rights, Prew wrote. That's bad news for developers who plan to construct the equivalent of 50 skyscrapers the same size as the Gherkin over the next four years, he said.

How badly are the banks exposed?
Soured property loans proved to be one of the biggest contributors to the global financial crisis in 2008, the scars from which have only recently healed. A combination of increased bank caution and tighter regulation has discouraged a significant return to lending on high-risk speculative projects in the U.K., Peter Cosmetatos, chief executive officer of the Commercial Real Estate Finance Council Europe, said by telephone Monday.

Which lenders are exposed?
Lenders increased their exposure to commercial property last year for the first time since the financial crisis, according to a study by Leicester, England-based De Montfort University published May 24. There was 53.7 billion pounds of loans last year, compared with 45.2 billion pounds in 2014, the report said, with insurers and other non-bank lenders such as debt funds accounting for most of the increase.

Before it's here, it's on the Bloomberg Terminal.
LEARN MORE