Valeant Dips Below $20 as Brexit Exacerbates Concerns
by
Exchange rates could hurt Valeant sales outside U.S.

Drugmaker's stock has not fallen below $20 since 2010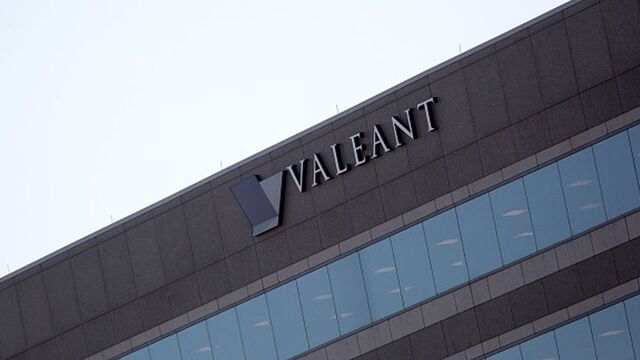 Valeant Pharmaceuticals International Inc.'s shares slipped below $20 Monday as investor worries about the future of the heavily indebted drugmaker continued to mount in the wake of U.K.'s historic vote to exit the European Union.
"The most significant risk to Valeant is the currency risk," Rodman & Renshaw analyst Ram Selvaraju said. Turmoil in exchange rates could hurt Valeant's sales outside the U.S., decreasing total revenue. Last year, 32 percent of the company's sales were overseas.
The drugmaker is walking a fine line that has left it vulnerable to outside forces. It has about $31 billion of debt and has embarked on an asset sale program to try and free up much-needed cash. Anything that interrupts asset sales or puts revenue at risk could impair its ability to pay off its obligations and remain in compliance with its debt agreements.
The stock was down 7 percent to $18.86 at 2:26 p.m. in New York and has now fallen 93 percent since its all-time high in August. It has not been below $20 since 2010.
"Right now, geopolitical risk is top of mind, and that's going to continue to be the case," Piper Jaffray analyst David Amsellem said. "Does it theoretically make it harder for a deal to get done? Yes, but the bigger question you need to ask yourself is, 'Can Valeant get good price for assets that they want to divest?"'
Valeant has very limited exposure in the U. K. and Ireland, accounting for less than 1 percent of annual revenue, spokeswoman Laurie Little said in an e-mailed statement.

Valeant's Risks
Amsellem, who has an "underweight" rating on the stock, says there is a possibility that the company defaults on its debt.
"There are businesses that here that are really, really struggling," he said. "This is just bad all around and it could very well get worse for the company."
There is one potential silver lining: U.S. interest rates are less likely to rise as a result of the turmoil brought on by Brexit, therefore making it cheaper -- and potentially easier -- for Valeant to refinance its debt in coming years.
"If Valeant needs to refinance the debt that's coming due in 2018, we now think they can do that in a cost-effective way," Selvaraju said.
Financial Thresholds
Valeant filed its long-delayed quarterly report with U.S. regulators earlier this month, avoiding the nearest risk of default on its loans. Also in June, for the second time this year, it reduced its forecast of a measure of earnings widely followed by lenders. The profit figure -- adjusted earnings before interest, taxes, depreciation and amortization, or Ebitda, is projected to drop to $4.8 billion to $4.95 billion, down from a March estimate of $5.6 billion to $5.8 billion.
Valeant has said this year that it expects to remain compliant with covenants in its credit agreement.
Before it's here, it's on the Bloomberg Terminal.
LEARN MORE