U.S. ELECTION WRAP: Clinton-Warren Stirs 1992 Ticket Comparison
By and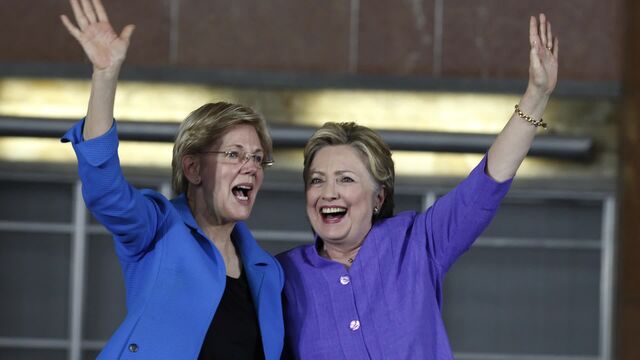 The debut joint appearance by Hillary Clinton and Sen. Elizabeth Warren on the campaign trail today prompted one veteran Democratic strategist to refer to the duo as a "winning ticket," and recall what proved to be a dynamic duo 24 years ago.
The chemistry between Clinton and Warren ''looked very real,'' Anita Dunn, a former aide in President Obama's White House, told MSNBC after the event in Cincinnati; she compared the possible upside of such a political pair to then-Ark. Gov. Bill Clinton choosing then-Sen. Al Gore of Tenn. as a running mate in 1992
Some questioned Clinton's choice because he and Gore were from the same part of the country and close in age

Yet in that first campaign, they exuded a palpable appeal at a time of a changing Democratic Party , Dunn said
So it could be with north-easterners Clinton, 68, and Warren, 67, according to Dunn
Warren also is seen as helping in the Clinton effort to win over Bernie Sanders' supporters

Donald Trump's camp, not surprisingly, begged to differ and called Warren a "sellout'' and "turncoat for the causes she supposedly supports" with her enthusiastic embrace of Clinton

"While Warren claims that Wall Street businesses have too much influence in D.C.," the Trump campaign said, Clinton's campaign "has accepted over $41 million this cycle from Wall Street interests"
"Warren is also campaigning for the author of the Trans-Pacific Partnership, a deal she has routinely slammed"

Trump himself slammed Warren as a "racist" and "a total fraud," NBC reported
The Mass. senator is being formally vetted by Clinton's campaign as a possible running mate, ABC News reports, citing unidentified source

More than a third of likely voters backing Clinton say she should pick Warren, according to a Bloomberg Politics poll earlier this month

Warren certainly would have little trouble taking on the "attack dog" role often assigned to running mates; today she termed Trump a "small, insecure money-grubber who fights for no one but himself"
ON THE TRAIL
Trump had no campaign events today; he's set to hold a rally in Pennsylvania tomorrow afternoon and in Ohio in evening -- two of the "rust belt" states most analysts see as crucial to his White House hopes
ENDORSEMENTS/DEFECTIONS
Hank Paulson, Treasury secretary under President George W. Bush as the 2008 financial crisis hit, endorsed Clinton Friday in a Washington Post op-ed

Trump responded that he knows nothing about Paulson, despite praising him in 2008 on CNN, Politico reports

Trump yesterday scoffed at conservative columnist George Will's decision to leave the Republican Party and his urging of others not to vote for the presumptive Republican nominee

Trump in Twitter post called Will "one of the most overrated political pundits (who lost his way long ago)"
POLLS
Clinton leads, but by varying margins, in 2 national polls released over the weekend

ABC News/Wash Post survey gives Clinton 12-point advantage
NBC News/WSJ poll puts her up by 5 points, and up by only 1 when Libertarian Gary Johnson and the Green Party's Jill Stein are included as choices
Johnson gets 10% backing, Stein 6%

CBS News/You Gov polling of key states shows:

Clinton ahead by 5 points in Wis., 3 points in Fla., 2 points in N.C., 1 point in Colo.
ETC.
Democrats on the special House panel on the 2012 attack in Benghazi found Clinton committed no wrongdoing
Trump has proposed executive orders on 13 policies, Bloomberg's Michael C. Bender reports
A divided Supreme Court gave abortion-rights movement its biggest legal victory in a generation, striking down Texas restrictions that had threatened to close three-quarters of the state's clinics by setting new requirements for facilities and doctors

Clinton praised the ruling on Twitter as a "victory for women in Texas and across America. Safe abortion should be a right -- not just on paper, but in reality"

Trump didn't quickly publicly react to ruling
An Anti-Trump group is coming to Cleveland ahead of the mid-July Republican National Convention to persuade delegates not to back Trump, Politico reports
CONGRESSIONAL
FL-SEN: GOP homebuilder Carlos Beruff said in statement he'd be "happy to take Marco Rubio's slot at the Republican National Convention because I'm not ashamed of Donald Trump as our nominee"

Rubio has suggested he may not attend convention

Beruff also releases digital ad mocking Rubio for appearing robotic on the stump, Tampa Bay Times reports
IL-SEN: A workplace retaliation lawsuit against Rep. Tammy Duckworth was settled June 24 with an agreement that no law was violated, the Associated Press reported

Duckworth is Democratic nominee against GOP Sen. Mark Kirk

NV-SEN: Freedom Partners Action Fund, GOP super-PAC with ties to billionaire businessmen Charles and David Koch, aired TV ad accusing ex-AG Catherine Cortez Masto of going after Uber "until she drove them out of town, along with all their jobs"

Cortez Masto's campaign said in statement ad is "outright lie" and that ride-sharing companies operate legally in Nev. after seeking licensing through legislative process

WIS-SEN: President Obama sends fundraising e-mail on behalf of Democrat Russ Feingold, who is seeking to win back seat he lost in 2010 to GOP Sen. Ron Johnson

Obama says Feingold "embodies the proud tradition of Wisconsin progressives"

Johnson camp out today with statement highlighting his "grassroots" support; criticizes Feingold for "taking help from a new 'dark money' group committed to sending him back to Washington" (see Journal Times story)

Feingold camp fires back that Johnson "refuses to sign the Badger Pledge that would guarantee Wisconsinites an election free of 'dark money'
"Johnson loves this broken system the way it is, so he'll continue to remain silent while hiding behind the Koch brothers and big-oil money that floods the three super PACs solely dedicated to keeping him in Washington"

REDISTRICTING: Supreme Court today agreed to hear N.C. case involving redrawing of two congressional districts that were invalidated as unconstitutional racial gerrymanders, Bloomberg BNA reported
FL-19: Republican Francis Rooney said in TV ad the Orlando shooting was "yet another wake-up call" that ISIS is "hell-bent on killing innocent Americans"

Rooney vowed to work to boost defense spending to fight "war with radical Islamic terrorism"
Rooney, U.S. ambassador to the Vatican under President George W. Bush, seeking to succeed retiring GOP Rep. Curt Clawson in strongly GOP district in Fort Myers area

GA-03: GOP Rep. Lynn Westmoreland endorsed dentist Drew Ferguson as his successor, Atlanta-Journal Constitution reported

Ferguson faces state Sen. Mike Crane in runoff election next month; winner strongly favored to win in Nov.

KS-01: Rep. Tim Huelskamp and physician Roger Marshall face off in their first primary debate tonight in Hutchinson

Huelskamp is member of the House Freedom Caucus who voted against John Boehner for speaker in 2015; won 2014 primary by 55%-45%

NY-10: Oliver Rosenberg, businessman seeking to unseat Rep. Jerrold Nadler in tomorrow's primary, gave his campaign $72k on June 24, according to FEC filing

Bloomberg's Danielle Bernstein previewed Nadler-Rosenberg primary in district that includes parts of Manhattan and Brooklyn

NY-24: TV ad for Democrat Eric Kingson's campaign highlights need to reduce poverty, promote "clean energy" initiatives, oppose government "dominated by special interests"

Kingson, Syracuse U. professor, among three Democrats seeking to oppose Republican Rep. John Katko
Bernie Sanders campaigned June 24 with Kingson, whose chief opponent Colleen Deacon is supported by N.Y. Democratic Sens. Kirsten Gillibrand and Chuck Schumer