U.K. Should Take Time to Reflect, EU Parliament's Lamberts Says
by and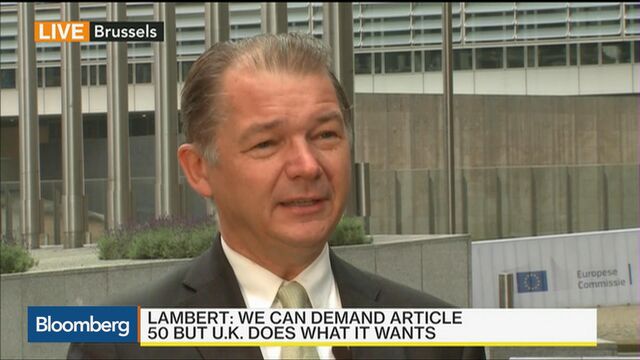 The U.K. government should take "time to reflect" before formally triggering the process to leave the European Union after last week's referendum, said Philippe Lamberts, a lawmaker in the European Parliament.
"This is such a momentous decision that maybe they will want to consider all aspects of it before making it," Lamberts said in interview with Bloomberg TV in Brussels on Monday. "It would be wise to take this time to reflect before putting the demand to the European Union."

While European Commission President Jean-Claude Juncker said on Friday that the process of secession should be as fast as possible to limit "this situation of uncertainty" in the bloc, German Chancellor Angela Merkel called for a "calm and measured" response.
U.K. Prime Minister David Cameron's announcement that he will step down "is creating space for reflection," Lamberts said.
After the country quits the bloc, the EU needs to maintain "good relations" with Britain, Lamberts said.
"The United Kingdom is 35 kilometers away from the continent and it will not move an inch further," he said. "It is a neighbor and I think it's in no one's interest to have bad relations between neighbors."
Before it's here, it's on the Bloomberg Terminal.
LEARN MORE