markets
U.K. 10-Year Yields Below 1% as Brexit Spurs Bets on BOE Action
By
Futures traders boost odds of July rate-cut to more than 50%

U.K. 30-year yields also slide to record on demand for safety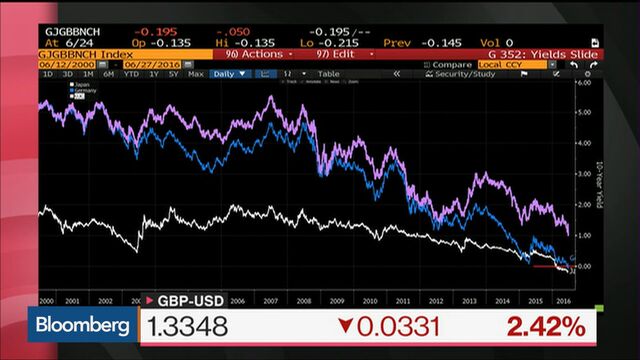 U.K. government bonds surged, pushing 10-year yields below 1 percent for the first time, amid speculation the nation's exit from the European Union will push the Bank of England to cut interest rates to a record low as soon as next month.
Demand for U.K. bonds was bolstered as the turmoil infecting global markets since the vote spread, boosting demand for fixed-income assets as a haven. Thirty-year yields also slid to a record as futures implied a more than 50 percent chance of a BOE interest-rate cut in July, from just 16 percent a week ago. With Britain's two major parties in turmoil, investors are struggling to assess the outlook for the economy, with politicians no closer to clarifying just what the U.K's new relationship with the EU will look like.

"The bottom line is that markets are fearful as to what the impact is going to be -- not just here but in the euro-area as well," said Nick Stamenkovic, a bond strategist at broker RIA Capital Markets Ltd. in Edinburgh. "Investors are flocking to the safety of government bonds. The risk of an outright recession next year has increased and hence the Bank of England will be forced to take further action."
Benchmark 10-year gilt yields slid 13 basis points, or 0.13 percentage point, to 0.96 percent as of 10:56 a.m. London time, after touching a record low of 0.931 percent. The 2 percent bond due in September 2025 gained 1.16, or 11.60 pounds per 1,000-pound ($1,325) face amount, to 109.14. Thirty-year yields dropped 11 basis points to 1.82 percent, after reaching a record-low 1.791 percent.
Gilts have returned 9.5 percent this year, compared with 3.9 percent for euro-zone debt and 4.7 percent for Treasuries, according Bloomberg World Bond Indexes.
Before it's here, it's on the Bloomberg Terminal.
LEARN MORE