business
China Weakens Yuan Fixing by Most Since August as Dollar Surges
By
Reference rate weakened by most since aftermath of devaluation

Natixis sees "mild" declines for Chinese currency continuing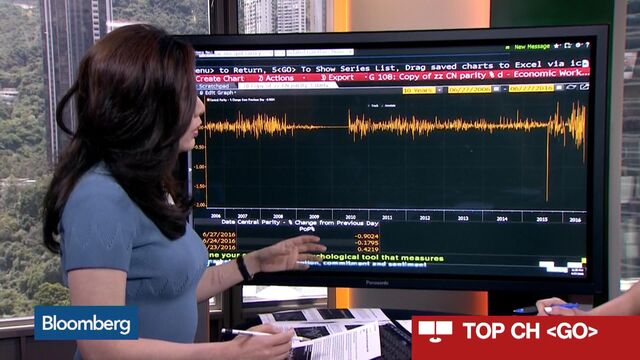 China weakened its currency fixing by the most since last August as global market turmoil spurred by Britain's vote to leave the European Union sent the dollar surging.
The People's Bank of China set the reference rate 0.9 percent weaker at 6.6375 a dollar. A gauge of the greenback's strength jumped 2.4 percent in the past two days, the most since 2011, as the British pound and the euro tumbled. The yuan dropped 0.3 percent to 6.6473 as of 6:44 p.m. in Shanghai, heading for its weakest close since December 2010.

The resurgence in the dollar is threatening to upend China's dual strategy of allowing limited gains versus the greenback to combat capital outflows, and guiding depreciation against the currencies of trading partners, which helps exporters. The yuan has dropped almost 10 percent versus a basket of peers since its August peak.
"There is increased risk of outflows," said Khoon Goh, head of Asia research at Australia & New Zealand Banking Group Ltd. in Singapore, who is reviewing year-end forecasts for the yuan. "Authorities could intervene to limit the extent of yuan weakness, as they have before and ensure current capital outflow measures are being enforced."
Measures Needed
The impact of the vote on global financial markets is already showing and measures are needed to ensure stability in the international economy, China's Premier Li Keqiang said Monday at the World Economic Forum in Tianjin.
QuickTake The People's Currency
The yuan traded in Hong Kong's offshore market dropped 0.66 percent, taking a three-day loss to 1.5 percent -- the biggest since a run of weaker fixings roiled markets in January. The onshore currency's one-month implied volatility rose to 5.53 percent, near a three-month high, while 12-month forward contracts on the yuan climbed to the highest intraday level in more than four months.
The yuan's fixing had become more predictable since early February after the PBOC pledged greater transparency and the currency increasingly tracked movements in the dollar against major peers.
Still, the yuan's moves are slight compared with others in the region such as the yen and the Australian dollar, which surged 0.7 percent and fell 0.8 percent, respectively.
"The yuan's mild depreciation will continue," said Iris Pang, senior economist for Greater China at Natixis SA in Hong Kong, who forecasts that the yuan will decline to 6.8 a dollar by the end of 2016. "The long-term impact from Brexit on China is still unclear and the yuan's decline is more gradual and mild than other currencies."
Before it's here, it's on the Bloomberg Terminal.
LEARN MORE