Toyota Seen Harming Minority Shareholders in Daihatsu Buyout
by and
Offer price is 'major setback' for Japan governance, Arga says

Toyota says it followed proper and objective procedures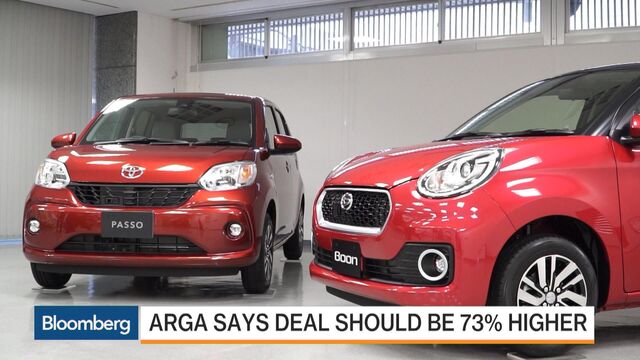 Toyota Motor Corp.'s $3.1 billion bid to buy out Daihatsu Motor Co. has run into shareholder and proxy-adviser criticism for being on the cheap, highlighting corporate governance challenges years into Japan Inc.'s push to become more investor friendly.
Arga Investment Management LP, a Stamford, Connecticut-based fund that owns a 1.4 percent stake in Daihatsu, wants a 73 percent increase in the share-exchange ratio that the automakers announced in January. Institutional Shareholder Services Inc., which advises investors on board proposals, also opposes the terms and calls them "disadvantageous to minority shareholders."
A vote by Daihatsu shareholders Wednesday puts the spotlight back on Toyota one year after criticism by ISS and some investors against its creation of a class of shares that couldn't be traded for five years. As Prime Minister Shinzo Abe's administration calls on Japanese companies to add independent board members and boost shareholder returns, Toyota is attempting to take over a 51 percent-owned affiliate that lacks a truly independent director, according to Arga and proxy advisers ISS and Glass Lewis & Co.
"It's bad for Toyota's image," A. Rama Krishna, founder and chief investment officer of Arga, said in an interview. "You've got the administration trying to make a big case for corporate governance. Here's the largest corporation in Japan flouting every corporate governance rule you can think of."
Share Ratio
Toyota said in January it expected to offer 0.26 share for each share of Daihatsu, in an exchange of stock scheduled for Aug. 1. Toyota calculated the ratio based on current share prices and the value forecasts of both companies, said Shino Yamada, a company spokeswoman. Toyota and Daihatsu appointed third-party valuation institutions to ensure fairness and followed proper and objective procedures, she said.
Shares of Toyota and Daihatsu each fell about 3.6 percent as of 10:24 a.m. Tuesday in Tokyo trading. The benchmark Topix index declined 1 percent.
In Daihatsu, Toyota President Akio Toyoda sees the potential for a global small-car brand that can one day be valued similarly to BMW AG's Mini. He told reporters in January he wanted to use the purchase as a means to speed up Toyota's decision making. His counterpart, Masanori Mitsui, said Daihatsu could no longer afford to develop eco-friendly powertrains and advanced safety technologies on its own.
The criticism by Arga and ISS of the automakers' share exchange has less to do with the strategy and more to do with the price. Arga contends that Toyota is valuing Daihatsu cheaply relative to its Japanese minicar-making peer Suzuki Motor Corp. and is buying its majority-owned affiliate at a cyclical trough in Daihatsu's earnings and share price.

A fair ratio for shareholders would be 0.45 share, Krishna wrote in a Jan. 29 letter to Daihatsu President Mitsui, citing the automaker's strong positions in Indonesia and Japan's minicar market.
During the five-year period before Toyota announced its bid, Daihatsu traded at a 0.34 share ratio on average, according to data compiled by Bloomberg. The figure was as high as 0.57 in January 2012 and as low as 0.19 in October 2015.
The lone member of Daihatsu's 11-member board that the company considers an independent outsider is Kenji Yamamoto, an attorney at Kitahama Partners, which the company pays for legal services. Both ISS and Glass Lewis classify Yamamoto as an affiliated director. Yamamoto didn't immediately respond to a request for comment sent through Kitahama Partners' website.
Board Criticism
"The structure of Daihatsu's board could be a contributing factor to a merger ratio which appears to be disadvantageous for the company's minority shareholders," ISS said in a June 14 report. 
While Glass Lewis said the Daihatsu board's lack of independent directors raises "serious concerns about its objectivity, independence and ability to perform proper oversight," the adviser said it supports the company's merger with Toyota.
Both ISS and Glass Lewis recommend shareholders vote against Mitsui's election as director as a way to hold top management accountable for the board's lack of independent members.
Daihatsu responds to investor inquiries and has explained to shareholders including Arga that it used a third-party assessment and took steps to protect minority shareholders and ensure fairness, the company said in an e-mailed statement.
Abe's government introduced a governance code last year that called on firms to name two independent directors. It also backed stewardship principles for institutional investors and a stock index designed to showcase Japan's most efficient companies.
Auto Governance
Japan's auto companies ranked among the worst sectors in a Jefferies Group Inc. report in March on board structures within the Topix 500 index. Equity analyst Zuhair Khan scored Toyota at 20 and Daihatsu at 5 out of a maximum 270 in ratings that considered board attributes such as outside influence, diversity, skills and shareholder alignment.
Toyota last year passed its proposal to sell Model AA shares with about 75 percent approval. The company said it aimed to attract shareholders who would support the costly investments it makes to develop cars that take years to pay off. The plan drew criticism from ISS and investors including the California State Teachers' Retirement System for being sold only in Japan and lacking any benefit for common stockholders.
"Japan as a country has taken some steps toward better corporate governance in the recent past," Krishna wrote in a Jan. 29 letter to Mitsui. "However, the announced merger ratio by Daihatsu is a major setback. Your favorably addressing this unfair treatment of Daihatsu's minority shareholders is an important test of corporate governance in Japan."
Before it's here, it's on the Bloomberg Terminal.
LEARN MORE